Heading out the door? Read this article on the new Outside+ app available now on iOS devices for members! Download the app.
Dean Lerner's Reply: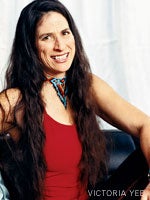 Dear Marianne,
While not common, neither is it rare for a student to experience a headache or head tension during or immediately following an intense backbend practice. However, this should be taken as a signal that something is amiss in the technique or the sequencing of the class or practice. To help avoid this problem, you should look at the practice as a whole as well as specifically how the student performs backbends.
As a whole, see that the beginning segment of practice properly warms, stretches, and opens the arms, shoulders, legs, and hips. Additionally, the spine should be opened systematically: first the upper back or thoracic dorsal spine, then the sacral spine, and lastly the lumbar region. Analyze your opening sequence with an open mind.
Next, look at how the students are performing backbends. Students commonly bring on headaches or mental tension by unconsciously holding their breath as they enter, maintain, or exit a pose. Holding the breath leaves no opportunity for repose and readjustment. If this is happening, make the student aware of it. Unless and until they are aware of a problem, they cannot consciously correct it. Then analyze the student's technique in the pose. Are the arms and legs working properly and evenly to create space and freedom in the pose, or does their alignment jam the spine and squeeze the kidneys unevenly, which can cause a headache?
Lastly, determine if the poses following backbends effectively and sufficiently release and lengthen the fibers of the back and have a quieting, cooling effect on the mind. If headaches still persist, I suggest consulting with a senior teacher to help resolve the problem.
Certified Advanced Iyengar instructor Dean Lerner is co-director of the Center for Well-being in Lemont, Pennsylvania and teaches workshop across the United States. He is a longtime student of B.K.S. Iyengar and served a four-year term as president of the Iyengar National Association of the United States. Known for his ability to teach yoga with clarity and precision, as well as warmth and humor, Dean has conducted teacher training classes at Feathered Pipe Ranch in Montana and other locations.