Heading out the door? Read this article on the new Outside+ app available now on iOS devices for members! Download the app.
I'm a yoga teacher in Paris, France, where my husband and I have a small yoga studio. Previously I worked in the fashion business for 13 years. The nastiness I've seen in the world of yoga has astonished me more than anything I experienced in fashion.
It makes me sad and frustrated to have experiences like this. Do you have any advice about dealing with the immense competition between yoga teachers?

— Linda
Read David Swenson's reply:
Dear Linda,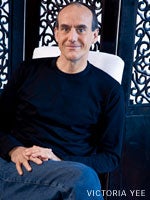 Just because we practice yoga does not mean that we are yogis. I think that a mistake we all make is to think that the world of yoga will be any different than the rest of the world. In fact, in some ways I believe that yoga tends to amplify who we are. The practice of yoga, or any discipline of self-exploration, is something like tilling the soil to prepare a garden. The practice brings fertility into our being, but our maturity as a practitioner is determined by what we plant in our garden. If we choose to plant an ego, we can grow an even bigger one than the average person.
When we practice yoga, it doesn't mean that we are suddenly free from the stresses and challenges of daily life. We cannot control the obstacles and difficulties that life may present us in a day. Our only control is how we react to it, and that is where we put our yoga to the test.
None of us are perfect; we all have made mistakes and will continue to do so. It is always easy for us to see the flaws in someone else, and difficult to observe them objectively in ourselves. But in life, as in yoga, we cannot control the actions of others. We must be patient, with both our personal growth and that of others. So I agree that there are many flaws in the world of yoga. There will always be competition between students, teachers, studios and styles of yoga. The whole concept of yoga competitions began in India long ago.
Rather than be surprised at the presence of competitiveness in yoga today, realize that it is more of an exception when competitiveness is not present. Competition is an inherent part of human nature. The difference between the world of yoga and the fashion world is that in fashion, competition is placed right out in the open. In yoga, people pretend it is not there. So the question is not whether we will be confronted with competitiveness or other imperfections of human nature, but how we react to it. We can choose to participate in it or tread our own path and create an example of openmindedness and compassion in which we attempt to transcend the competitive environment around us. It is our choices in life that define us. There is a definition of a yoga that I like: "A yogi is one who leaves a place a little nicer than when they arrived."
Let us all strive to become yogis.
David Swenson made his first trip to Mysore in 1977, learning the full Ashtanga system as originally taught by Sri K. Pattabhi Jois. He is one of the world's foremost instructors of Ashtanga Yoga and has produced numerous videos and DVDs. He is the author of the book Ashtanga Yoga: The Practice Manual.