Take Teaching to the Next Level
Heading out the door? Read this article on the new Outside+ app available now on iOS devices for members! Download the app.
I have been teaching yoga for about three years now, and I love the interaction with my students. But I can only teach by doing the poses myself. I can break out of a pose to adjust, but I have to get back into it in order to get the class to the next one. How do I get myself out of this habit?
— Susan
Read David Swenson's reply:
Dear Susan,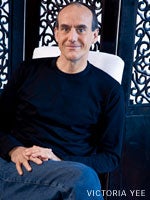 From your description, I assume you're teaching a flowing style of class. Vinyasa-based class require a different approach than a class that does not require a flow. Even within the vinyasa-based methods, there are many styles of teaching a flowing class. Some teachers practice along with the students; others simply offer verbal guidance and may or may not use hands-on adjusting. Another method is the Mysore approach, where the students already know the sequence and the teacher does not demonstrate or verbally guide the class, but rather moves around the room and offers hands-on adjustments and advice where needed.
It sounds as though you are attempting to play more than one role in your class. I personally find that to practice along with a class has its limitations—both the teacher and students get a little shortchanged. By that I mean that the teacher is trying to practice but cannot be fully focused, needing to keep an eye on the students. And the students don't get the full attention of the teacher.
While it's nice for the teacher to practice right along with the students occasionally—it's a way to acknowledge that we are all students and one on the path of practice. In general, though, I think it is best to separate your personal practice from teaching. You'll be more focused on your class, and less exhausted from doing so much practice in one day.
To change your situation, you might explain to your students that if you lead the class verbally and move around the room, you'll be able to offer them more assistance than if you are on your own mat. If you have newer students, place them near more experienced ones. You don't have to demonstrate every asana; students can listen to your verbal instructions and use their peers as visual references. Rather than relying upon seeing you in the asana, they can begin to feel themselves in it instead.
One of the greatest assets a teacher has is to create an understanding of the individual needs of their students. This relationship may be enhanced by actively roaming the room and keeping an eye out for special needs that will arise for each student. That is another good motivating factor in learning to teach through a hands-on approach rather than from only demonstrating. It does not mean that you should not ever demonstrate an asana to your students but expand your bag of teaching tools by developing the additional art of teaching through verbal and hands on adjusting methods as well. Finally, remind your students that it's all right to make a mistake. There is no such thing as a perfect asana.
David Swenson made his first trip to Mysore in 1977, learning the full Ashtanga system as originally taught by Sri K. Pattabhi Jois. He is one of the world's foremost instructors of Ashtanga Yoga and has produced numerous videos and DVDs. He is the author of the book Ashtanga Yoga: The Practice Manual.