The Teacher's Role in Savasana
Heading out the door? Read this article on the new Outside+ app available now on iOS devices for members! Download the app.
Read Maty Ezraty's response:

Dear Marcee,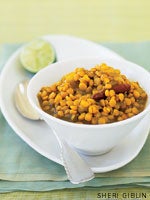 Savasana seems like an easy pose. On the contrary, it is a very difficult pose, both to practice and to teach. Many great yoga masters, such as K. Pattahbi Jois and B.K.S. Iyengar, refer to Savasana as the most difficult of all asanas. It is subtle and demands that the student learn to be fully present.
Many students disregard the importance of this pose and think of it as a way to simply rest from a strenuous asana practice. Resting is important—it is important to let go of the unnecessary in our lives, of the tension, stress, and busy mental chatter—but Savasana is more than that. It is about shedding the encumbrances of old, crusty ideas, emotions, or physical fatigue, so that we can see more clearly. How can students do this without your guidance?
As teachers, we need to be constantly evolving in the teaching of this asana. Spend a good part of the pose teaching the basic alignment, as that sets up the foundation for the pose. If the body is misaligned, then it will be disturbing to the mind, and the student will not be able to penetrate to the deeper mental aspects the pose offers.
You may also want to spend time walking around the class and adjusting students in this pose. As you observe your students' bodies, breath, and composure, you can notice if they are falling asleep or are if they are agitated. It is then, with your voice and the directions that you give, that you create the atmosphere and guidance for them to have a deeper experience. Simply meditating or doing Savasana yourself is not helping your students understand and taste this great yoga experience.
Having said all that, I would encourage you to study and teach this pose with as much passion as you teach any other asana. It is the start of Pranayama and meditation. It offers so many physical, physiological, psychological, and emotional benefits that I go to the extent of calling Savasana a practice all on its own.
Therefore, if you are taking your own Savasana or meditating while your students are resting, then you are obviously not teaching the pose.
If you need to rest after you teach, you need to look at why. Are you demonstrating too much or practicing with the class and therefore exhausting yourself? Only you will know these answers.
Maty Ezraty has been teaching and practicing yoga since 1985, and she founded the Yoga Works schools in Santa Monica, California. Since the sale of the school in 2003, she has lived in Hawaii with her husband, Chuck Miller. Both senior Ashtanga teachers, they lead workshops, teacher trainings, and retreats worldwide.