Founders of the Holistic Life Foundation Tell Their Yoga Story
Learn more about the personal journey of Andres Gonzalez and the brothers Ali Shah Rasool and Atman Ananda Smith, founders of the Holistic Life Foundation.
Heading out the door? Read this article on the new Outside+ app available now on iOS devices for members! Download the app.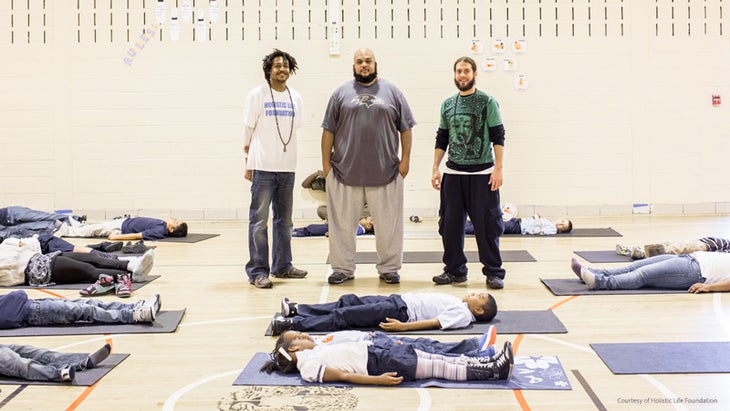 This is an extension of the interview that first appeared in the June 2015 issue of Yoga Journal. Here, learn more about the personal journey of Andres Gonzalez and the brothers Ali Shah Rasool and Atman Ananda Smith, founders of the Holistic Life Foundation.
See also Seane Corn Interviews Yoga Community + Social Justice Leaders
Seane Corn:Before the inspiration of the Holistic Life Foundation, what was your personal journey?
Ali Shah RasoolSmith: Atman and I are brothers. Our journey started with our parents, who were into yoga and meditation when we were born. We grew up with a huge altar in our basement, where they used to practice. We traveled to ashrams. We went to a self-realization fellowship church to start with meditation. They sent us to a Quaker school, which had a mindfulness practice. Our dad was heavy into hatha yoga at the time. He'd have me and Atman meditate every morning before school, but we didn't get into physical practice until a lot later, after we met Andy.
SC:How did your parents get into mindfulness and yoga?
ASRS: It began when my dad had prostate issues. He didn't like the treatment. He talked to one of his best friends, who became our teacher. He said he had something to show him for his prostate problem. At the time, my dad had never heard of yoga. His friend showed him Eagle Pose. My dad practiced it for about a week and the problem went away, and he hasn't had a problem with his prostate since. He asked his friend whether he had more of this stuff. He showed him The Complete Illustrated Book of Yoga. Then they started attending the Divine Life Church of Absolute Oneness down the street. Swami Shankarananda led the church, and his teacher or his guru was Swami Premananda. It was all around them, and they met their teacher at the church, so the ball started rolling, and it kept on rolling.
See also Tessa Hicks Peterson: Social Justice, Yoga + Awareness of Inequalities
SC: Were other kids in your environment doing yoga or meditating?
Atman AnandaSmith: No; we were the oddballs in our neighborhood because not only did we practice meditation, but our parents were vegans. When all the neighborhood kids would get sno-cones from the sno-cone stand, my mom would only allow us to get the ice. Then we would have to come home to have her put all-natural apple juice on it. [Our parents] were just really conscious individuals in our neighborhood.
SC: Andy, did you have that same kind of an upbringing or did yoga come to you later in life?
Andres Gonzalez: My mother was a single mother, and she took care of five kids. She gave me unconditional love. When she retired, I couldn't even count how many people said that they wouldn't be where they were if it hadn't been for my mother, because she always was there to give. I was raised Catholic. I didn't get into yoga until after I graduated [from college] and the three of us met our teacher.
SC: What did your teacher teach you?
ASRS: It was kind of like a college course. It started really physical and then the practice just got more and more subtle. We started with hatha, kriya, Kundalini, and then pranayama. We moved onto bhakti, mantra, and Tantra. The running joke was, "You will not get out of this course until…." There was always something else afterward. It was as if our teacher was trying to make us learn as much as we possibly could so that we could help many different types of people. He would tell us that we couldn't teach kids the same way we taught senior citizens, or teach people in a hospital the same way as people in detention. Different people need different things, so your toolbox has to be huge. We're still learning from him—the process never stops.
SC:Was the process difficult for you personally?
AG: We were really blessed to have each other. It could be difficult if you're on your own and you start walking the path, and the awakening happens within. You start seeing the suffering through new eyes, and no one seems to get it. But the three of us were practicing every day, all day long. Atman and Ali's father and mother gave us a support system by allowing us to stay in their house for the first two years. We weren't working; we were just practicing. It was like being back in school, but studying and practicing only yoga. We just knew this is what we were going to do and nothing was going to stop us; the fact that we had each other made it a lot easier.
SC:Did your teacher help with this process, too?
AAS: Our teacher, Baqavillah, told us to read The Wayfarers[by William Donkin] about Meher Baba to see what true service is. Our teacher said that the book would make us look at what we're doing differently. If we think we're tired, we can think back to what [Meher Baba] did. I think true service is going to work and not looking for anything in return, knowing that you're doing the right thing and doing it to the best of your ability.
See alsoSeane Corn Interviews Yoga Service Leader Hala Khouri
SC:How did you go from learning and practicing yoga to creating the foundation?
ASRS: We had no idea what we were doing at first. We searched the Internet for how to start a nonprofit in Maryland, and we printed a checklist and started going down it. We didn't know nonprofit business rules. We didn't know about setting up a board. We didn't know about fundraising. We had no clue. We just knew to get a grant we needed a nonprofit, so we got that done and figured the rest out from there.
SC: If people were to donate, what is it that you need right now to keep thriving, to keep serving your community?
ASRS: One of the biggest needs is funding our afterschool program, which is the showpiece of our organization and where we develop our teachers, the leaders in our program. It has given the most back to our neighborhood. Beyond that, we also need funds to build infrastructure to support offering programs to more schools. Baltimore City Public Schools' has approached us about working in 10 more schools next year. We need funding to train teachers and to have the administrative help and human resources to support the programs.
SC: You serve adults as well as youths. What is your adult programming?
AAS: We work with adults in drug-treatment centers, mental-illness facilities, homeless shelters; we work with seniors, teachers, parents. We serve more youths, but we have taught around 3,000 adults.
SC:What's your role in research studying the effectiveness of yoga and mindfulness on urban youth?
AAS: About seven years ago, we did a study with Penn State and the Johns Hopkins University's Bloomberg School of Public Health. It was the first randomized, controlled study of yoga and urban youth. My mom had been working for Dr. Mark Greenberg [the Bennett Endowed Chair in Prevention Research at Penn State's College of Health and Human Development, and founding director of the Prevention Research Center for the Promotion of Human Development] on the PATHS program, which is a social-emotional learning program. She told Dr. Greenberg what we were doing. He came and checked out our afterschool program, and saw the kids in their environment, fighting and cursing and acting very, very wild before the program began. Then he saw the same kids sitting next to him and teaching him how to do the practices. One of the kids who had cursed like a sailor sat next to him and told him to sit with his back, neck, and head aligned and do the breathing in and out through his nose. [Greenberg] was blown away, and asked what we needed and how he could support us. Every time we tried to get funding from foundations, they always asked for numbers, so we asked him if there was any way to get numbers which showed that our program was effective. He put the study together.
We developed the curriculum and implemented the program. Penn State analyzed the data. The paper is on our website (hlfinc.org). We also have another study that was completely funded by the National Institutes of Health. This time, instead of just cognitive data, they also did physiological tests of flexibility, lung capacity, and so on. We're still waiting for the results. It's a larger study including six schools.
BACK TOGAME CHANGERS: YOGA COMMUNITY + SOCIAL JUSTICE LEADERS