What the New Moon in Virgo Means for You
There's some grounding and self-appreciation that needs to happen.
Photo: ChristinLola | Getty
Heading out the door? Read this article on the new Outside+ app available now on iOS devices for members! Download the app.
The new Moon in Virgo brings details to our intentions and reminds us that anything worth doing is worth doing well. New Moons hold the space for us to bring form to our vision. Virgo teaches us to roll up our sleeves and do the hard work needed to manifest the reality we want to live in. On September 14, 2023, it's time to build our visions with our own two hands.
What Virgo Teaches Us
Virgo's energy helps us embrace our authentic self while accepting it with compassion, forgiveness, and strength. It does not matter whether you have Virgo predominantly in your chart or not. Virgo season brings us an opportunity to show up as we truly are and realize our inherent self-worth. It is a time to let go of self-doubt, perfectionism, and self-criticism as we step into our potential. It shows us who we could be if we allowed ourselves to step fully into our power.
Virgo season is also a time to find balance between who we could become and who we are right now. Virgo reminds us that if we are always comparing ourselves to our ideal version, then we will never experience true happiness. On the other hand, if we stop growing and striving to become a better version of ourselves, we stagnate and become unhappy. We must find balance between accepting ourselves as we are and wanting to transform into the next version of ourselves. The question becomes: How can you love and yourself today while working to become your future self?
The first step in accepting yourself is letting go of conditions you must meet for love. We often hold ourselves to an impossible standard, and when we fail to meet it, we fall prey to shame, embarrassment, self-doubt, and should-ing ourselves. We tend to hide our mistakes and mull them over, forgetting that others love us and want to support us. We feel that we are the only ones going through something and that everyone else has their life together far better than we do. We also compare ourselves to others without even knowing them or understanding their struggles. We tell ourselves that we have to meet certain criteria to be loved by others or to love ourselves. We may even judge our worth on what we do, not who we are.
As we work with Virgo, it's a time to become aware of the conditions we place on ourselves for love and acceptance. What impossible level of perfectionism are you holding yourself to and why? Begin to teach yourself that you are worthy of love, acceptance, and fulfilled dreams. You do not have to be perfect to receive love and be worthy. You do not have to do anything more than be who you are right now.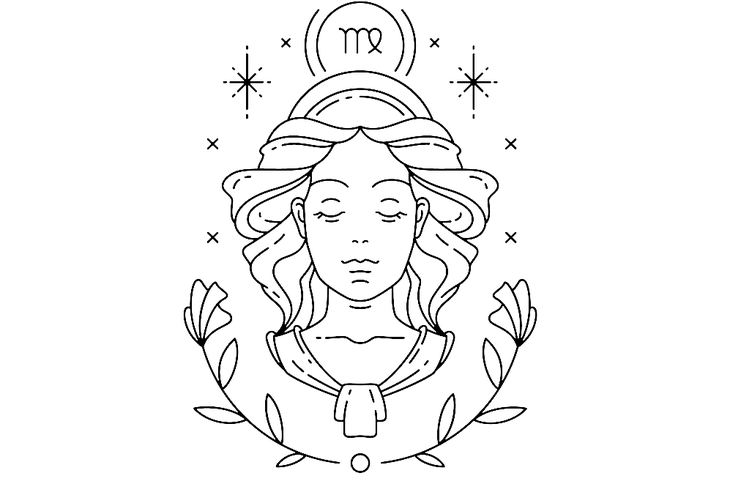 What the New Moon in Virgo Means for You
Letting go of these things that make you feel unworthy can be a long process. Allow this new Moon in Virgo during September 2023 to help you accept your worth and cultivate a life that is full of everything you deserve. You deserve love, you deserve happiness, and you deserve to have people who accept you for who you are. These are not things you need to jump through hoops for. Rather, they are your birthright as a human.
It all starts with a deep self-acceptance and appreciation despite any experiences that may have caused you to feel pain, shame, or unworthiness. What do you need to heal to begin to feel your worth and know you are good enough? That is at the heart of Virgo's energy.
The new Moon is a time to write yourself love letters about all the gifts that you have to give the world. It's a time to have compassion for yourself. It's a time to define your boundaries both with yourself and others. You must be willing to say yes to the things that matter and no—without guilt—to the things that feed your insecurity or sense of scarcity. Some of the boundaries will be with yourself, including your thoughts and your habits. Others will be with friends, colleagues, and other partners. Align with the Earth element this season to feel where you need boundaries, then know you are worthy of upholding them.
Virgo inspires us to make long-lasting commitments through our intentions. This is a night to see far into the future and feel it throughout your being. What do you want your life to look like in five or ten years? What can you do today to help you get there?
As you write your intentions for this new Moon, feel into the power of your practices and rituals. The small things you do each day with intent become rituals in your life. How you wake in the morning can be a ritual. Having a pot of tea can be a ritual. Journaling can be a ritual. These rituals become the foundation for your intentions to manifest. They keep the fire of your dreams burning long after the new Moon has passed and during even the most distracting times.
Rituals also help us define the passing of time. Virgo reminds us that our time is finite and that we must treat it as a precious resource. On this new Moon, feel into what rituals can help you slowly build your visions. Virgo reminds us that we are not in a rush to reach our destination. The journey to our dreams is just as fulfilling as achieving them. What's important is that we create a strong foundation that will not waiver in the face of adversity.
As you create and commit to rituals that will help you work toward your visions, include rituals of healing. Virgo is one of the great healers of the zodiac. She reminds us that our wounds can sabotage us in ways we least expect. If we truly want a strong foundation, we must heal the cracks in our soul. When we have unprocessed grief or trauma from the past, it creates energetic noise in our system. It distracts us, takes us off course, and brings us out of the present moment. Our wounds can call in situations that repeat our past and cause chaos in our lives.
Virgo is also the sign of organization. She reminds us that to reach our highest visions, we must declutter our minds and hearts. As you form your intentions this new Moon, feel if any energies pull you back. Is there anything causing you doubt, telling you that you are unworthy, or preventing you from believing you are capable of manifesting your visions? These feelings may be subtle, but notice if they come up. Address their cause, and while you may not be able to heal what holds you back in one night, you can come up with rituals to help you process them over time.
Healing rituals can look like daily journaling. They can be mantras you create to say when self-doubts arise. They can be a plan when a certain thought or feeling comes up, such as a breathing exercise, a series of questions to ask yourself, or a call to a loved one who can offer you a different perspective. As you create various rituals for yourself this new Moon, include ones that build your intentions and ones that heal the pieces of you that subconsciously tear down your intentions. Much of the work of manifestation is removing what blocks you from receiving what is already yours.
Ask yourself some of the challenging questions and get to the bottom of any issues you have around self-worth or perfectionism. Now is the time to understand the origins of these energies and communicate with the place within you that is attached to them. Take a few deep breaths to ground yourself and sit with each question for a moment. Allow the answer to naturally arise, being open to the person you are becoming. You are opening the door to your intuition.
Other Astrological Influences on the New Moon
There are a few other astrological events happening on this new Moon.
Mercury, Virgo's planetary ruler, is retrograde. When a planet is retrograde, it spins the energy inward. Mercury rules communications, making this new Moon a wonderful time to go inward and initiate a needed conversation with yourself.
Helping ground your energy on this new Moon is a grand Earth trine between the Sun and Moon in Virgo, Uranus and Jupiter in Taurus, and Pluto in Capricorn. The abundance of Earth energy on this day creates a container for your energy, helping settle your nervous system and bring clarity to your mind.
RELATED: There are 7 Planets in Retrograde Right Now. Here's What That Means for You.
Your Invitation
Over this season, align with the organizational energy of Virgo to create a schedule or routine of healing and growth. This may look like taking a class or reading a new book. It may be making time to meditate or journal each morning. It might be weekly acupuncture or yoga classes, or some other healing modality that serves you. The key is to give yourself permission and time to evolve while knowing you are still worthy of everything you desire right now. Work on yourself because you can and because it's enjoyable to grow, not because it's required for you to be good enough. You're already good enough.
If you don't feel ready to write down your intentions, then wait a day or two until they are clear in your mind. Instead, spend time in meditation, practicing breathwork, or working with other modalities that help you clear your mind and center your energy. Once you feel connected to your entire being, then write your intentions. When you write your intentions from a place of clarity, then there will be no room for misinterpretation. If you are not clear, direct, and detailed in your intentions, then the Universe may not accurately hear them. You can never manifest the wrong energy, but you can send mixed signals to the Universe about what you really desire.
The Earth represents the foundation we build everything else upon. Let this energy teach you about your foundation. What will help you manifest your visions? Think about routines, rituals, or practices that can serve as a reflection of the stable Earth in your life. Feel into what practices you can root into and draw nourishment and creativity from.
Also, feel what practices can steady you when life becomes challenging or throws you curveballs. What brings you back to center again and again? Lean into the Earth element to help you feel what stabilizes you and connects you with your strength, resilience, and power. Align deeply with the Earth by walking in nature, holding a Moon circle, or meditating with a few plants. Meditate on what they are grateful for that night and every night. You can even practice being grateful for things that haven't come your way yet.
Feel the support of the Earth element helping to hold you and connect you to your body. Also, feel it bringing clarity to your intentions. Take the time to be with your self, your heart, and your soul. Get to know yourself on a deeper level and allow your life to unfold another layer with each new Moon.
Learn more about the new Moon in Virgo, including additional astrological insights and journaling prompts, in the Virgo Season + New Moon Workbook, from which the above is excerpted. You can also learn more about your personal natal chart.
About Our Contributor
Jill Wintersteen is the founder of Spirit Daughter, a lifestyle brand devoted to helping you live your best life through understanding the energy of the Universe. She also writes workbooks on each full Moon as well as other astrological events. Follow her on Instagram @spiritdaughter.