4 Teachers on the The Yoga of Eating (Plus, Their Favorite Recipes)
As the yoga community expands, so do our values around food. With ahimsa in mind, four teachers share how they eat for body and soul.
Heading out the door? Read this article on the new Outside+ app available now on iOS devices for members! Download the app.
Sadie Nardini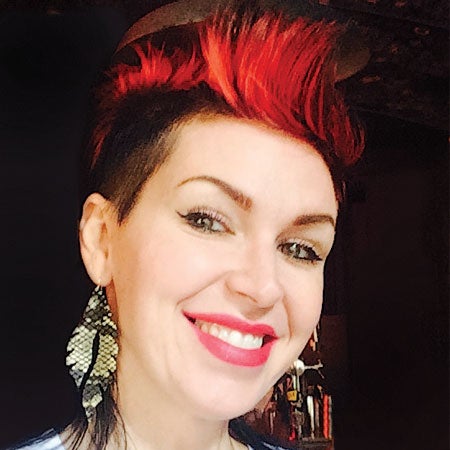 Founder of Core Strength Vinyasa Yoga and author of The 21-Day Yoga Body, Brooklyn
FOOD PHILOSOPHY Ethical Omnivore
Growing up in Iowa City, Iowa, Sadie Nardini lived on plenty of processed meat—and extra sugar, please. Fast-forward to college, where Nardini started practicing yoga and learning about the cruelty of factory farms and how raising meat can negatively affect the environment. On a school tour, she was traumatized when she saw animals brutally slaughtered in a meat-packing plant. Horrified, she became a vegetarian under the supervision of a holistic nutritionist who helped her plan a balanced diet. But six years in, "I never felt worse," she says. "I was sickly and exhausted all of the time." Then she met an Ayurvedic nutritionist who said her personal constitution might do better if she ate some animal products. "He said for some people, meat can work not as a deadening food but as a grounding one," she says. Though Nardini resisted at first for ethical and health reasons, she finally caved—and the results were good. "After voraciously devouring an organic kielbasa sausage—my first meat in six years—and feeling life force flooding back into me, I had to bow to my body's truth," says Nardini. "I am stronger, healthier inside and out, and more balanced when I eat meat." In her daily life, ahimsa includes honoring the needs of her own body. These days, Nardini isn't a vegetarian; she moderately consumes organic meats, sourced when possible from small, local farms. "I represent a vast middle ground of people eating in service of not only our personal vitality but also of helping the environment," she says. "We aim to balance the two without polarizing."
Sadie Nardini's Healthy Eating Tips
IN HER FRIDGE
Ginger kombucha, organic baby kale and spinach, organic sopressata (Italian salami)
FAVORITE SNACK
Smashed avocado, tomato, and hummus on gluten-free bread
GO-TO COMFORT FOOD
A glass of good, red Tuscan wine, such as Chianti Classico
See alsoIs Your Wine Organic?

FOOD TIP
Everything improves with organic, cold-pressed, extra-virgin olive oil
See alsoSadie Nardini's Tuscan White Bean Soul-Soup
Alexandria Crow
YogaWorks instructor, Venice, California
FOOD PHILOSOPHY: Pescetarian
When a nut-based cleanse triggered a dormant allergy, causing her to break out in hives, Alexandria Crow made the life-changing choice to become a pescetarian. "In trying to do a normal cleanse of my system, I ended up feeling sick," she says. When she later found out she had allergies to soy, nuts, coconut, wheat, gluten, dairy, and most grains, Crow essentially had to relearn how to eat. She's also sensitive to pork and red meat, so she makes fish her primary protein, combining it with veggies. She skips overfished species, such as ahi tuna and Atlantic halibut, and usually sticks to seafood lower on the food chain, because big fish have a high mercury content. "I try to make the best decisions I can, knowing that seafood can be contaminated," she says.
See alsoNondairy Delight
Today, Crow feels healthier than ever. Her takeaway from that cleansing debacle a year and a half ago: Listen to your body—in the same way you do during yoga practice. "It wasn't until I was forced to do so that I realized the huge correlation between what you eat and how you feel mentally and energetically," she says. "I think so many people are just following someone else's rules, or the new fad. But it really takes paying attention to yourself, because there's no one-size-fits-all."
Alexandria Crow's Healthy Eating Tips
IN HER FRIDGE
Veggies—especially spinach, cucumber, and avocado
See alsoFaux Grilled Cheese with Avocado
FAVORITE SNACK
Asparagus (raw, roasted, or grilled) dipped in guacamole
GO-TO COMFORT FOOD
Roasted veggies—heirloom carrots, beets, sweet potatoes, and red onions—with avocado
FOOD TIP
Add cooked veggies and toasted seeds like chia or pumpkin to salads
See alsoAlexandria Crow's Salmon al Forno Salad
Christina Sell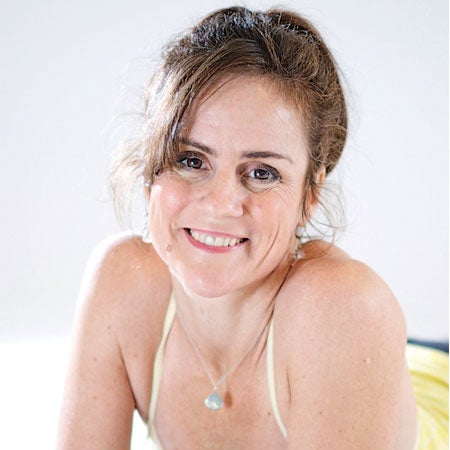 Founder and director of the San Marcos School of Yoga and author of Yoga from the Inside Out: Making Peace with Your Body through Yoga, Austin, Texas
FOOD PHILOSOPHY: Mostly vegetarian
About 10 years ago, Christina Sell was hiking with her sister on a yoga retreat, discussing the ins and outs of vegetarianism. A deer suddenly crossed their path, then stopped and stared, making what seemed like meaningful and extended eye contact. That night at dinner, the sisters didn't feel like eating meat; Sell rarely has since. "If it has a face or could run away from me," says Sell, "I do my best not to eat it. There is an abundance of food choices, and each choice carries personal, environmental, and community consequences. In general, I choose to limit my intake of meat because I would not, myself, go out and kill an animal." Sell sometimes will make exceptions for travel and family, because as a recovering bulimic, she's found that strict diets aren't healthy for her. "Rigid eating plans can be a slippery slope for me," she says. "Any restriction has a rebound effect."
See alsoThe Truth about Yoga and Eating Disorders
Though "vegetarian" fits for Sell, she's tried pretty much everything—including vegan, raw, macrobiotics, and wild abandon. Her only nonwavering food rules are: "Start when I'm hungry, stop when I'm full, and don't purge." Her yoga practice has helped with this, allowing her to recognize hunger and fullness on every level. It's also been part of the healing that's helped her enjoy food and even call herself a "foodie." She cooks often and makes frequent meal dates with her husband.
Christina Sell's Healthy Eating Tips
IN HER FRIDGE
Curry paste, vegetables of all kinds, Pure Luck Farm & Dairy chèvre
FAVORITE SNACK
Dried Medjool dates stuffed with cashews and a piece of candied ginger
GO-TO COMFORT FOOD
Hot, spiced chai; Lick Ice Creams's Hill Country Honey & Vanilla Bean
FOOD TIP
Ghee, plus some high-quality sea salt, makes everything taste good
See alsoChristina Sell's Roasted Cauliflower Recipe
Jonny Kest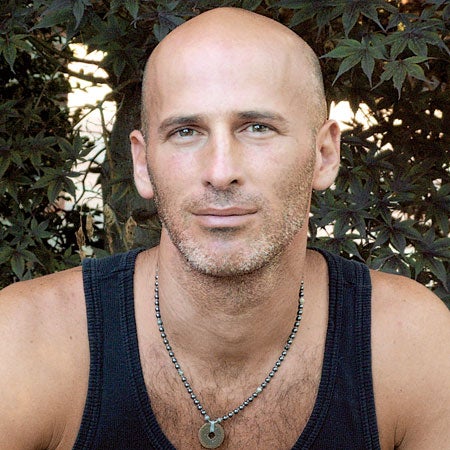 Vinyasa teacher, owner of Center for Yoga studios, and national director of LifePower Yoga, Detroit
FOOD PHILOSOPHY: Vegan
Jonny Kest tells students that a yoga practice often evolves in three stages—from being ego centered, to being focused on the breath, to finally expanding the heart. Kest's diet has evolved similarly, he says, shifting over time from pleasure to health and then into deeper territory. "My diet has become heart centered," he says. "I finally woke up to the fact that I wanted to eat with kindness." For Kest, this means eliminating animal products because factory farming is inhumane to the animal, damages the environment, and contributes to deforestation and climate change. As a husband and dad to four kids, Kest values a healthy future. "We can vote three times a day when we choose what we eat," he says.
See alsoCan Going Vegan Be a Path to Enlightenment?
In fact, all of his children are vegan, and the family regularly gathers around some seriously delicious salads, stir-fries, and smoothies, eaten consciously in line with vegan philosophy. Eating with awareness can be a spiritual experience, Kest believes. "The food is becoming a part of you," he says. "Let it be intimate. Let it be sensual. Let it be satisfying."
Jonny Kest's Healthy Eating Tips
IN HIS FRIDGE
A bounty of homegrown produce, including berries, zucchini, eggplant, corn, peppers, tomatoes, and beets
FAVORITE SNACK
A banana, spread liberally with organic crunchy peanut butter
GO-TO COMFORT FOOD
A vegan Reuben sandwich with grilled sauerkraut, avocado, and vegan Russian dressing