Beauty in Asana: How Yoga Helps One Woman Find Beauty In Her Body
"I lived in my head until yoga finally brought me back into my body."
Heading out the door? Read this article on the new Outside+ app available now on iOS devices for members! Download the app.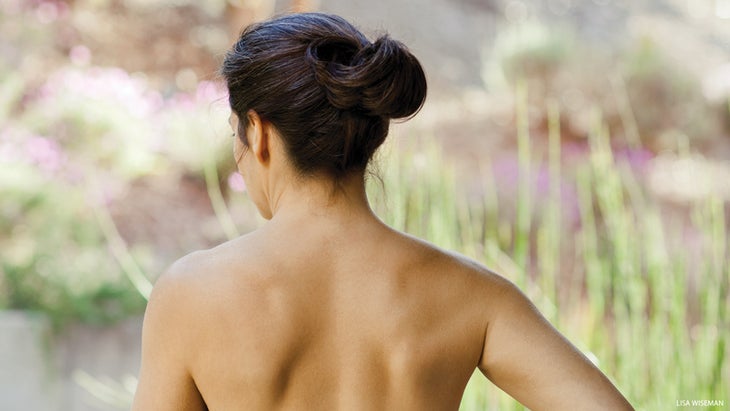 Yoga can help you redefine your sense of beauty and accept your body type.
Every little girl wants to be beautiful. I was no exception. But as a chubby toddler, fat kid, and morbidly obese teenager, I was never in the running. I chose not to live in my body—I rented it, but I didn't want a permanent place in the undesirable section of town. Instead I lived in my head, planning how great my life would be when I lost weight—when I was beautiful.
I tried countless weight-loss regimens, from diets to drugs to multiple weight-loss surgeries. I failed at every one. When I saw Yoga for the Larger Woman advertised, I savored the idea of myself as flexible, lithe, and graceful. But it took me months to actually make it to class. When I got there, the recurring message was to be present in your body. I wondered, "Why would I want to be present in this body?"
See also10-Minute Guided Meditation for Self-Compassion
But I kept coming back. I started to enjoy how good it felt to twist and stretch and be in my body. After a year of practice, I began to move back in. It was a slow process of catching my negative thoughts, checking them for validity, and letting them go. I had to learn that fat did not negate feelings of wholeness and strength I derived from my practice.
Still, when I was invited to be a model for the Yoga for the Larger Woman calendar, I was dead set against it. It was one thing to feel stronger and more flexible, but to publish images of this body in its imperfect and highly flawed form? Even after eight years of practice, I still struggled with the idea of being seen as a yogini outside the safety of the studio or my own home.
Yet I liked the idea of letting other ample women know that yoga is available to them, no matter what their size. So I finally agreed to participate as an alternate. In the months leading up to the shoot, the models met weekly, and was constantly amazed by the acceptance and respect many of them had for their bodies. I so wanted to feel about my physical self as they felt about theirs.
See also A New Campaign Reminds Us Yoga is Beautiful + For Every Body
I didn't attend the unveiling. I was too embarrassed to see my own photo. But later, when we all got together to talk about our experiences on the project, I broke down. I could barely get the words out as images of my self-imposed restrictions and criticisms shattered and fell before me. I could feel on a visceral level that beauty was not just what my eyes perceived. It was in the excitement, joy, strength, and presence of each individual. I'd seen that in their pictures, and I was learning to see it in my own.
Through my practice, I have seen that it is truly the sense of wholeness, the presence of the person, that defines and reflects beauty.
Janet Wieneke works in radiation oncology in Portland, Oregon. You'll find the 2013 Yoga for the Larger Woman calendar at yogaforthelargerwoman.com.