My Body Image, My Self: Weighty Stories of Self-Acceptance, Part 2
Heading out the door? Read this article on the new Outside+ app available now on iOS devices for members! Download the app.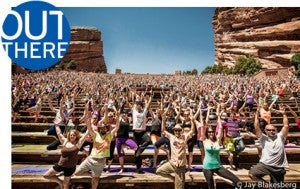 Lululemon Lead + Optimist-Mom Rachel Acheson on Finding a Loving Inner Voice
In this six-part series, Yoga Journal asked six women participating in the Practice of Leadership conversation on Saturday, July 12, 2014, what body image means to them. Disclaimer: It's positive, pop-y and powerful. And yes, as a yoga community, we do believe experience is everything.
Meet Rachel Acheson, Vice President of Brand and Community for Lululemon Athletica.
YJ: The most empowering image of a female is…
RA: …my daughter, jumping off the dock at our cottage. Half-naked. Bold. Strong. Courageous. Not an ounce of self-doubt.
YJ: How would you describe your relationship to your body image?
RA: We are growing together—me and my body image. My body image is the first layer of my inner critic. The place that voice lands before anywhere else. And in the last 30 years I have learned to calm that inner critic. To tell her there are things so much more important. That there is love no matter what size I am. That I need to be as generous with myself, as I am with others. That the words I say when I look in the mirror have to be words I could utter to my daughter.
YJ: What has your physical body taught you about your emotional self?
RA: Honestly, yoga has taught me the most about self-acceptance. I started my yoga practice when my marriage fell apart—or when I blew it up. I walked away from that relationship and from another. I left the space of validating myself through the love of others and began a journey of self-love and self-acceptance. I have to say that I have Elena Brower to thank for that. I can hear her, every day in my mind, saying "bathe yourself in the light of self-acceptance." My mat is where I find that and remind myself of that.
YJ: What has been your most dangerous experience with body image in your personal life or culture?
RA: The most obvious and palpable danger would have to be my experience as a teenage anorexic. I spent 4 months in a psych ward. I was 82 pounds. I had eroded the lining around my heart. I was batshit crazy. And in that, I found community with such a range of people. All these other people who were just as crazy but had different "problems."
I learned we were all the same. I sat down with my occupational therapist one day and she asked me to make a "balance sheet" of myself. The assets and the liabilities. I started with the liabilities. They were easy. And on the assets, I completely broke down. I sobbed for 30 minutes and I couldn't find one thing to put in there. She gently reminded me I had friends and family who visited me every day. I was a straight-A student. I was beautiful. I had friends in the hospital. But nothing came to me. It was my breakthrough in the danger. I realized that truly I must not be seeing myself with love, generosity, accuracy.
But I think the biggest danger and the one that motivates me every day to quiet those demons, is the influence I am on my daughter. She watches and copies everything I do. The glances in the mirror, the adjustment of my shirt, the "checking out my butt." And I cannot risk her adopting an ounce of that dangerous mindset. That is the biggest danger. She is not the lining of my heart—she IS my heart.
YJ: What can we do as a community to support women and create a body-positive culture?
RA: We can love and nurture each other. We are all in this together and we all face the same struggle in some way, shape or form. We can be fuel for the RIGHT inner voice. We can ask each other "would you ever say that to your daughter?" And if you wouldn't, you should never say it to yourself. We can encourage people to find mindfulness and their mat.
YJ: Choose one: Body, mind, soul.
RA: Soul.
YJ: If you could speak to your physical body, you would say, "_________."
RA: I'm sorry I judge you so harshly. I am thankful for the grace you have given me and the strength and the energy. I love you, no matter what size you are today. I ask of you vitality—not perfection.
YJ: And she would say back, "______."
Breathe. Relax. I have you. I always have you. Trust me to catch you.
YJ: What's your best advice for feeling comfortable in your own skin?
RA: Yoga. Fresh air. Movement. Throw out the clothes that belong to someone else's body. Meditate. Remind yourself that you are not on this planet to be "thin." You are on this planet to do great things. And doing great things takes love and energy, not skinny jeans.
Join us this Saturday to hear more about Acheson's personal experience with body image at Yoga Journal LIVE! San Diego. Or head over to our Facebook Practice of Leadership group to join the conversation. But first, read Part 3: Dana Smith, Author of YES! Yoga Has Curves, Talks About the Power of Self-Love.