Plan a Green Wedding: Tips to Make Your Big Day Eco-friendly
Your guide on how to create a green wedding, plus tips on how to make your day eco-friendly.
Heading out the door? Read this article on the new Outside+ app available now on iOS devices for members! Download the app.
Your guide on how to create a green wedding, plus tips on how to make your day eco-friendly.
The bride wore a white dress and white shoes. After the ceremony, she gave the dress to her sister and dyed the shoes emerald green so that she could wear them again. Her engagement ring was set with an aquamarine instead of a diamond from the mines of Africa. And when she and her husband honeymooned in Barbados, they stayed at a locally owned hotel to support the economy there. Like an increasing number of couples these days, Manhattan yoga teacher Emily Anderson and her husband, David Natt, proved that you can make environmentally conscious choices about your nuptials—without tossing tradition out the window.
Anderson's yoga practice inspired her to plan a green wedding and to write a book on the subject Eco-Chic Weddings. During her previous job planning weddings and events for Martha Stewart's company, Anderson noticed that a general sense of being overwhelmed at all the choices to be made often led couples to make snap decisions. Often these not only increased their stress but also created environmental waste. "Weddings are a $200 billion industry in this country," she says. "We can aspire to make better choices."
The first choice begins well before the wedding, when most couples buy an engagement ring. Anderson suggests buying a vintage diamond ring or a ring set with a different gemstone, since many diamonds come from Sierra Leone and Angola, where rebel military groups profit from mining operations and terrorize the people. (The United Nations calls these "conflict diamonds.") If you do buy a new diamond ring, Anderson recommends finding a jeweler, such as Tiffany & Co., that sells conflict-free diamonds and can provide a certificate of origin (often, conflict-free diamonds come from Canada).
See also6 Eco-Friendly Gift-Wrapping Ideas
Going vintage is a great choice for the wedding dress, too. If you can't find one you like, look for a dress made from hemp blends. Or you can opt for something you'll wear again, as Carol Reed-Jones did. For her second marriage, Jones, the author ofGreen Weddings That Don't Cost the Earth, wore a $70 ivory suit.
Anderson discovered that the honeymoon destination is crucial, since most couples spend nearly half of their total wedding budget on their trip. Go to greenhotels.com to find a hotel that has adopted sustainable practices.
Most important, Anderson says, is to allow yourself to be creative and come up with your own vision of a wedding that treads softly on the earth. "Choose your own path," she says. "It's up to you to decide what traditions you'll create."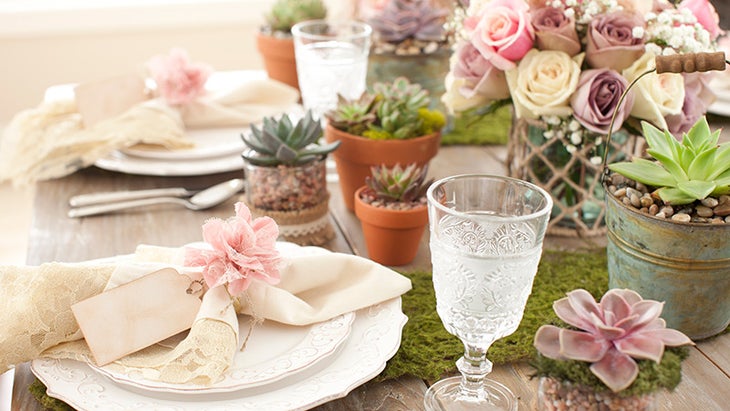 Tips on how to make your wedding day eco-friendly:
Ask the caterer to recycle your bottles.
Choose organic foods and wine.
Opt for locally grown or seasonal flowers to cut down on the fuel required to transport them.
Donate leftover food to a homeless shelter and donate flowers to a cemetery.
Print the invitations with soy-based ink on recycled paper.
See alsoGreen Your Practice: 39 Eco-Friendly Yoga Essentials