5 Yoga Tricks to Smooth Out Stressful Relationships
Here are a few simple ways to carry the nourishing effects of yoga off the mat and into your relationships.
Heading out the door? Read this article on the new Outside+ app available now on iOS devices for members! Download the app.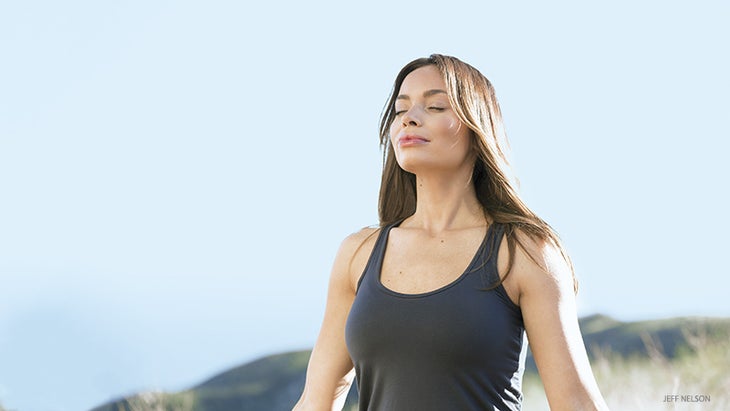 To prep for our upcoming Yoga for Stress and Anxiety online course, we're giving you weekly doses of tranquil asana, pranayama, meditation, and yoga nidra. Don't miss our six-week course that'll make a lasting change in the way you work, love, and live. Enroll now and be the first to know when it launches.
We've all been frustrated by a boyfriend, girlfriend, or spouse, who we feel makes us wait, doesn't communicate, or has a different vision for how a relationship should play out. Mentally, it can be exhausting. And physically, hostile reactions to our loved ones can cause a surge in stress hormones like cortisol, which can be detrimental to our overall health, according to the American Psychological Association, However, as yoga teaches, external situations do not always have to dictate our internal emotional states. In fact, emotions are a terrific source of information and guidance, when we attend to them with a calm, open mind.
Here are a few simple ways to carry the nourishing effects of yoga off the mat and into your relationships.
1. Harness Emotionality
Being an emotional person is not a bad thing; it just means you are motivated by your feelings. It only becomes an issue when emotions turn to drama. While being aware of your feelings tells you what is going on inside, reacting because of your feelings creates stress. In order to harness the power of your emotions, notice the information they contain. What actions do they suggest? How can you improve your life? Connect to the part of you that can witness emotions without judgment. Accept all your feelings and learn from them. When you practice accepting your own feelings, it becomes easier to accept the feelings of others as well. This is how you harness your emotional power to create positive change.
Meditation tip: Try a lovingkindness—or metta—meditation to increase your empathy for self and others. This practice may help you accept whatever emotions arise without needing to react to them, and can cultivate compassion in all of your connections.
2. Listen from the Heart
Everyone needs someone to listen, even if you don't always like what the other person is saying. People will feel more positively toward you because your attentiveness affirms them. All you have to do is be quiet and breathe deeply. Hear what the person in front of you is really saying. If you can empathize with them, that's a bonus. Endeavor to really understand the meaning of what you hear. It is such a rare occurrence to truly be heard, that you can become an extraordinary friend, lover, or co-worker, simply by taking the time to listen.
Pose tip: Ustrasana, Camel Pose is a big, heart-opening backbend. It is known for its powerful ability to cultivate inner strength and to help you see things from a different perspective, which enhances your ability to listen whole-heartedly. Be sure to breathe deeply through your nose to keep your parasympathetic nervous system active in this expansive backbend. Hold for several breaths and then sit back on your heels and widen your knees, either resting your palms on your thighs or bringing your hands to Anjali Mudra at your heart. Sit with any emotions that may have come up and use your exhales to release them.
See alsoTry this: The 10-Minute Yoga Nidra Practice to Stress Less
3. Loving with a Question
Create a safe environment by asking questions before sharing your point of view. When we practice listening from the heart, we are guided by curiosity rather than opinions, defensiveness, or debate. Typically, we form responses in our heads long before the other person is finished speaking. When you feel the need to react, ask more questions instead. This is where your yoga practice of witnessing and relaxing comes in handy! It is a challenge not to defend ourselves or argue when we disagree with someone. Remember, curiosity is key. Just as you would with learning the benefits of a yoga pose, learn about the deeper reasons behind what your partner is saying. When you find out the root source of their wish, you will have helped them with your questions, even if you don't actually agree. Your interest will feel like care. Even if you don't usually get along, they will feel honored and respected and you will be more content, knowing you stayed calm and respectful.
Pranayama tip: The rhythm and quality of our breath modulates your emotional state and even thought patterns. Practice Nadi Sodhana, or alternate nostril breathing, to balance the hemispheres of your brain, and your state of mind and energy level. This can assist you in processing what you are hearing and compose creative questions to deepen the understanding between you and your counterpart.
4. Loving Through a "No"
At the appropriate time—we recommend sometime after you have listened deeply, asked sincere questions, and reflected upon your own feelings—it may be time to express boundaries. Boundaries in relationships protect all concerned. Many people become upset when they have to draw a boundary or say no, because we have been so conditioned to be "nice" and "helpful." We get stressed if we think we may not be doing something likeable. It is okay to feel this discomfort and at the same time uphold boundaries. When you know what you will and won't stand for, it becomes very simple to say no. Stay connected to the you-that-you-are so that you can assert a boundary with the compassion and kindness of your higher self. Remember, boundaries are not mean—they help us all know where we stand, and this offers a true sense of security. Sometimes a firm, quiet "No, thank you" is the kindest thing we can offer ourselves and a relationship.
Practice tip: One of the most effective ways you can express boundaries in your relationships can begin right on your mat. Knowing when to back off in a challenging asana or just say "no" altogether means you're listening effectively to the needs of your body in that given moment and honoring your limitations. Our yoga practice is an exploration of the connection between our body and breath, not an exercise in pushing ourselves beyond what we're capable of. Increased strength and flexibility will come naturally over time, as you make progress through continued practice and dedication.
5. Dharma: Make your Self the #1 Priority
We have come full circle. This last tip is the #1 thing to remember as you apply the others: be true to the subtle, loving you-that-you-are. If you desire healthy relationships, they must spring from a healthy source—your true Self. This is not a shallow or selfish "I, Me, Mine" orientation, however. Experience fulfillment in all of your relationships by interacting from a loving, compassionate, accepting, forgiving, or other genuine place. Satisfying relationships arise from your own personal purpose of spiritual growth. When your peace of mind is disrupted, you may choose a different state of mind and work towards it, such as returning to contentment or ease. Alternatively, you may take action to rectify a situation, such as discussing concerns, offering directives for change, or simply using it as a challenge to strengthen your internal virtues. When you use your relationships with others as opportunities to express empathy and relaxation, you discover inner peace. This approach allows you to practice your dharma in every moment, as you explore your own life's lessons—no matter who you are with.
Caring for our own higher self is the first step in caring for others. Listening to difficult people enhances compassion. When we are curious instead of stressed, our reactions to how we related to others becomes smoothed out. Healthy boundaries demonstrate love to ourselves and to others by protecting us. Hold a spiritual intention for all of your relationships and allow this higher emotion to color all of your interactions with ease and love.
Self-care tip:Work with the principle of satya, or truthfulness, one of the five yamas to live by in fundamental yoga philosophy. To act from a place of satya means to speak and live your truth from a place of integrity. Being honest in your interactions with others begins with cultivating honesty within yourself first.
Adapted from Yoga Therapy for Stress and Anxiety by Robert Butera, PhD and Erin Byron, MA, and Staffan Elgelid, PhD, P.T. © 2015 by Robert Butera, PhD and Erin Byron, MA, and Staffan Elgelid, PhD, P.T. Used by permission from Llewellyn Worldwide, Ltd.
Bob Butera, PhD, Erin Byron, MA, and Staffan Elgelid, PhD, have a combined 70 years experience in the body-mind profession. Bob trained one-on-one at The Yoga Institute, Mumbai, where he lived for six months in 1989 before completing his PhD in Yoga Therapy. Erin is a psychotherapist whose Master of Arts dissertation was Yoga for Post-Traumatic Stress Disorder. Staffan is Associate Professor of Physical Therapy and the Co-Chair of the Health and Wellness Initiative at Nazareth College. All three continue to work with individual clients.