Change Your Diet With Yoga
The practices of hatha yoga can help you change unhealthful eating habits for good.
Heading out the door? Read this article on the new Outside+ app available now on iOS devices for members! Download the app.
I recently asked a group of students to identify motivating reasons to improve their eating habits. I love the collective wisdom of a group, and this lively gathering was no exception. Obviously, a desire for weight loss was near the top of the list, but also its opposite, the need for weight gain was suggested (a common complaint for those with chronic illness or undergoing cancer treatment). Other reasons included healthy eating to deal with food allergies, gluten sensitivity or intolerance, specific conditions of the digestive system like irritable bowel syndrome (IBS) and inflammatory bowel disease (IBD) such as Crohn's disease. Also, noticing that your usual diet leaves you feeling poorly after eating. Or noticing that an adopted diet, like Atkin's, causes unwanted and worrisome symptoms. Another personal motivation might include discovering you have early stage diabetes or high cholesterol, and hope that a change of diet could help.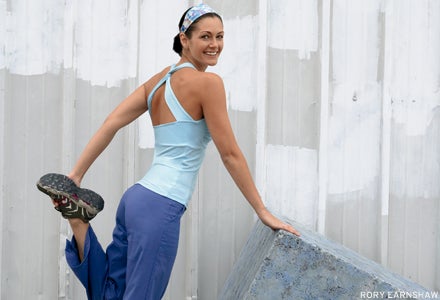 Identifying a reason to develop healthier eating patterns could be considered setting your intention, or as we say in yogaspeak, your sankalpa. This can be a pivotal moment and a touchstone that you return to as you work to change your habits. In some ways this is the easy part. It's the instituting and maintaining of the new habits that is always a challenge. Some of the key skills that doing yoga regularly develops include learning to recognize which foods are good for you and which are not; when you're satisfied, which is different than feeling overly "full"; when you are experiencing thirst, not hunger; and when you may be eating due to stress. All of these insights are revealed via the cultivation of moment-by-moment awareness that happens during the hatha yoga practices of asana, breathwork, and meditation.
Meditation, in particular, seems to be quite effective in helping us maintain the healthy changes we might make to our eating. In her recent book Willpower, and in the program Boost Your Willpower that she created for Yoga Journal, yoga teacher and psychologist Kelly McGonigal explains about how mindfulness practices like meditation, and potentially yoga asana practices done with mindfulness as a main focus, do just that. For example, studies indicate that ongoing meditation practice increases blood flow to the prefrontal cortex of the brain, the area associated with impulse control. And just like you'd do curls at the gym to make your biceps stronger, meditation is the exercise that makes your impulse control, and therefore your willpower, stronger.
Another interesting finding from modern science that helps us understand how we get tripped up so easily when we are under stress is that our brains have a hard time distinguishing between real danger and our modern forms of stress. Our background operating systems react similarly to a life-threatening situation and say, an argument with a co-worker: the body releases chemicals that liberate fuel into our bloodstream so we can get away from danger quickly, and later releases cortisol, which stimulates hunger, so we can replenish the fuel we just used up. The problem is that after the argument with our co-worker, we rarely immediately go on a fast run, so when the second phase of the body's autoresponse kicks in, cortisol release, and we get hungry, we end up eating even though we don't need the fuel. This is one way stress can lead to unwanted weight gain.
The initial stress response also lowers impulse control (the very thing meditation improves). We need to be a bit impulsive and spontaneous when confronted with real danger. Not so much so with most of our modern stressors. So these stress episodes tend to be the times we are most likely to revert back to our unhealthy habits, and in this case, unhealthy patterns of eating.
Fortunately, yoga has been noted in many studies to have a positive effect on lowering the stress reaction. When we are less reactive in stressful situations, we can make better choices in the moment. And, finally, the physical practices of get you moving and using up some of your fuel stores (as if you really were running from a bear).
And what do you do when, while meditating, you notice unhelpful thoughts arising? Patanjali's Yoga Sutra 2.33, vitarkabadhane pratipaksabhavanam, translated by Edwin Bryant as "When disturbed by negative thoughts or events, cultivatation of opposite thoughts or events" (tr. Nicolai Bachman) provides useful advice about what to do when it becomes obvious that your thoughts are pulling you back into old, unhealthy patterns of eating. As modern spiritual teacher Byron Katie suggests, flip that negative thought around and if it's positive opposite isn't as or more true than the original.
Armed with modern science and ancient advice, your healthy eating intentions for the New Year can become a reality!