The Best Budget Tops for Yoga
Want to look and feel great in class without spending a ton? Check out this selection of budget yoga tops that look fashionable inside and outside the studio.
Heading out the door? Read this article on the new Outside+ app available now on iOS devices for members! Download the app.
Whether you're in a hot yoga class or lounging around at home, you're probably wearing a yoga top and pants. Soft and flow-y yoga tops are great to throw on whenever. But when you go to class, it's important to choose a top as functional as it is fashionable. Depending on the intensity of the class you're taking, you may want to choose a tank that is as stretchy and breathable as it comfy. To make sure you're wearing the right top to your class, check out our guide below.
See also 6 Best Yoga Pants, According to 6 Top Teachers Around the World
Best Armhole Design: icyzone Tank Yoga Top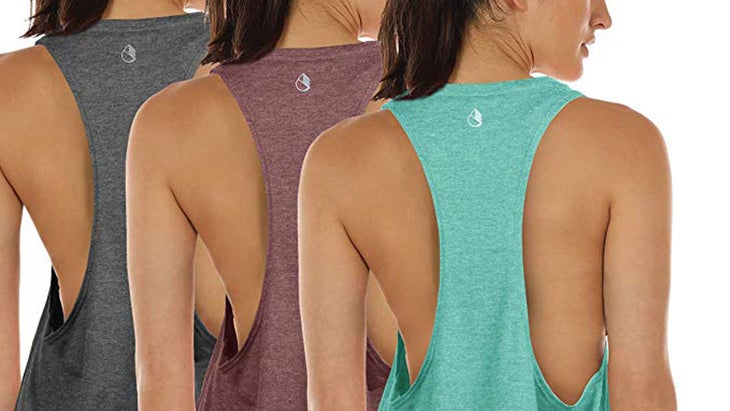 This icyzone top is designed to allow easy arm movement. It's exaggerated armhole design is the biggest on our list, so you won't feel constricted by the fabric. Better yet, it runs long and hugs the hips at the bottom so that you don't need to worry about it sliding up. The fabric is sweat-wicking, so this racerback tank is perfect for hot yoga. These shirts come in packs of three bright colors. Note: If you want this top to be super loose, consider ordering up a size. $23.99; Buy Now
Best Open Back: OYANUS Backless Yoga Shirt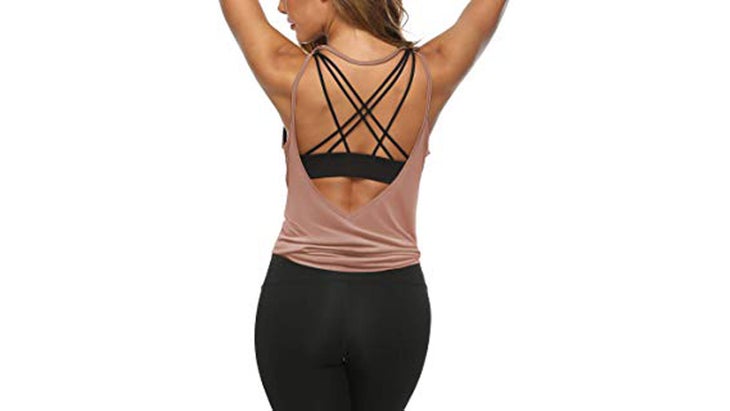 Most yoga tops have semi-open backs to keep you cool, and this pick is no exception. This tank's super cute open back will show off your strappy sports bras and keep you cool during your more intense classes. It's also stretchy, silky, and lightweight. Note: Some users struggled to find the right size. Be sure to measure your bust first to make sure you order the right size. Ding: This tank is short for a yoga top, so make sure you have on high waisted yoga pants underneath. $16.99; Buy Now
Best Mesh Back: Mippo Mesh Yoga Tank Top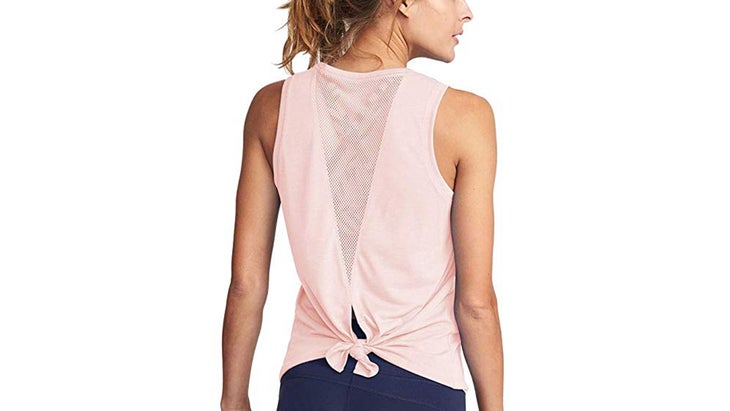 If you prefer a top more modest fit than an open-back tank, a mesh back is the pick for you. These tanks provide ventilation while giving a flirty peek of your sports bra. The shirt is long and ties in the back, ensuring that it will be firmly on your hips no matter what pose you're in. Better yet, the material is a modal and spandex blend, which makes it soft and breathable. $15.99; Buy Now
Best Cotton Top: TALALEO V-Shape Tank Top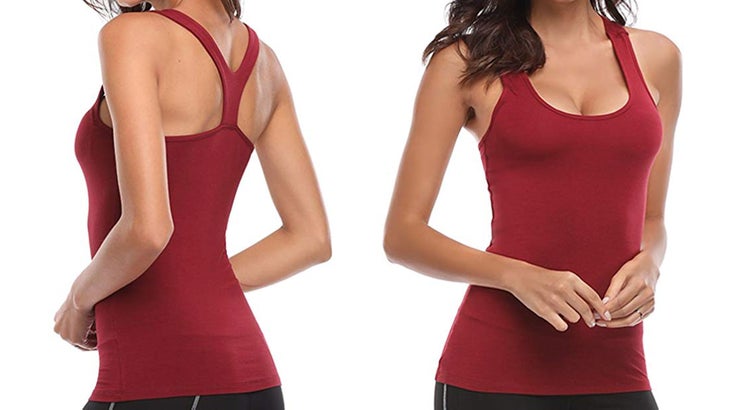 This TALALEO top is built to be snug and stay in one place so you don't need to worry about adjusting it during your routine. Don't worry though; it's also very stretchy and has a v-shaped back for ease of movement. Best of all, it has a lifetime warranty! This top comes in 3 packs of bright and neutral colors. Ding: Because this top is made of cotton, it is not moisture-wicking. If you do a lot of hot yoga, this is not the best pick for you. $17.99; Buy Now
Best Color Choices: Mippo Open Back Yoga Top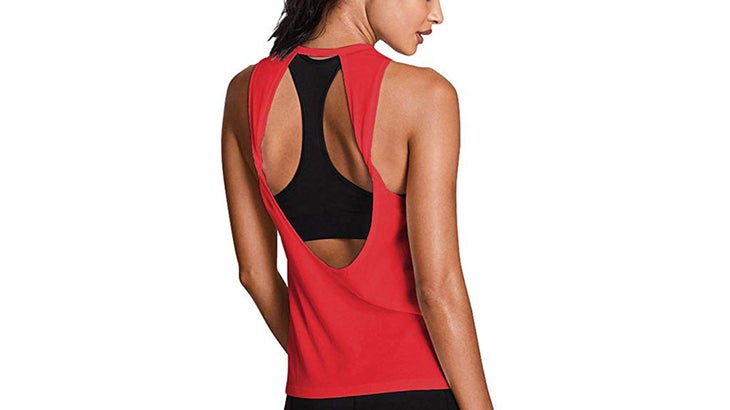 Feel like you're drowning in black and gray? This Mippo top comes in 12 different bright colors to brighten up your collection. Plus, it has a draped open back for easy movement and a fitted waist that stays put. It's made of a modal and spandex blend for breathability. Ding: Some users complain it wrinkles easily. $14.99; Buy Now
Best Short Sleeve Top: DIBAOLONG Short Sleeve Yoga Shirt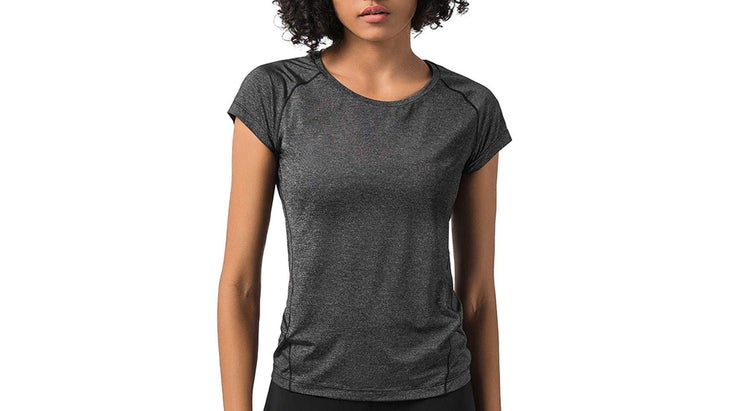 If you're searching for a short sleeve top made specifically for yoga, look no further than this pick from DIBAOLONG. This more modest choice may not have an open back, but it does feature a mesh back designed to keep you cool. The polyester and spandex blend of fabric checks all boxes: flexible, lightweight, and moisture-wicking. Ding: The sleeves may make this pick more than a tank top. $20.99; Buy Now
Best Draped Back: Mippo Open Back Yoga Tank Top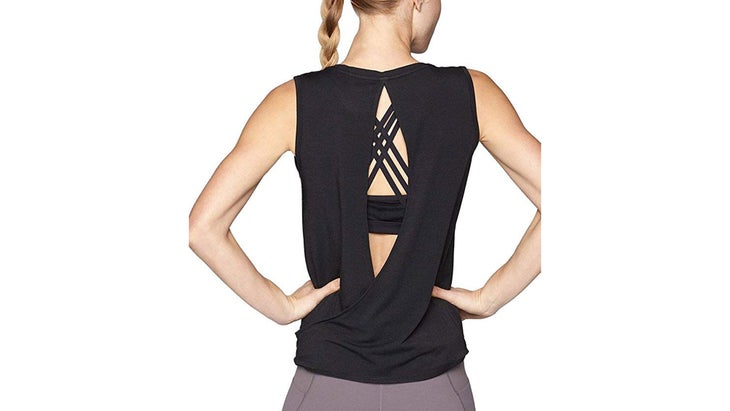 Tons of yoga tops feature draped open backs because they're stylish, offer ventilation, and are easy to move in, but this pick from Mippo is our favorite. The fabric stretches and moves with you and the extra fabric draped at the hips keeps your belly covered. The armholes are also extra roomy for comfort. $14.99; Buy Now
See also The Best Clothing for Meditation