Starving for Connection
Yoga can be a double-edged sword to those with eating disorders. A yoga teacher (and former sufferer) explains why.
Heading out the door? Read this article on the new Outside+ app available now on iOS devices for members! Download the app.
In 2011, the yoga blogosphere witnessed an explosion of substantial conversation about body image, eating disorders, and the portrayal of women in the media. From the release of Tara Stiles' book, Slim, Calm, Sexy Yoga to the new Curvy Yoga movement, there is no doubt that bodies weigh heavy—no pun intended—on the minds of modern day yogis.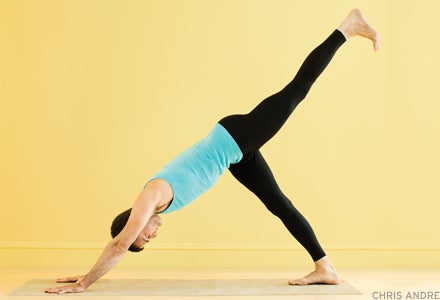 Eating disorders and body image are topics that hit particularly close to home for me. When I was 15, I suffered a stroke due to complications resulting from a five-year battle with anorexia nervosa. I was 58 pounds, a mere shell of a human being. When I regained consciousness, I was sitting in a wheelchair at a hospital nearly 300 miles from my home—confused, delirious, and quite frankly pissed off that I was alive rather than dead. I was promptly removed from my parents' custody and placed under the custodianship of the State. I spent the next sixteen months of my life in that hospital. I never went home; I never turned back.
At 17, I was discharged from the hospital and legally emancipated. I took my first yoga class just four months later at the recommendation of my therapist. I was still significantly underweight, rigidly attached to my precise-to-the-calorie meal plan, and—despite the fact that I was alone most of the time—was terrified to be with myself. But somehow, I gathered up the courage to throw on a pair of baggy sweat pants and a T-shirt and ventured out of the garage apartment I'd been hibernating in. I walked into yoga bruised and broken, starving for connection.
Make no mistake, I ardently resisted my therapist's suggestion that yoga might be a means to reconnect with my body. I had no desire to learn to love or appreciate the new form I was growing into; at best, I knew I would have to tolerate it to survive. If yoga had not been a sneaky, roundabout way to burn calories, I would never have walked into that class. That's beautiful thing about this practice: It lures you in with the promise of a perfect body and rock hard abs, only to deliver a much deeper, more nourishing experience.
From the very beginning, yoga felt like a paradox. Some days my practice was a source of profound peace; on others, I came to the mat like a crack addict, desperate to get another fix, to burn a few more calories, to drop just one more pound. At one point, I started practicing 2-3 times a day and shed even more weight from my already skeletal frame. As hard as it is for me to acknowledge now, yoga became one more way to starve myself.
As I look back on this experience, I can't help but feel concerned for other women and men in my situation. As yoga has meshed with the fitness and image-obsessed culture of the West, sweaty vinyasa classes have become ripe breeding ground for people with eating disorders to flourish in their dis-ease. What's more, there are simply no standards for teachers, studio owners, and yoga therapists to defer to to understand how to best support this population. What is the responsibility of the yoga teacher when a severely underweight student walks into class? As yoga continues to gain esteem among health professionals, I think we need to have this conversation.
Yoga is a double-edged sword for people with eating disorders.On one hand, the practice can help you to reclaim disowned parts of yourself, process traumas that simply cannot be expressed in words, and appreciate the body for its functions rather than form. On the other hand, one's approach to yoga can exasperate obsessive-compulsive tendencies, reinforce unhealthy body ideals, and become one more place to disassociate from oneself.
In many ways, yoga saved my life. The practice gave me a reason to feed my body, taught me to recognize and respond to its needs, provided a safe space where I could learn to be with emotions that I'd almost killed myself trying to stave off. More importantly though, yoga brought me back to people. The desire to practice forced me to leave the house and interact with others, and the community I discovered became a source of support and connection far beyond anything I ever imagined. I learned to be vulnerable in yoga, to let myself be seen and ultimately be loved by others. I truly found my family in yoga.
Over the past 6 years, I have come a long way on my healing journey. Yoga has helped me reclaim my body, my bigness, my life. Now, I find myself utterly engrossed in creating community wherever I go, sharing stories of healing and hardship, bringing the threads that connect us all to light. So how about it: Will you share your story? How has yoga played a role in your healing process?
Chelsea Roff is a writer by day and yoga teacher by night, a weaver of words as well as of asanas. She is Managing Editor at Yoga Modern and co-founder of Studio to Streets yoga outreach. Chelsea travels the country sharing yoga in the most non-traditional of spaces, from cocktail parties to public protests to juvenile detention centers. She currently lives in Santa Monica, where she can be found cartwheeling across the beach, hiking in the mountains, and practicing yoga poses on her little pink scooter.