Jungle Fervor: Adventure Retreat to Break Writers Block
An author overcomes writers block on an adventure retreat through yoga and hiking.
Heading out the door? Read this article on the new Outside+ app available now on iOS devices for members! Download the app.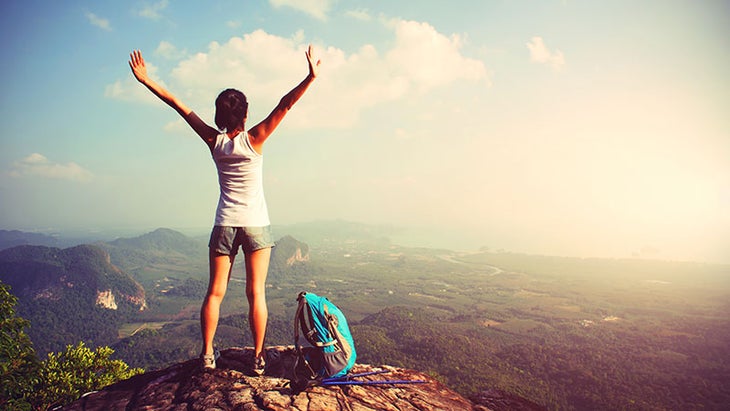 An author overcomes writers block on an adventure retreat through yoga and hiking.
I'm not supposed to be here. If all were right with the world I'd be back in my New York apartment, clacking away at my computer and finishing the book I'm supposed to be writing, which is due in a month. But in the grip of a terrifying, mind-numbing writer's block, I somehow convinced myself I needed to commune with nature, work my body, rest my mind, and take a break from editors and deadlines.
So, I booked a trip to Body & Soul Adventures, a yoga and fitness retreat on Ilha Grande, a remote island—no cars, no paved roads, no billboards—about a three-hour drive and 45-minute boat ride south of Rio.
And now here I am hiking Parrot's Peak, groping my way up an eight-mile, 45-degree slope, over fallen tree limbs, around craters the size of Volkswagens, and through thick jungle vegetation. It's rained every night, and the earth is sodden and muddy. My shins are caked with dirt, my hair is plastered to my head, and my heart is pounding so painfully I'm sure I'll need a triple bypass right here on this mountain. It doesn't help that the air feels as thick as oatmeal: 85 degrees with 90 percent humidity.
See also Hiking Yoga: 4 Poses for the Perfect Trail Adventure
But I guess I'm not as fit as I'd thought. Back home in New York I spin, practice yoga, and kickbox, but I don't hike. Besides, 45 minutes on a stationary bike isn't quite the same as three hours up a 3,000-foot wall. And then, of course, I've spent the past five days kayaking two to three hours a day, hiking three to four (over less tricky terrain), and doing yoga twice a day. In other words: I'm bushed.
After an especially torturous patch in which I scurry over a boulder and land firmly on my shin, I find myself getting annoyed. My pack only weighs about four pounds, but it's slicing into my shoulders. Blisters are popping up on my feet faster than I can say, "Girl from Ipanema." What's more, I'm smack in the middle of the rest of my group—two people in front of me, three behind. And I don't like to be behind anyone. Every few feet I pause to catch my breath. Finally, I stop altogether. I place my palms on my knees, sucking in air. I look over at Daniel, our guide, and he's not even panting. He continues hiking and motions for me to follow.
See also Take a Hike: Yoga + Backpacking Trips
My decision to come here wasn't just about escaping work. I needed to master a new challenge: I wanted to see if I was strong enough to get up at 6:30 a.m., report for yoga class at 7:30, spend the next five hours kayaking and hiking—and be ready for yoga again at the end of the day. (Granted, a daily massage is also part of the deal.) I was also curious about whether I, an avowed Diet Coke addict, could last six days without carbonation and on only 800 to 1,200 calories a day. Barring a few mean caffeine-withdrawal headaches and some aching muscles, I've managed fine.
Until today.
Our group continues walking on in silence, twigs crunching beneath our boots. To reach the top, we have to navigate an especially difficult hill—the base of which is a straight wall, which means scrabbling and clutching to keep from tumbling backward. "How much farther?" I hear myself asking, sounding like a petulant 10-year-old. Daniel points his finger toward a large rock jutting out of the trees. It looks like a parrot's head pressed against the sky. "Look how close we are," he says encouragingly, hoping I'll perk up.
See also 30 Yoga + Adventure Travel Retreats Calling Your Name
"Not close enough," I mumble. And then I start to give up. "I don't think I can do this," I whine. "Sure you can," he says. "It's not a race. Put one foot in front of the other, and focus. Slow down and breathe. You'll get there." I'm not convinced, but at this point my options are limited. And he's right: It isn't a race. I have all day to make it to the top.
So I do what he says. I put one dirty boot in front of the other and focus. Instead of gasping for air, I slowly inhale and exhale. I try to delete "I can't" from my thoughts. I keep heading up the hill-steady, steady—scrambling over downed tree trunks and through a canopy of bamboo. Before I know it I'm at the spot where the parrot head meets the clouds. "Congratulations!" Daniel shouts, giving me a high five. "You did it!" I nod and smile broadly. I'm giddy—even teary.
See also Writing My Way to Contentment
Back home, I face three unwritten chapters and a blank computer screen. Sweat trickles down my forehead. Another bout of writer's block feels imminent; I am overwhelmed. Until I hear Daniel's voice coaxing me up that mountain, urging me to put one foot in front of the other, to slow down and breathe. "You'll get there," he says. I relax, clack a computer key, and think, "I know I will."
See also Quiz: What's Your Dream Adventure?
About Our Author
Abby Ellin is the author of Teenage Waistland. A journalist and former fat-camper herself, Ellin lives in New York City.