4 Yoga DJs Who Are Changing How You Flow
Four popular DJs sound off on the creative process of syncing beats to asana and on their emerging roles in the yoga community.
Heading out the door? Read this article on the new Outside+ app available now on iOS devices for members! Download the app.
Four popular DJs sound off on the creative process of syncing beats to asana and on their emerging roles in the yoga community.
Once a month in the mountain town of Aspen, Colorado, locals gather, mat alongside mat, for Full Moon Yoga at the Shakti Shala studio. The class is a monthly ritual, a celebration of the full moon and a way to come together and practice to music. DJ Bhakti Styler (whose given name is Tyler Lambuth) supplies the soundtrack, which varies from soft ambient sounds to electronic dance music (EDM) to pop rock like Stevie Nicks.
Unlike a typical party DJ who is there solely to entertain, Bhakti Styler—also a vinyasa teacher at the studio—aims to become a seamless part of the class. He sits cross-legged on the floor, makes sure his audio equipment won't crowd students or interfere with their drishti (focal point), and carefully crafts his playlists so the songs sync with the pacing of the teacher, the energy of the students, and even the weather outside—he might play sentimental songs on rainy days, or reggae or reggaeton for an upbeat vibe on sunny days. And while Bhakti Styler has a rough playlist planned ahead of time, he also tries to respond on the fly to what's happening in the room. "Lately, I've been working on the bass drops of certain songs with the timing of postures," he says. "When students windmill their hands or go back to Chaturanga, I'll drop the beat at the same time."
Five years ago, having a live DJ like Bhakti Styler in your local studio was a rarity. You might have done yoga to DJ Drez's recorded playlists or gone to a concert to hear MC Yogi, but for the most part, you probably practiced in silence. Today, there's an entire roster of DJs on yoga-festival lineups, and up-and-comers like Bhakti Styler are booking regular gigs in studios and event spaces across the country.
See also Study Measures How Much Music Enhances Practice
While some yoga teachers dismiss the live-music trend as a mere distraction from yoga's most powerful exercises, such as listening to your breath or observing your thoughts to bring calm and focus, others see it as a tool for going inward, for timing the breath to the beat, or for simply feeling joy during the practice. "There is a time and place for a quieter, more introspective practice, and you shouldn't dismiss that," says Stephanie Snyder, a San Francisco–based vinyasa teacher who travels across the United States and Europe and teaches some classes with a live DJ. "But there are many aspects you can choose to incorporate into a traditional class—dharma, chanting, Sanskrit. So, I don't think having live music is a complete departure. I see it as a special event."
Snyder points out that a seasoned DJ can complement the class in real time, backing out of one track and into another effortlessly so that both music and movement align. "The vibration of sound helps students dive into the challenging moments and move more freely in the joyful moments," she says. "Students in the West can be wound up pretty tightly, and music helps them let go and drop some sweat and stress on the mat."
And just like there's a yoga style for everyone, DJ styles run the gamut from modern techno pop to deep house to ethereal ambient sprinkled with the occasional classic-rock tune. So, if you show up for class and you're surprised by some musical accompaniment, see if you can let the music guide you into places you may not normally go.
"Music is so powerful because it changes your brainwaves and puts you into another state of consciousness," says NYC-based DJ Tasha Blank, who has partnered with Snyder at events and collaborates regularly with longtime yoga teacher and book author Elena Brower. "My hope is that people really use it to go on a journey to return to a deeper place of connection with themselves."
Here, Bhakti Styler, Tasha Blank, and two other rising stars in the yoga-DJ scene share their artistic process and inspiration, and what they hope to offer students on the mat.
DJ Taz Rashid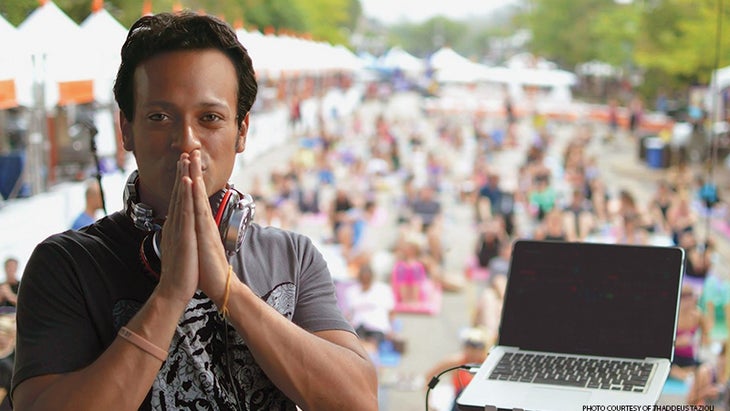 Chicago
Before he was DJ Taz, he was Tazdeen Rashid, a guy who worked various corporate jobs in the hotel industry, real estate, and corporate recruiting. But none felt quite right to him. When he was let go in 2011 from his job as a student recruiter for an online university, he found time to pursue music, which had been his passion since he took up the keyboard in fifth grade. He also became more committed to yoga and meditation. Just three years later, DJ Taz started spinning at yoga events, melding devotional music with remixes of pop songs from the 1980s and '90s. Now you can find him at Yoga Journal LIVE!, Wanderlust, and Bhakti Fest.
FREE DOWNLOAD Listen to DJ Taz Rashid's album Sacred Grooves for free by texting LOVEYOGA to 44222.
Yoga Journal: What made you want to become a DJ?
DJ Taz Rashid: After I got let go from my job, my wife and I started a weekly Friday meditation group. We were already regular meditators, but wanted to practice in a group setting. It was a very calming, healing experience, and after the meditations I would play songs on my iPod. People started asking, "Hey, what is that music?" and they would stand and dance. It started to create a little community after our meditation. It made me want to create a more mindful, high-vibrational dance party for artists, healers, and bodyworkers—the sort of thing that was already happening on the East Coast and West Coast, but not in the Midwest. My next step was to create my own conscious dance party called Club Divine, at the Bodhi Spiritual Center in Chicago.
YJ: How do you describe your sound?
DJTR: I'm mixing different beats and rhythms —
modern techno, pop, house music, and some devotional music. You'll also hear sacred sounds. I'll play a lot of different frequencies and tones at times during Savasana that allow people to really go deep within.
YJ: What made you want to DJ specifically for yoga?
DJTR: My mission in life is to awaken people with music and help them live more authentic lives. I really love the yoga world because I have chosen a career with a focus on peace. So, I say that I'm a peace activist by profession. I get to partner with these amazing teachers around the world and learn their wisdom, and I get to share my wisdom through music. My intention is for students to walk out of class feeling more awakened to their personal joy and freedom in the world, believing more deeply in themselves and their personal dreams and desires, and also falling more deeply in love with music itself.
YJ: It must be complicated to sync up your music with the pace of a yoga class. How do you do that?
DJTR: You have to be two steps ahead of the class energetically so that you can anticipate what's going to come, and also be present to what's happening. Sometimes you play a song and it doesn't feel good, so you gracefully move out of it and mix in another song. Some of the most beautiful things happen when your playlist is not planned and it just creates that perfect flow.
See also DJ Drez's 5 Tips for Creating the Ultimate Yoga Playlist
DJ Bhakti Styler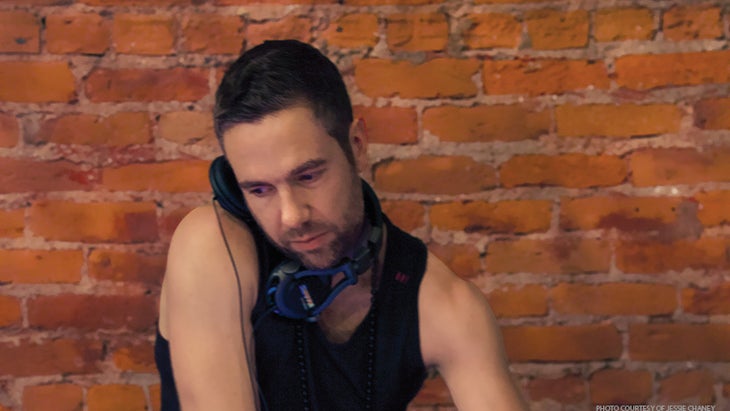 Aspen, CO
DJ Bhakti Styler wants the music he plays to inspire fun, to strike a chord of recognition, and to support the breath—always. As a yoga teacher himself, he understands how much music can enhance the practice. "It's just like when a teacher assists his or her students in class," he says. "If a song's peak kicks in as students launch out of Crescent Lunge into Warrior III, it can inspire them to go for it and be in the moment."
Bhakti Styler describes his music style as "a rollercoaster," since it cycles through everything from ambient sound to electronica to classic rock. You can find him teaching his weekly Urban Flow class and spinning during the monthly Full Moon Yoga event at the Shakti Shala studio in Aspen, Colorado.
YJ: Which came first for you, yoga or DJ'ing?
DJ Bhakti Styler: Yoga. I joined a friend at a small yoga studio in my hometown of Basalt, Colorado, and I had no idea what the teacher was saying: the poses, the Sanskrit—and what the hell was pranayama? But since I had a first-time-student punch pass worth three classes and don't like wasting things, I gave it another try. The next class I learned Up Dog and Down Dog, and left feeling something different. My body was awake; my mind was clear. The practice changed my life, and it still does every single day.
I would also add that my love of music started at a very young age. From the time I was a small child, I used to sleep with the oldies station on all night. It was mostly songs from the 1950s and '60s. My mom would come in and turn off the stereo at some ungodly hour. And the first thing I'd do when I woke up was turn the station back on.
YJ: Where do you find your creative inspiration?
DJBS: I'm a huge fan of music blogs, especially international blogs. I find out what DJs are playing in Ibiza or Australia, and then add some of those songs to my collection. I try to think outside the box and have completely different music every week. And then, I'll throw in some stuff that people recognize and can relate to as well. I'll lay a faster beat over, say, a Journey song and maybe bring students back to a memory they associate with it.
YJ: Do you practice to your own playlists?
DJBS: Yes! And then, before anybody hears a playlist, I can figure out what's not working. Or I might realize, "Damn, that song was amazing! I want to find more from that artist."
YJ: How can students get the most out of a class with a DJ?
DJBS: Use the music as a tool: Use the beat as a reminder to breathe.
DIY DJ'ING
To create a playlist for your home practice, DJ Bhakti Styler recommends searching via hashtags on Sound Cloud, which offers free downloads from many artists. Here, his tips for finding tunes for your vinyasa flow:

Warm up: Search #ambient
Sun salutations: Search #chill for something loungy.
Standing poses: Search #EDM (electronic dance music) for something energizing, fun, and uplifting.
Supine poses/cool down: Search #yoga or #kirtan, and you can chant back to the music.

Savasana: End with something #ambient or a #jazz selection. Or, you can always try Fleetwood Mac's "Landslide."
See also Ultimate Vibration: The Power of Kirtan
DJ Tasha Blank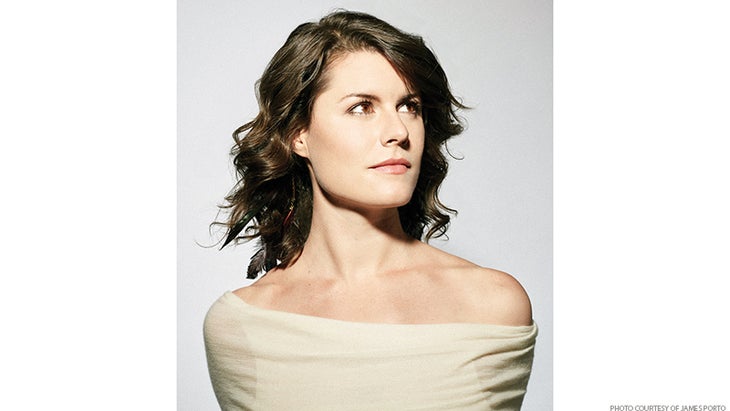 New York City
DJ Tasha Blank believes in the healing power of music and movement because she's lived it. Discovering ecstatic, freeform dance in her early twenties helped her overcome the eating disorders she'd suffered during her time as a classical dancer. "I felt like I was dancing for the first time," she says. "It was totally different, because it was my dance. It was coming from the inside-out, rather than outside-in." Deeply moved by the experience, Tasha Blank started throwing occasional ecstatic dance events and DJ'ing. Now a full-time DJ and a devoted yogi who practices daily, she spins deep house music at dance gigs and yoga events in New York City, as well as at festivals around the country.
YJ: What's the difference in how you prep for a yoga event versus a dance event?
DJ Tasha Blank: It's actually similar. In yoga and in dance, we're after the same thing, which is this experience of unity, of total presence, of embodiment. So when I'm preparing for either type of gig, I'll put together a big playlist of song options that I think would be appropriate based on the teacher and the venue. But then, when I get in the room, it's really a matter of sensing where people are at, understanding where we want to take them, and then continually choosing sounds that will lead the room in that direction.
YJ: You do a regular Deep House Yoga event with Elena Brower and other teachers at Verboten, a club in Brooklyn. Is it a high-energy party or a straightforward yoga class?
DJTB: It's pretty much a strong flow class, but often the beat is so infectious that teachers can't help but throw in some extra bounces in Chair Pose or a few minutes of straight-up booty shaking. The crowd is also different each time. What I love about it is that many new yogis will show up because they're into the music. I'll hear people say things like, "In order for me to try a yoga class, it needed to be this one."
YJ: What would you say to someone attending a yoga-and-music festival for the first time?
DJTB: Don't plan too much. Instead, be open to going with the flow. Surrender and trust that you'll find yourself exactly at the right place at the right time.
YJ: What would you say to someone who feels like music distracts her from yoga and from going inward?
DJTB: One of the reasons we do yoga is to learn to be present in the midst of distraction. Life is rarely completely quiet. We develop the ability to be centered with all the things that are swirling around us. And everything is music—my heartbeat is music; my breath is music; a teacher's voice in my ears is music. It's all just different levels of vibration. It's about what you do with these vibrations and where you put your intention.
See also Maroon 5′s Yoga Practice Playlist
DJ Sol Rising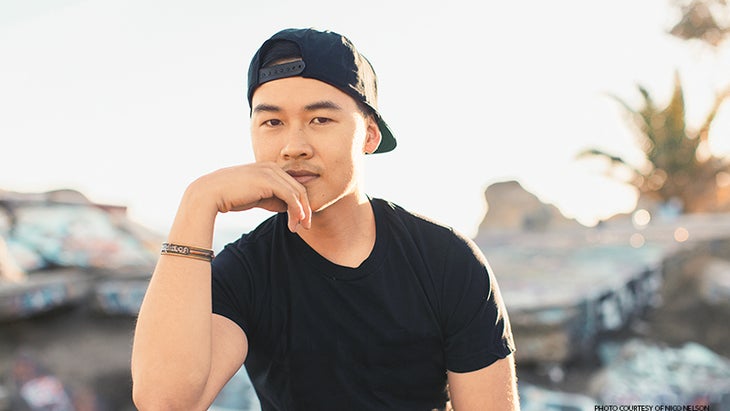 Los Angeles
The in-house DJ at Wanderlust's almost year-old brick and mortar space located in Hollywood, California, DJ Sol Rising has a long history with both yoga and DJ'ing: His mother introduced him to meditation at age 4, and he grew up studying the Vedas and the Bhagavad Gita at the Maharishi School of the Age of Enlightenment in Fairfield, Iowa. As a teen he became a scratch DJ, winning national hip-hop competitions. But Sol Rising wasn't convinced that he could make a living as a DJ, so he decided to go to school to become an accountant. It was his spiritual teacher, Sai Maa, who encouraged him to return to his musical path.
YJ: How did Sai Maa help you come back to music?
DJ Sol Rising: She let me DJ at her meditation retreats; one event, in Australia in 2007 with a thousand people in attendance, was my "aha moment." I saw how the music was cultivating moving meditation: People were feeling, processing, and releasing joy and anger and all of these emotions. I felt a deep connection energetically with the crowd. From there, I started to work on producing my own music.
YJ: How do you describe your sound?
DJSR: I'm still trying to find that, but I would say it's sort of dreamy with really strong beats like hip-hop bass. I like to create beautiful soundscapes, but I also like the ecstatic part and stronger house beats.
YJ: Is it different to be a party DJ versus a yoga DJ?
DJSR: Playing in a yoga class is a very, very humbling experience because I'm definitely not the center of attention. I want the music to be good, but I want it to be so seamless and so integrated with the class that the students barely know I'm there. It's a great practice for me because I love DJ'ing big shows and rocking the crowds. But I can also be like, "Hey, I'm here in this 20-person yoga class just sitting back and being within the practice and creating a space for everyone."
YJ: What would you say to people who feel like live music doesn't belong in a yoga class?
DJSR: There's a time when it's really good to do yoga in silence just to hear your breath. And it could just depend on the person. Some people prefer a quiet class without music. That's OK. Music's not for everyone.
See also 10 Best Yoga Tunes of the Year