Q&A: Breakfast Before an AM Practice?
"I prefer doing yoga early in the morning. Should I eat first, or not?"
Heading out the door? Read this article on the new Outside+ app available now on iOS devices for members! Download the app.
Q: I prefer doing yoga early in the morning. Should I eat first, or not? ——Laura Miotke, Sedona, Arizona
Read Scott Blossom's reply:
Eating afterward is better for both your digestion and your practice.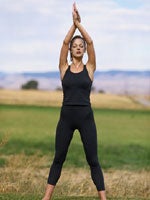 If you absolutely have to have something in your stomach to keep your energy up, drink a cup of hot lemon and ginger tea sweetened with a teaspoon of honey and eat a banana half an hour before you begin your practice.
You might also want to explore exactly how much yoga is optimal for you in the morning and end your practice before you start to lose focus. Figuring out what's best for you is key to creating an effective, transformative practice.
According to Ayurveda, experiences nourish us only when we're prepared to
digest, assimilate, and use them. If you feel mentally unsteady toward the end of a strong morning practice, it's a sign you're no longer fully assimilating it.
As you get more practiced at listening to your body, you can rely more on your
intuition about what you need and less on one-size-fits-all rules.
A certified Integrative Yoga therapist, Ayurvedic consultant, and licensed acupuncturist, Scott Blossom lives in Berkeley, California, with his wife, Chandra, and their daughter, Tara. He can be contacted at www.shunyatayoga.com.