This Core Sequence Will Help You Nail the Navy's Strength Test—Really
The military says Forearm Plank is the best test of abdominal strength. Here's how to build up to it.
Heading out the door? Read this article on the new Outside+ app available now on iOS devices for members! Download the app.
In yoga, the Plank Pose is a basic foundational asana in most strength-based classes—and it seems like the rest of the world is catching on to its benefits. For example, the U.S. Navy replaced the 2-minute sit-up test with a 1-minute Forearm Plank pose for its Physical Readiness Test (PRT). The Navy Administration says this Plank variation strengthens the core muscles used for pushing, pulling, lifting and carrying. (For sailors, that represents 85 percent of shipboard tasks.) Training for the Forearm Plank (also known as Dolphin Plank) also improves posture and reduces the risk of sustaining lower-back injuries. We could all benefit from that!  The Navy's decision affirms what yogis at every level know: Plank Pose is a fundamental, core-activating asana with many variations, including Forearm Plank, that make it a versatile, accessible posture.
How to use your breath in Forearm Plank Pose
Forearm Plank engages multiple muscle groups of the core while also working the shoulders, arms, back and glutes, so it is an exercise that uses your full body—and requires your full attention. When exerting that much physical effort, you may find yourself holding your breath, especially if you think of Plank as an abdomen-centric exercise. Focus on taking slow, deep breaths through your nose and lengthening your spine. As you increase your stamina and endurance, the pose will become more doable.
Can you pass the Navy's core strength test?
To pass the Navy's Physical Readiness Test, every sailor must be able to perform a 1-minute Forearm Plank. Want to take on that challenge? The following 10-minute yoga sequence will get your abdominals and supporting muscles ready. To show us how it's done, Navy helicopter pilot Lieutenant Commander Erin Edwards volunteered to demonstrate these core-engaging poses that can be used by any sailor—or yogi—to prepare to nail this asana.
Yoga sequence to prep you for a 1-minute (or longer!) Forearm Plank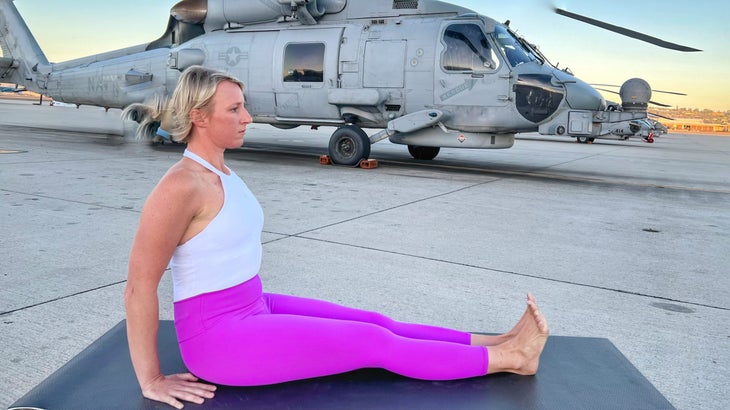 1. Dandasana (Staff Pose)
Dandasana mimics the muscular activation of your legs and feet in Plank, just in a different configuration.
How to: Sit comfortably on the floor with your legs extended in front of you and your palms resting on the mat alongside your hips. (To keep your lower back in a comfortable neutral position, sit on a folded blanket or another prop.) Engage your quadriceps by pressing the backs of your knees into the mat and flexing at your ankles. Spread your fingers wide and press through your palms. Activate the lower abdominals by drawing your navel slightly inward. If you feel yourself slouching forward or extending backward, lift your chest and relax your shoulders. Breathe slowly and deeply for 5 breath cycles.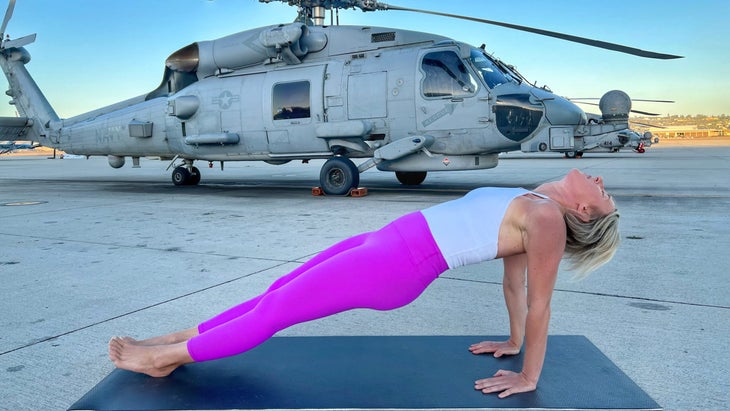 2. Purvottanasana (Upward Plank Pose)
Upward Plank, also known as Reverse Plank, promotes synchronistic arm, core, and leg muscle engagement, similar to what is required for Forearm Plank.
How to: From Staff Pose, walk your hands about 1-2 feet behind you so you can feel your broaden. Keep your legs extended and your knees straight. Press into the mat with your hands and heels to lift your buttocks off the mat. Open your chest to the sky as you lengthen along both sides of your waist and relax your head back. Breathe here for 2-3 breath cycles. Relax back down into Staff Pose.
3. Malasana (Squat or Garland Pose)
The way to a strong core is to use all of the core muscles synergistically. This includes your pelvic floor, which is an important component of maintaining anti-gravity in Plank. Malasana is a great way to teach your body how to engage the pelvic floor and abdomen while your hips, knees and ankles are in flexion (something we do often when picking things up from the ground). This awareness helps us protect the spine during everyday movements.
How to: From Staff Pose, bend your knees and bring your feet onto the mat, wide apart. Use your hands to press yourself up into Squat with your toes angled out. Gather your hands into prayer at your chest. (Feel free to set a rolled blanket under your heels for additional ankle support if needed.) Breathe here for 3-5 breath cycles.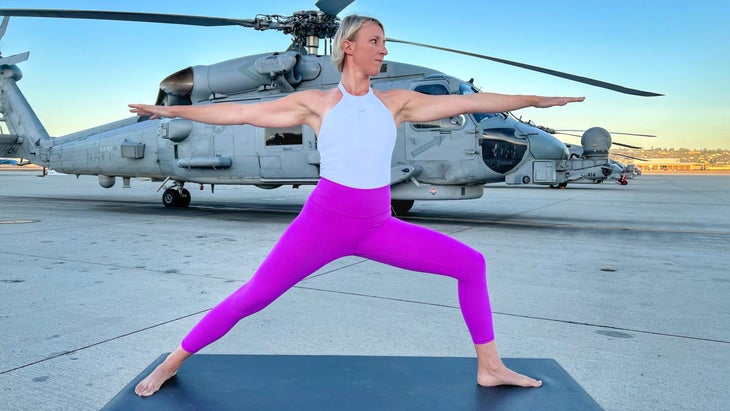 4. Virabhadrasana 2 (Warrior 2 Pose)
Warrior 2 strengthens your quads, shoulders, and core—not to mention your stamina and inner resolve. The pose also utilizes your shoulders and deltoids (which eccentrically elevate your arms).
How to: From Squat, come to standing and step your feet wide apart. Turn your left foot toward the short end of your mat and bend your left knee over your ankle. Stretch your arms straight out from your shoulders.  Allow your gaze, or dristhi, to steady itself over your left fingertips. This point of focus keeps you mindfully relaxed in the pose and is something you also want to incorporate in your Plank. Keep your torso and spine upright as you breathe here for 3-5 breath cycles.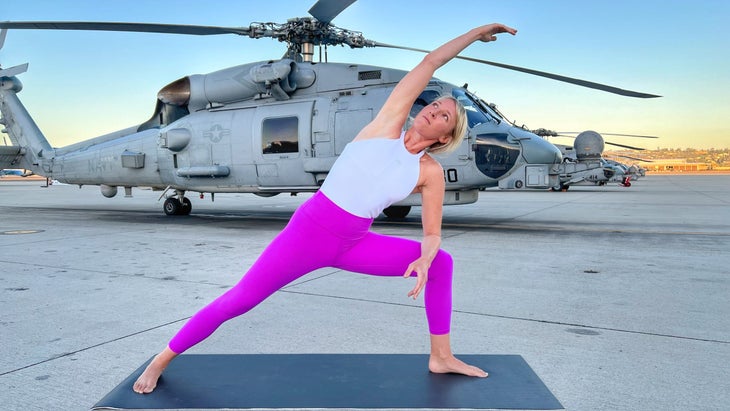 5. Utthita Parsvakonasana (Extended Side Angle Pose)
This pose encourages your torso to extend through both sides, an important component of Plank pose. Additionally, Side Angle engages the internal and external obliques, which are integral stabilizing muscles in Plank. In particular, contraction of the internal oblique laterally flexes and rotates the torso towards the sky in this pose.
How to: From Warrior II, lean forward over your left leg and lower your forearm to the thigh or hand to the mat in front of your left ankle. Reach your right arm overhead and extend through both sides. To ensure you don't collapse your torso over the front leg, press down with your bottom hand and lift your body away from the mat. (This also helps you avoid collapsing into your shoulder, which is also crucial for holding a Plank.) Breathe here for 3 breath cycles.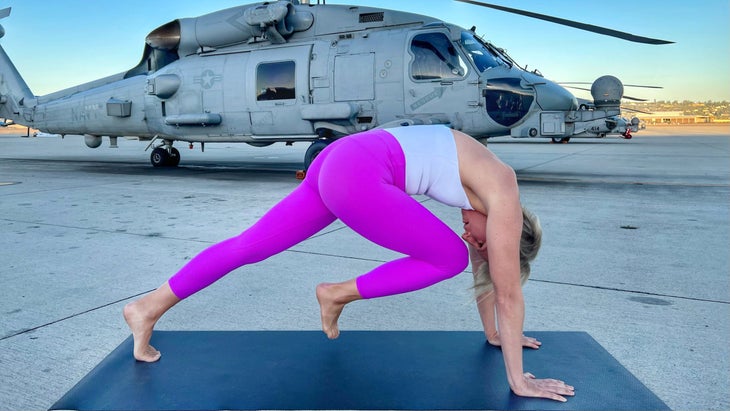 6. Knee-to-Nose
Knee-to-nose is a core-engaging exercise that utilizes the muscles of your arms, chest, back, pelvic floor, and abdomen, which are all the muscles you need for a sustainable Plank Pose. This posture strongly engages the transverse abdominis.  Also known as the corset muscle, this deep inner layer of your abdominal muscles supports the integrity of your lower spine during movement.
How to: From Side Angle, bring both hands to the mat and step back into Adho Mukha Svanasana (Downward-Facing Dog Pose). Inhale to lift your right leg in line with your hip. As you exhale, bring your chest forward so your shoulders align over your wrists as you simultaneously draw your right knee into your chest. Allow your spine to flex as you draw your navel toward the spine. Breathe here for 2-3 breath cycles. Return to Downward-Facing Dog.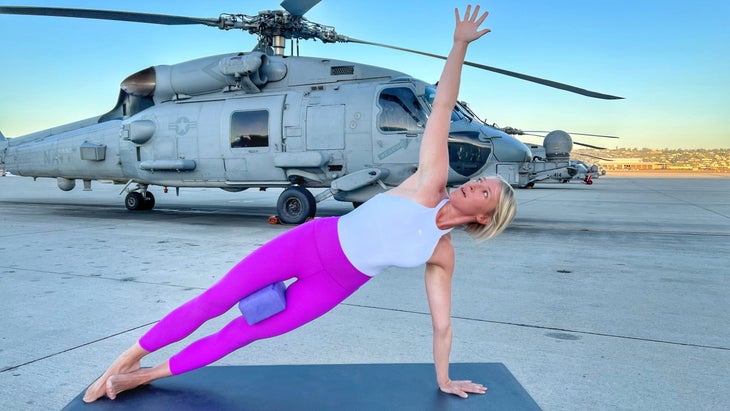 7. Vasisthasana (Side Plank Pose)
The adductors (inner thigh muscles) are a strong set of muscles that assist in stabilizing the hip and pelvic complexes. They play a crucial role in drawing your legs together, especially in poses like Plank.
How to: From Downward-Facing Dog, shift your body forward so your shoulders are over your wrists. Roll onto the outer edge of your left foot and shift your weight into left hand. Open your torso and hips to the right, supporting yourself with your left arm. Engage your core and pelvic muscles to keep your hips off the ground.
For this variation of Side Plank, place a block between your knees or inner thighs and press into the block. Reach your top hand toward the sky  or place it on your waist to keep your trunk from rotating toward the ground, which mimics your position in Plank. Breathe here for 3-5 breath cycles.
This can also be done on your forearms. From Downward-Facing Dog, shift forward to Plank and lower onto your forearms. Pivot on your left elbow until your  forearm is parallel to the short side of the mat then continue with the above instructions.
Return to Downward-Facing Dog for a few breaths and repeat steps 4-7 on the other side.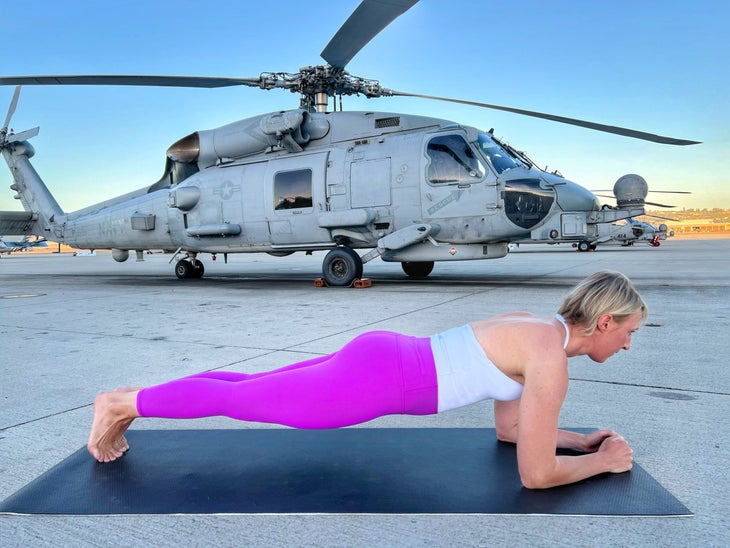 8. One-Minute Forearm Plank
Now that your body is fully warmed up, it's time to try your 1-minute Forearm plank.
How to: Set your forearms onto the ground and step your feet back with your toes curled under to come into Forearm Plank. Remember all the muscles you just warmed up? The obliques, transverse abdominis, upper back, lower abdominals, deltoids, and pelvic floor? Notice these muscles working synergistically to connect your breath and body with ease. Press your heels back, reach your chest forward, and find your drishti on the floor slightly in front of you. Take long, deep, slow breaths in and out through your nose. Set a timer or count slowly to 60 in your head. And before you know it, your minute will be up. You did it! When you are ready to rest, come down to Balasana (Child's Pose).
---
About our contributors
Ingrid Yang is an internal medicine physician, yoga therapist, and author of Adaptive Yoga and Hatha Yoga Asanas. Dr. Yang has been teaching yoga for more than 20 years and leads trainings and retreats all over the world, with a special focus on kinesthetic physiology and healing through breathwork, meditation and mind-body connection. Find out more at www.ingridyang.com or on Instagram.
Model Lieutenant Commander Erin Edwards is a helicopter pilot for the U.S. Navy, freelance writer, storyteller, van life connoisseur, Hobie Cat captain, and enthusiastic yogi. LCDR Edwards believes that every person has an epic story to tell and she thrives at sharing their tales through her prose.