The Yoga and Body Image Coalition Debuting at YJ LIVE!'s Practice of Leadership Panel in San Diego
Heading out the door? Read this article on the new Outside+ app available now on iOS devices for members! Download the app.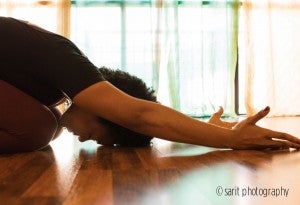 While we often unite mind and body practicing yoga, there still seems to be a major gap in the conversation about yoga and body image. Our yogapractice is a powerful tool in transforming our relationships with our bodies, but modern yoga culture has a complicated place in the conversation.
At 1:30 July 12, 2014, at YJ LIVE! San Diego, the Practice of Leadership panel discussion will confront the complicated issue of body image in yoga culture. The gathering will be an open and honest dialogue that gets at the heart of our practice, our role as conscious leaders, and how to make yoga accessible and welcoming to every BODY.
This panel will be the first official event of the newly launched Yoga and Body Image Coalition, featuring the co-founders, Melanie Klein and Brigitte Kouba, along with two members of the founding board, Dianne Bondy and Dana Smith. The Coalition can't think of a better opportunity to represent its full vision:
The Yoga and Body Image Coalition
Vision: To create a united effort in promoting inclusivity, active transformation, and physical, spiritual and mental empowerment in the yoga community.To raise awareness by utilizing critical theories that examine the role of sexism, racism, classism, heterosexism, able-ism, size-ism, age-ism and consumer culture in contemporary body image politics and provide solutions to make yoga more accessible for everyone.
Mission: Our coalition is committed to body love by developing, promoting and supporting yoga that is accessible, body positive and reflects the full range of human diversity. Our mission not only advocates yoga as an essential tool in personal transformation, from the inside out, but also includes a critical social justice component by challenging industry leaders and media creators to expand their vision of what a yogi looks like.
Who We Are: We are yoga teachers, practitioners, experts, educators, activists, writers, businesses, artists, non-profits organizations and advocates. We have come together to form a collective that advocates for optimal well-being and healthy body relationships through a consistent yoga practice, including physical asana, meditation, and more.
Core Values:
We believe in the transformative power of yoga.
We believe yoga is for every body and that every body is worthy of love.
We believe in eradicating negative self-talk and body snarking.
We believe the slogan, "love your body," is a fully dimensional mantra promoting body acceptance in ourselves and each other.
We believe body positivity is more than a #hashtag, marketing slogan, or commodity – it's conscious action and lived practice.
We believe in critical thinking as a core component in raising consciousness.
We believe in conscious marketing and messaging as related to body positive media content in language and imagery.
We believe media literacy education is key in deconstructing and creating new media imagery.
(Website coming soon…)
Read about our personal experiences with body image in YJ's six-part series, My Body Image, My Self.
—Melanie Klein and Brigitte Kouba, SPECIAL TO YOGA JOURNAL
Melanie Klein, M.A., is a writer, speaker and Associate Faculty member at Santa Monica College teaching Sociology and Women's Studies. She is a contributing author in 21stCentury Yoga: Culture, Politics and Practice and is featured in Conversations with Modern Yogis. She is the co-editor of Yoga and Body Image: 25 Personal Stories About Beauty, Bravery + Loving Your Body, and co-founder of the Yoga and Body Image Coalition.
Brigitte Kouba M.A., E-RYT (aka Gigi Yogini), is a Positive Body Image Advocate and Yoga Instructor. She is the creator of YOGAudacious, celebrating the courage of women who love yoga, and co-founder of the Yoga and Body Image Coalition.
Photo Credit: Sarit Z. Rogers