2 Yoga Teachers We're Proud to Know
They bring yoga to people with chronic disease and to imprisoned youth: The winners of YJ's "Share Your Yoga" scholarship leave us breathless.
Heading out the door? Read this article on the new Outside+ app available now on iOS devices for members! Download the app.
Meet the winners of Yoga Journal's Share Your Yoga scholarship program. These inspirational yogis will attend Yoga Journal LIVE! in New York City.
by Erica Rodefer Winters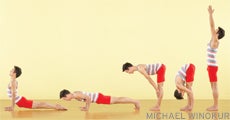 Lisa Zeankowski—Teaching Yogis with Chronic Illness
Practicing: 9 years
Teaching: 3 years
Studied with: Seane Corn, Rodney Yee, Colleen Saidman Yee
Excited for YJ LIVE! class with: Richard Freeman, David Swenson
Lisa Zeankowski knows what it's like to have your body defy you. Diagnosed with multiple sclerosis (MS) in 2002, she experienced the gamut of symptoms: chronic fatigue, numbness, tingling, blurry vision, tremors, memory loss. She used a walker to get around, and a home health aid came in to help care for her three kids. Unable to work, she had to quit her beloved job of 19 years as the manager of a Lancôme cosmetics counter.
She found her way to yoga when a friend told her that it was how she stayed calm and balanced. The practice, Zeankowksi discovered, did that and so much more. "It has literally helped me when my symptoms are at their worst, and it's what maintains my ability to still move and walk," she says.
Yoga has also helped her manage the emotional aspect of her disease. "When you have MS, there is a mental battle—you're angry," she says. "The practice has taught me to acknowledge what I'm feeling, breathe through it, and then release it."
Three years ago she decided to take her study further. She enrolled in teacher training, and in the process, she realized that her own struggle made her the perfect person to teach others like her. She intimately understood the issues—the difficulty of holding poses when you're dealing with muscular degeneration, the fear of going to public classes, the challenge of affording classes atop of never-ending medical bills. Now she teaches free private and small classes at a handful of yoga studios in her community for people with MS, lupus, cancer, diabetes, or other chronic illnesses.
Mostly, she wanted to share a practice that allowed her to see possibility instead of limitation.
"People with chronic illnesses focus a lot on the disease and what they can't do," she says. "Yoga helps them discover what they really can do. I watch [my students] transform right before my eyes."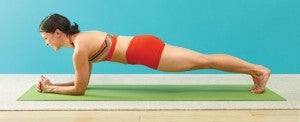 Cristina George—Bringing Yoga to Incarcerated Youth
Practicing: 12 years
Teaching : 8 years
Studied with: Peter Levine, Gabor Mate
Excited for YJ LIVE! class with : Dharma Mittra
Cristina George didn't need to take anything else on. The busy yoga teacher is also a mom to six kids, ages 2-20. And she admits that she probably doesn't seem like someone you'd find teaching yoga in prison. "I'm petite, and I'm smiley," she acknowledges.
But a friend, a psychologist at high-security youth facility in Orange County, New York, contacted her to see if she'd take on the challenge of teaching yoga there once a week. Enlisting her older kids to help out with babysitting duties, she jumped at the chance.
"There's really not much that separates [these inmates] from your own children," George says. "It's just circumstance that they were born into the situation they are." Since the program's inception nearly a year ago, she has been amazed at how receptive these students (ages ranging 14-20 years old) are to the practice.
"They have this history of abuse and abandon but allow themselves to be vulnerable when they step on the mat," she says. "It's so wonderful to see them try something new and trust the process."
George asks them to write down what they learned after each class, and has noticed progression every week. Early on in the program, many inmates write about heightened awareness to the physical body, but after a few classes, some begin to write about the ability to calm their minds. "To hear that really self-aware language from kids who most people have written off … it gives you hope," she says.
Our Share Your Yoga program grants a few lucky winners a free two-day weekend pass to a YJLive! Event. To qualify, they teach yoga to underserved people in their communities. Funding for the scholarship comes from the generosity of LIVE event attendees matched by Yoga Journal. Interested? Apply online here.