Tips for Teaching Yoga to Teenagers
Heading out the door? Read this article on the new Outside+ app available now on iOS devices for members! Download the app.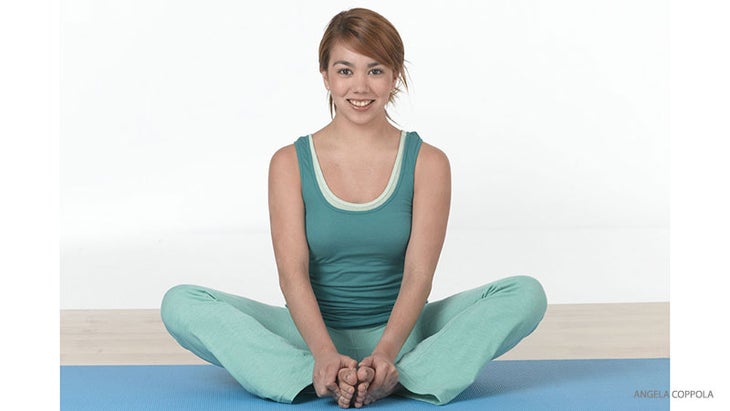 When 13-year-old Tyler Chryssicas takes an important test, she doesn't panic. If she doesn't know an answer, she simply takes a few seconds to breathe deeply and focus—a technique she learned from practicing yoga.
Tyler is a perfect example of why teenagers need yoga. On top of the already competitive atmosphere of school, she's an athlete who figure skates and plays lacrosse and tennis.
"I'm going everywhere and so busy, so I have to have some downtime and relax," she says.
Aside from the physical benefits of yoga, yoga teaches teens techniques for coping with the unique issues they're faced with everyday—insecurity about their changing bodies, the enormous pressure to fit in, stressful schedules, and uncertainty about their beliefs and their futures.
Although teens have much to gain from yoga, their particular circumstances may present many challenges for yoga teachers, and approaches that work in adult or children's yoga classes may not be applicable.
See alsoMeet Jasea DaVoe: The Youngest Yoga Teacher
A Fresh Approach
Laguna Beach-based yoga teacher Christy Brock has been teaching teenagers for almost a decade and now leads teacher trainings designed for those with an interest in sharing yoga with teens.
"Teens are just learning to think for themselves and figure out their stand on things," says Brock, who recently co-wrote Yoga 4 Teens (Yogaminded 2005). "They come from a totally fresh perspective, which makes them really inspiring to teach."
That fresh perspective also means that a teenager's relationship with his or her yoga teacher has the potential to grow. The teacher is a role model who could have a huge impact on a teen's development from adolescent into young adult.
"Teens are very soulful and starting to get the big picture," says Leah Kalish, the program director for Yoga Ed, an organization that prepares teachers to lead yoga within a school setting. Yoga Ed is in the process of developing a curriculum designed especially for teachers who want to work with high school students. "They care about causes and self-expression and freedom. As a teacher, you help connect them to their own inner questioner."
Teens' natural tendency toward curiosity and expression forces teachers to hone and perfect their teaching skills. The language has to make sense to these students, and be concise enough to fit their shorter attention spans.
If something isn't clear, teens tend to point it out in a way that makes everyone take note. As Brock puts it, "They don't let you get away with anything."
Setting Boundaries: Why Structure is Key for Teaching Yoga to Teenagers
So how do you maintain order within the yoga class without stifling your students' natural creative expression?
"Teenagers need to have guidance, and if you try to be their friend you're going to undermine your authority in the classroom," Brock says. "You may think they need a friend, but they've got friends—what they need is structure."
When excessive talking makes it hard to stay in control, remind the students to be respectful of each other so that everyone can listen and get the most out of the experience.
Be up-front about the class rules from the beginning, and then remain steadfast in upholding those rules. That may mean requiring students to wear the appropriate attire to class, or asking a student to get up and try a pose even if it looks too difficult.
"You've got to push them with some compassion and humor and understanding," says Kalish, noting that practicing yoga helps teens feel better and have more energy, even if they don't feel energized and motivated at the beginning of class.
Build Mutual Respect
Even before you ask teens to do yoga poses, you have to show them that you care about who they are as individuals, and you need to create a comfortable, inviting atmosphere.
Mary Kaye Chryssicas, mother of Tyler Chryssicas and author of the book Breathe: Yoga for Teens (DK Children 2007), is a teacher of teens in the Boston area. She says it helps to make the students feel comfortable and set a noncompetitive tone for the class.
"I ask all the students to immediately assume that everybody in the room wants to be their friend and wants them to be successful," Chryssicas says. "That breaks down a lot of barriers and makes each of them less scared to look like a fool."
Chryssicas also fosters a sense of community by structuring her classes into an eight-week series, and by introducing partner poses to encourage her students to interact with a variety of people.
"By the end, we've got artsy girls laughing with the jocks," she says. "That's what's so miraculous to see—that everyone is on the same level, coming from the same place, with a lot of compassion."
See also3 Must-Follow Instagram Feeds for Teen Yogis
Sequence for Success
Once you've set the tone, the key to keeping teens' attention and making the class flow smoothly is to present challenging asanas in a fun and playful way.
Brock incorporates a lot of backbends into her classes to remind teens of the joy of childhood and to counteract all the hunching over desks and books they do. She also advocates introducing Adho Mukha Vrksasana (Handstand) to teens because it facilitates a sense of freedom and accomplishment.
Since teens are more likely to be self-conscious than other age groups, it's important to give a lot of positive reenforcement and encouragement throughout class—which might mean making fewer adjustments or giving less verbal instruction.
Bringing teens into challenging poses helps focus them and can also be a tactic to keep behavioral problems at bay. When the class is working on a challenging pose or sequence, they have to concentrate, so it's more difficult for them to talk or distract others.
It's also imperative to give overstimulated, overstressed teens an opportunity to rest. It's appropriate to leave time for at least 10 minutes of Savasana (Corpse Pose) at the end of every class.
Even if the students never get the poses perfectly, the concepts and techniques you're teaching will help them become more balanced, peaceful, and compassionate young adults.
The training helped 19-year-old Chloe Friedland get through all sorts of common teenage obstacles. Friedland, who was introduced to yoga at age 15, credits her practice with helping her cope with an eating disorder, and gave her the support she needed to stop abusing drugs and get out of an unhealthy relationship.
"Oh, my gosh, I don't even want to know where I would be today without yoga," she says. "I feel like I've struck gold—I just feel so fortunate for finding it this early on in my life."
For more information about teaching techniques and teacher trainings for teen yoga classes visit www.yogaminded.com.
See alsoThe Benefits of Yoga for Kids
Teachers, explore the newly improved TeachersPlus. Protect yourself with liability insurance and build your business with a dozen valuable benefits, including a free teacher profile on our national directory. Plus, find answers to all your questions about teaching.
Erica Rodefer is Yogajournal.com's Associate Online Editor. She also teaches yoga to teenagers in Oakland, California.