The Future of Yoga: 15 Millennial Yoga Teachers to Watch
As the yoga community continues to transform, we look to the next generation of leaders for clues about what's next. These 15 rockstar teachers, all age 30 or under, have their mudras on the pulse of the millennial yoga scene.
Heading out the door? Read this article on the new Outside+ app available now on iOS devices for members! Download the app.
Jessamyn Stanley, 30, Durham, NC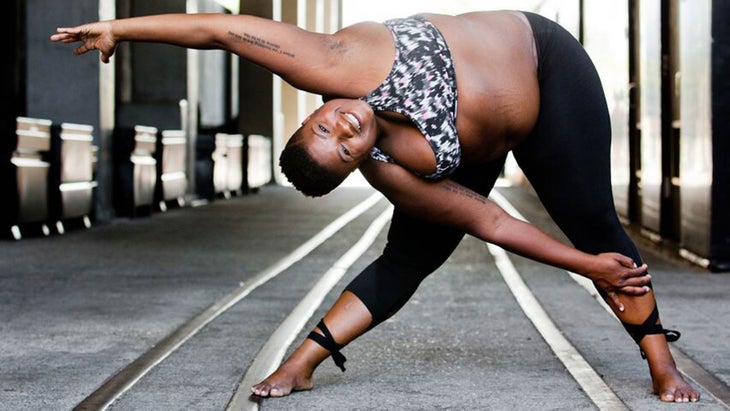 YJ readers already know internationally recognized yoga teacher and writer Jessamyn Stanley for her body positivity advocacy work through the instruction of yoga. Her yoga lifestyle blog and award-winning Instagram account offering advice and motivation for yogis have attracted hundreds of thousands of followers. Based in Durham, North Carolina, Stanley studied with Kimberley Puryear of Asheville Yoga Center's 230-hour Teacher Training, and currently teaches a vinyasa yoga blend that incorporates elements of yin, Anusara, and Jivamukti. Her classes are available online, and she also speaks and teaches at events, workshops, and festivals in North America and numerous cities worldwide. Stanley is the author of Every Body Yoga: Let Go of Fear, Get On The Mat, Love Your Body (2017), a book that challenges the greater issues of body acceptance and the meaning of beauty. Stanley's ultimate mission as a teacher is "to harvest spaces filled with positive energy that allow [her] students to have honest and therapeutic conversations with themselves."

See also Jessamyn Stanley Gets Real About Motivation + Fear with Beginners
Caitlin Pascucci, 28, Burlington, VT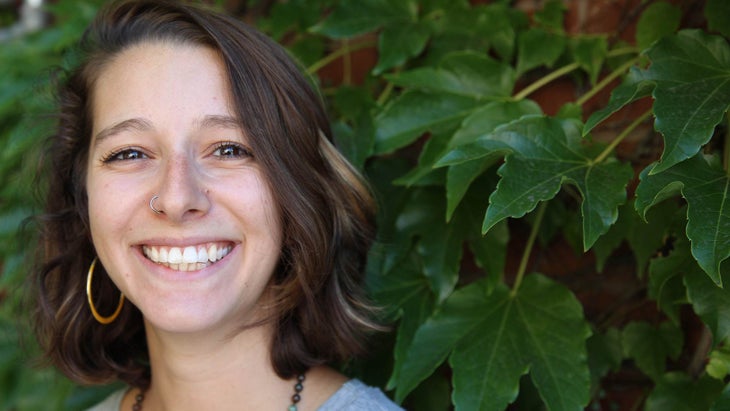 Caitlin Pascucci founded Sangha Studio—Vermont's first and only donation-based yoga studio—when she was just 25. Now, three years later, 28-year-old Pascucci continues to serve as Director and a teacher at Sangha and, due to the studio's overwhelming popularity, has expanded her nonprofit to a second location. Sangha's donation-based model makes yoga more affordable and accessible for more people in Vermont, which has created a unique and powerful community. Sangha also offers service programs as a core part of its mission. "The idea behind [the service programs] is to bring yoga straight to people who otherwise wouldn't be practicing," Pascucci says. "The service program classes are all free to the organizations or participants but we pay for the teacher's expense through donations, memberships, and fundraisers." An entrepreneurial yogi with a huge heart, Pascucci completed her 200-hour Fluid Yoga training at Stil Studio with Kevan Gale in 2012. In addition to teaching at Sangha Studio, Pascucci also leads regional and international retreats.
See also Good Karma: Donation-Based Yoga Classes to Feed the Hungry
Kathryn Bruni, 28, Cornwall, Ontario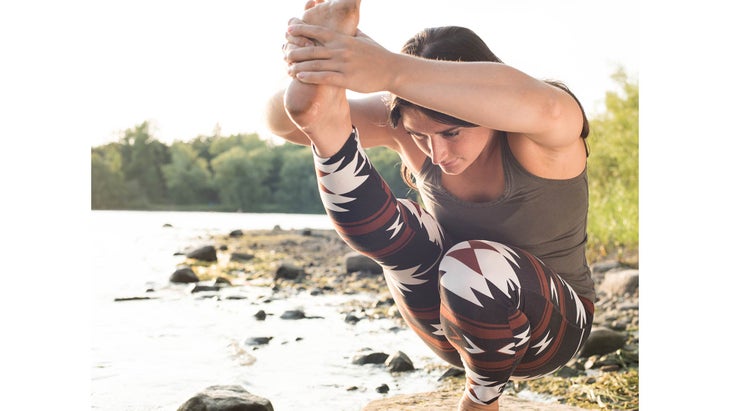 The daughter of Canada's first Ashtanga teacher Diane Bruni, Kathryn Bruni grew up practicing yoga with her mother and renowned instructor Richard Freeman. She taught in Toronto for 10 years before recently relocating to Cornwall where she opened her own studio, Mindful Strength Centre. After suffering a yoga injury due to excessive mobility, Bruni branched out and worked with personal trainers, physiotherapists, and experts from other movement disciplines to develop her own teaching style. Deemed Mindful Strength, Bruni's innovative method blends together different forms of movement while focusing on strength. She leads teacher trainings, online courses, and workshops all over Canada and Europe.
See also Anatomy 101: Balance Mobility + Stability in Your Hip Joints
Samantha Moriarty, 29, New York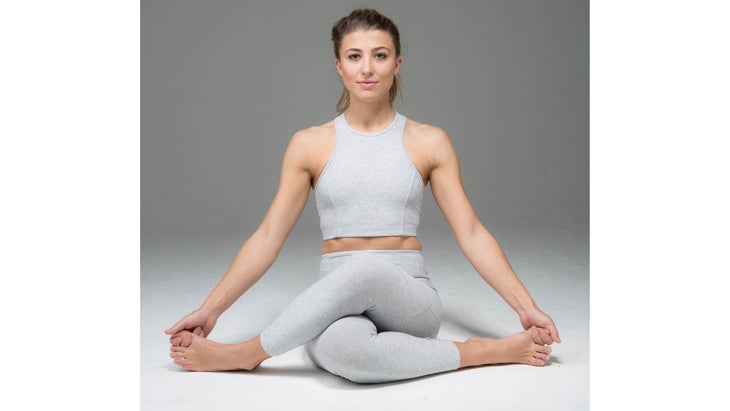 Samantha Moriarty is a star instructor behind Yoga For Bad People, the popular yoga-based company that leads retreats in enviable destinations around the world, including Brazil, Cuba, Portugal, Croatia, and Costa Rica. YFBP's niche tactic is offering retreats for "normal" people, making the notion of embarking on a yoga retreat less intimidating. As phrased in YFBP's company mission: We are normal people. We want to have fun. And we like yoga. "While yoga is the foundation—and we take that seriously—there's much more to it than just yoga," Moriarty says. "All retreat locations are carefully selected—we focus on environments that not only provide the space to drop into the 2X/day practice, but that are also rich in culture, excursions, food, and nightlife." In addition to co-leading retreats with YFBP, NYC-based Moriarty teaches vinyasa and prenatal classes at Yoga Vida. She began teaching in 2011 with Sonic Yoga's TT program, did a mentorship under YFBP co-founder Heather Lilleston, and completed her prenatal certification at the Prenatal Yoga Center. Although Moriarty loves the physical benefits of yoga, her practice and teachings remain rooted in exploring the emotional and spiritual transformation that comes from the practice.
See also A Travel-Balancing Sequence from Yoga for Bad People
Sean Haleen, 29, San Francisco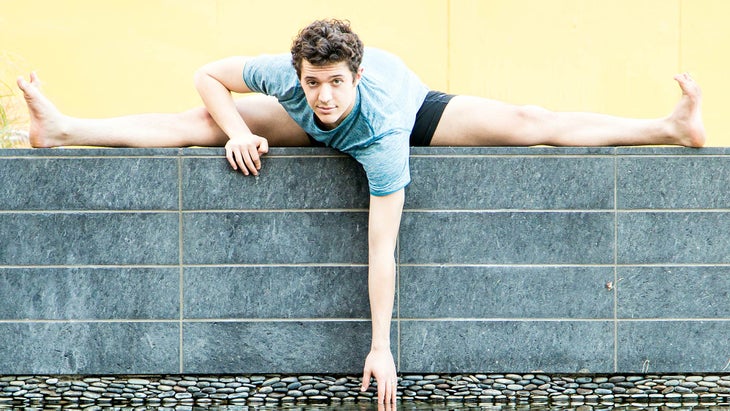 Highly regarded hatha instructor at Yoga Tree in the Bay Area, Sean Haleen was first introduced to yoga by his mother during his homeschooling in rural Idaho. His practice became integral and sacred throughout his adolescence, especially while he suffered from a severe eating disorder. Haleen began teaching full-time in 2008 after training in Anusara, and he continues to study Buddhism and Iyengar Yoga. Teaching with a strong emphasis on alignment, he has a passion for clarifying anatomy and debunking many of the teaching cues common in today's yoga world. Due to his enormously playful demeanor, Haleen titles many of his workshops and trainings "Joyful Alignment," which he offers in cities all over the US. "I believe laughter lets our guard down and joy fills our hearts inimitably," he shares. Haleen is also passionate about using his teaching for good causes and has taught yoga to homeless groups, recovering drug addicts, and queer youth. He has trained under Katchie Ananda, Jack Kornfield, Christine Price Clark, Kenny Graham, Brent Kuecker, Desiree Rumbaugh, Paige Faraci, Brian Hogencamp, and Betty Roi.
See also 5 Outdated Yoga Alignment Cues
Meaghan O'Herron, 23, San Francisco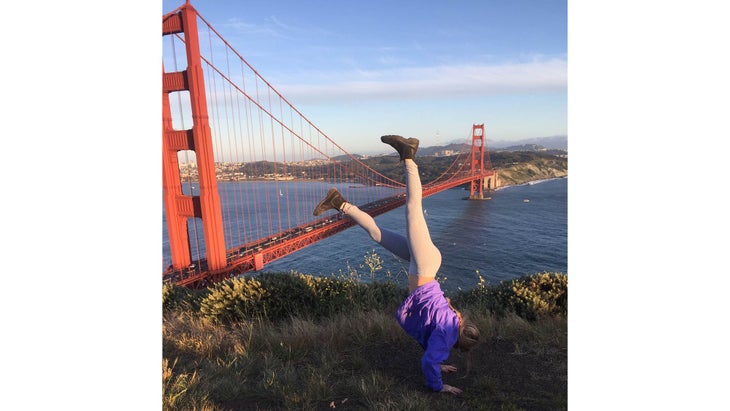 This past year, San Francisco yoga instructor Meaghan O'Herron trained with James Fox's Prison Yoga Project, and it's completely transformed her teaching style and philosophy. The 23-year-old, who teaches at CorePower, Equinox, and Karma Yoga, encourages her students to identify the traumas inside their hearts and bodies and accept them, rather than deny them or be permanently shamed. "We all need to let go of judgment," O'Herron says. "Everyone has made mistakes, and we are so critical of those mistakes, and we replay them over and over in our heads and create our own suffering, when it's not necessary. Similar to prisoners, we all need to identify with what we've done, to ourselves or others, without judging ourselves for it. How can you become a better person otherwise?" O'Herron is passionate about bringing yoga into as many prisons as possible; the practice helps prisoners develop empathy, impulse control, and self-regulation, which contributes to overall public safety in the prison and in their communities when they are released.
See also Escaping Prison: Freedom Through Yoga at San Quentin
Chelsea Scott, 29, New York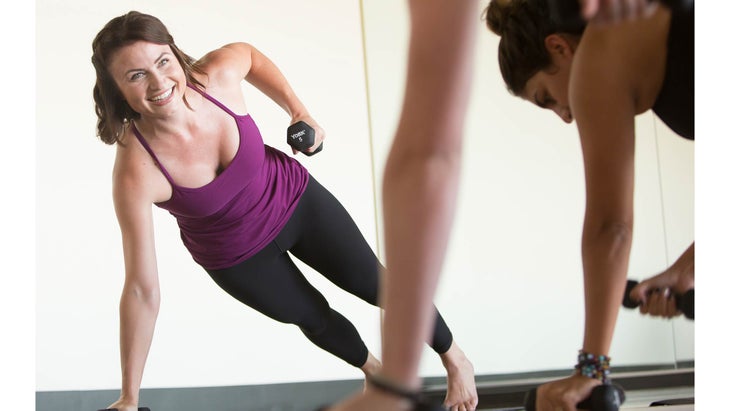 California native Chelsea Scott is the studio manager at CorePower Yoga's first-ever New York City studio, where she's also a star Yoga Sculpt instructor. CorePower's Yoga Sculpt—a music-driven hybrid class that combines free weights with vinyasa sequencing and cardio—is becoming increasingly popular across the country, and Scott is helping launch this innovative format in NYC. "Yoga Sculpt takes the intensity of a strong physical fitness workout and pairs it with the mindfulness of yoga," Scott says. "So while you are shaping, toning, and strengthening your body, you are simultaneously giving your energy, mind, and soul time to release, recharge, and heal." For many, Yoga Sculpt is a gateway into yoga world, making the ancient, soulful practice accessible for cardio junkies and practitioners seeking a high-intensity workout. Scott completed her 200-hour Teacher Training with CorePower Yoga in the fall of 2013. She went on to complete CorePower's Yoga Sculpt Teacher Training in 2014 and Level 2 Teacher Training in 2015. She has led and coached several Teacher Training programs in Southern California for CorePower and will be leading CorePower's first New York City Teacher Training this coming fall.
See also 4 Yoga Warm-Ups for Barre Class
Jennie Light, 28, Washington, D.C.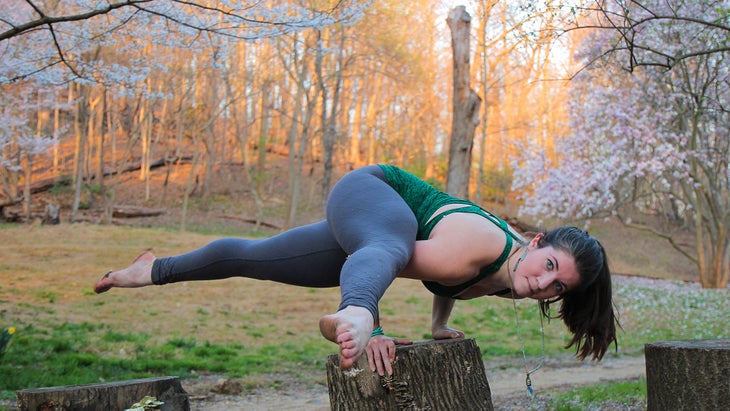 Jennie Light is the founder of Bluebird Sky Yoga, a studio focused on supporting the artistic creativity of Washington, D.C. Prior to opening her own yoga studio, Light would organize pop-up events across DC that combined all of her hobbies and passions into one: yoga, art, wine, and music. Branded as "Artful Saturday," these events found a permanent home when Light forfeited an unfulfilling career in consulting to open Bluebird Sky in 2016. "Bluebird Sky is both an art gallery and a yoga studio," Light says of the space. "Located in a former craft store and in a neighborhood known for art, we honor the creativity of the neighborhood by supporting local artists. Our building is covered in bright murals by a local artist, and our walls indoor feature rotating art from local artists." Bluebird Sky offers an array of class styles with the hope that every student will find something they love. Light has completed her 200-hour Vinyasa and Power Yoga training with Mimi Reiger, her 50-hour Progressive Ashtanga Vinyasa training with David Kyle, and her 60-hour Primal Yoga Flow training with Liz Arch. She currently studies Mysore Ashtanga with Janet Walkoe, teaches at Bluebird Sky and several festivals, and leads yoga retreats around the world.
See also This Strong-Core Move Makes Pressing to Handstand Possible
Julie Drexler, 28, New York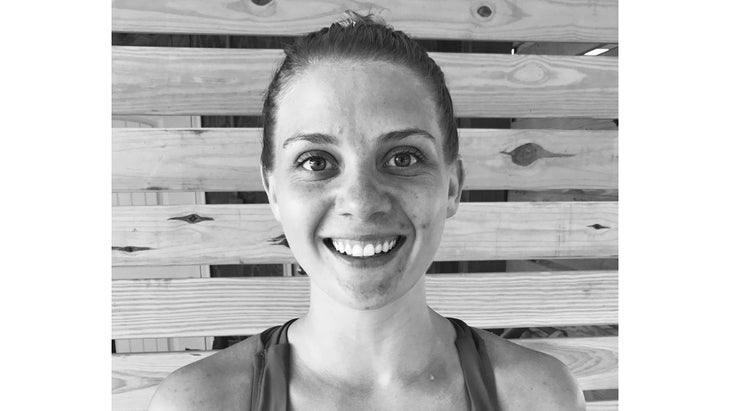 Julie Drexler is an instructor at Y7, "the original hip-hop yoga studio" based in New York and Los Angeles. Y7 takes the foundational elements of yoga and merges the practice with the culture of hip-hop, providing a completely unique and invigorating format. Y7's 60-minute energizing, sweat-inducing classes are led in the dark by candlelit to the backdrop of beat-bumping music. Along with all other Y7 instructors, Drexler wears only black and white while she teaches in the all-black studio, sans mirrors. "Y7 has a specific branding of only black and white—the simplicity of this encourages students to focus on how their practice feels and keep attention on their mat." Though Drexler has been teaching since 2013, she is a newer instructor at Y7. She loves teaching classes in the dark to loud hip-hop music, which she says helps students experience an intense and clarifying flow. Drexler trained with Johnna Smith and Kathryn Smith at Hot Yoga Plus Chattanooga. She also teaches at CorePower Yoga in Manhattan and works as a freelance Music Director.
See also Sweaty and Steady: A 45-Minute Yoga Playlist for Stability
Chelsea Xeron, 29, Washington, D.C.
Chelsea Xeron is a former athlete turned peak performance coach and Kundalini Yoga and meditation teacher. Xeron fell in love with yoga at the age of 15; she initially took up the practice as a way to stay loose and recover while playing sports, but discovered a deeper well of benefits and continued to come to her mat long after her days as an athlete were over. As a peak performance coach for pro athletes, celebrities, and Fortune 500 CEOs, her job is to get her clients out of their heads and back in the game as quickly as possible. "When I'm teaching yoga, I take the same approach," explains Xeron. "I want to provide a transformational experience that helps to move my students forward in their lives." Xeron strives to help her clients and students slow down and become more mindful in order to succeed off the mat—whether it is on the field, in the office, in a relationship, or any place where mental and emotional centeredness is crucial. Xeron trained at Radiance Yoga in Alexandria, Virginia, and currently teaches Kundalini at Flow Yoga Center in Washington, D.C. She also writes the popular newsletter Free Daily Motivation.
See also A Kundalini Yoga Sequence to Find Your Courage
Krissy Jones, 28, and Chloe Kernaghan, 29, New York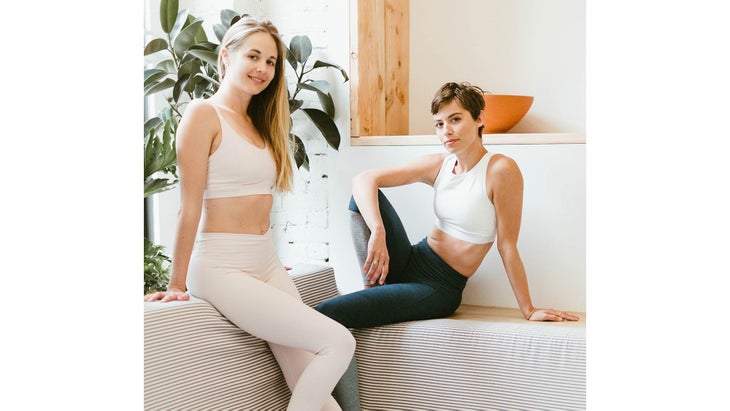 Krissy Jones and Chloe Kernaghan are the dynamic duo behind Manhattan's Sky Ting Yoga, which they opened together in a bright, airy Chinatown loft in 2015. Since the studio's debut, the brand has made a big splash, and Sky Ting expanded to its second location in Tribeca last January, with a third space set to open this fall. Jones and Kernaghan both trained with Nevine Michaan at Katonah Yoga; their methodology is a unique hybrid of highly transformative yogic material steeped in geometric alignment principals, pranayama, meditation, and Taoist studies. Sky Ting's studios are design-focused, with light, high-ceilinged rooms and an inviting lounge space with books, clothing and merchandise, healthy food and beverage options, and even an infrared sauna. Though their instruction is flawlessly by the book, Jones and Kernaghan effuse a playful vibe that has attracted a devoted following. The giant stuffed giraffe that towers in the corner of the Chinatown studio and the pink flamingos displayed in the Tribeca space are just two examples of the founders' lighthearted pizzazz.
See also Yoga Studios Expanding Just in Time for 2017's Chaos
Arielle Shipe, 26, Aspen, CO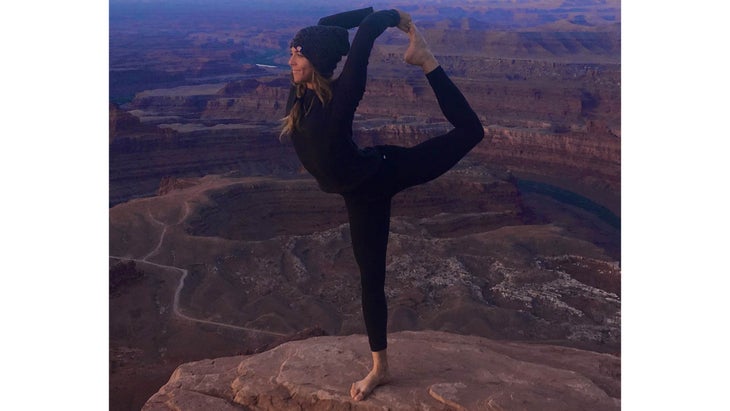 Arielle Shipe is a yoga and meditation teacher and outdoor enthusiast living her yoga in the mountains of Colorado. This adventurous yogi has found a devoted following through Instagram, where she shares her yoga with the world not through the postures, but through breathtaking images of the life she loves outdoors. "There are relatively few yoga postures on [my Instagram] but lots of examples of how I live my yoga," Shipe says. "I find nurturance and inspiration in the mountains so I have made finding time for outdoor adventures a priority. I share these adventures on my page in hopes of inspiring others to prioritize following their own dreams. To me, yoga is meant to help us become the best versions of ourselves and help us navigate our path towards a life that feels truly fulfilling." Shipe received her certification from Pure Yoga Reno in 2013, and has since trained under her mentors Rod Stryker, Meg McCracken, Ashleigh Sergeant, and Evan Soroka. She teaches a variety of styles at O2 Aspen—including a blacklight class called GlowFlow—and privately in the Roaring Fork Valley.
See also 6 Best Mountain Yoga Retreats
Melissa Petty, 30, Columbus, OH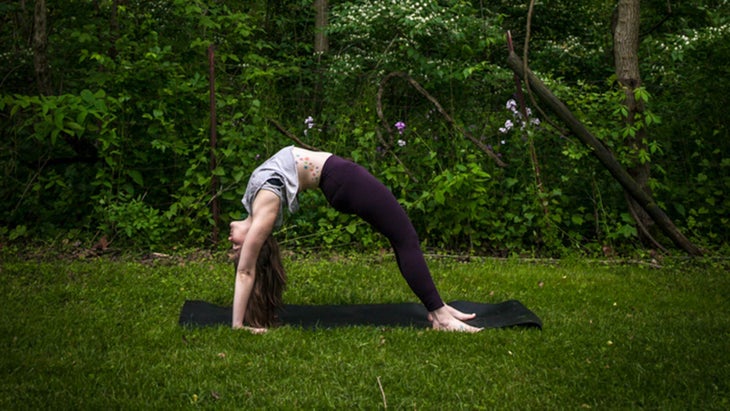 Melissa Petty is the owner of Thank Yoga Studio, which she bought from her mentor Josie Schweitzer earlier this year. Petty began her practice at the age of 21 after the death of her mother, a time when she was consumed by grief and completely rudderless. "A lot of people will say that yoga saved them, but for me, yoga taught me how to save myself," Petty says. She trained in 2012 through ShivaShakti Synthesis under the guidance of Janice George and Connie Phillips, and began teaching at Thank Yoga in 2013. Her Vinyasa flow classes are structured around the principles of functional anatomy and individual alignment, with an emphasis on effectiveness and efficiency. Petty's edge as an instructor is in her humility; she knows she's just like her students, and doesn't aim to teach from a place of wisdom, but from a place of understanding. "I get intimidated, stressed out, frustrated and confused by life, just like [my students] do," she says. "I don't place myself up on a pedestal because at the end of the day, I'm just teaching yoga, not curing cancer or brokering for world peace."
See also 5 Sanskrit Words Every Yogi Should Know
Steph Góngora, 30, Uvita, Costa Rica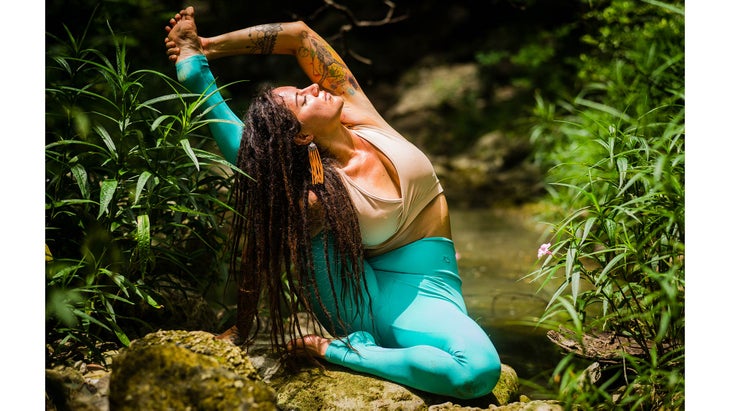 Steph Gongora is a yoga and aerial arts teacher who moved to the jungle of Costa Rica last fall to begin construction on Flō Retreat Center, a functional medicine/yoga retreat center opening in the spring of 2018. A former dancer and gymnast, Góngora is a self-proclaimed "anatomy-nerd," who has found her life's work in the practice and study of yoga. Unlike most teachers, Góngora steers clear of weekly public classes in the 60–75 minute range and focuses her efforts on longer workshops, retreats, and trainings, which she feels allow her to connect with individual students and their bodies more effectively. She's trained with Meghan Currie, Alanna Kaivalya, and Erinn Lewis, as well as through the Yoga Medicine program. Góngora's teaching style combines precise breakdowns of form and anatomical cuing with funky flows, stressing unusual transitions and authentic movement practices. Popular on Instagram as Casa_Colibri, Góngora uses her platform to address yoga off the mat, touching on controversial topics such as menstruation, racism, and the evolution of yoga in the modern world.
See also Need a Flow? Try These 8 Vinyasa Yoga Sequences
See also The Future of Yoga: Senior Teachers Weigh in on Where Yoga Is Going