A Lazy Gal's Guide to Yoga
Heading out the door? Read this article on the new Outside+ app available now on iOS devices for members! Download the app.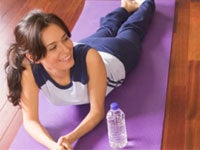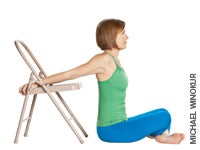 Sometimes I just feel too lazy to want to practice yoga. Yep, I said it: lazy. I've been known to feel lazy if it's hot outside, cold outside, I ate too much for lunch—you get the picture. If I always skipped my practice because I'm just not in the mood, I'd never make it to my mat, so I have to make it as easy as possible to practice yoga.
In case you ever find yourself in the same situation, here are 10 quick (and practical) tips that have helped me. I'll keep the tips short because, well, why overwork?
1) Practice the same poses, in the same order, at the same time of day every day. I have five go-to poses. It takes me all of 10 minutes to practice Down Dog, Triangle, Warrior 2, Extended Side Angle, and Wide-Legged Forward Bend for five breaths on each side. Best of all, I never have to think about what I'm going to practice if I don't feel inspired. I can just do it on auto-pilot. More often than not, the very act of being on my mat inspires me to keep going.
2) Leave your mat and a pile of props in plain view in the room you spend most of your time. Even if you don't get them out for a long practice session, they'll serve as a constant reminder that you're practice is always there for you when you need it.
3) Expand your definition of the word "yoga." A couple of deep breaths and a shoulder-opening at your desk can totally count as your yoga practice.
4) Make the most of your commute. Listen to kirtan, a dharma talk, or an audio book that's uplifting and inspiring during your commute.
5) Stop seeking perfection. Be YOUR perfect self instead. That's what the practice is all about.
6) Don't beat yourself up for little lapses in yoga practice or meditation–that never helps. Just pick up where you left off and keep going.
7) Celebrate the times when you allow yourself to do less, not more. Sometimes skipping a yoga class to rest on the couch and read a book is exactly what you need, and self-care is the ultimate form of yoga.
8) Surround yourself with like-minded people who are always up for a conversation about healthy habits, yoga philosophy, and/or how to apply it to your daily life.
9) Eat great foods. You have to eat anyway, so fill your plate with fresh foods that make you feel great on the inside and out and eat them mindfully. For me, doing just one good, healthy thing for myself usually results in more because I realize how great I feel afterward.
10) Spend time every day being grateful for what you have instead of focusing on what you want, need, or where you fall short. Life is too short to not enjoy the pleasures it gives us.