Yoga Philosophy 101: 5 Reasons You Should Know Patanjali's Yoga Sutra
Yoga Journal co-founder Judith Hanson Lasater, PhD, and her daughter, Lizzie Lasater, share five reasons why teachers and students alike should know Patanjali's Yoga Sutra.
Heading out the door? Read this article on the new Outside+ app available now on iOS devices for members! Download the app.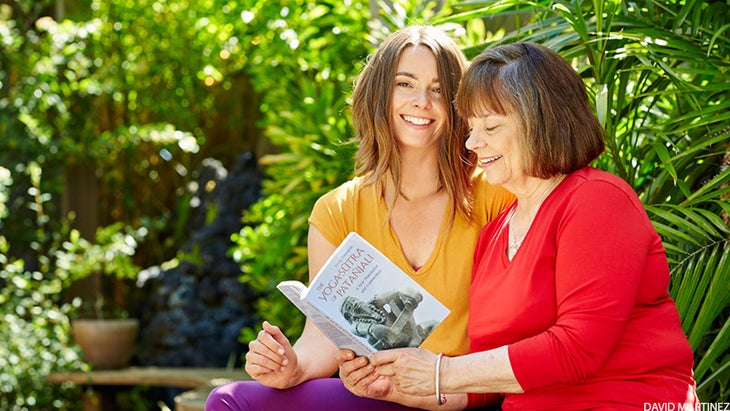 Yoga Journal co-founder Judith Hanson Lasater, PhD, and her daughter, Lizzie Lasater, have partnered with YJ to bring you a six-week interactive online course on Patanjali's Yoga Sutra. Through study of this fundamental text, the Lasaters, with more than 50 years of combined teaching experience, will support you in deepening your practice and broadening your understanding of yoga. Sign up now for a transformative journey to learn, practice, and live the sutra.
Patanjali's Yoga Sutra, one of the foundational texts of yoga philosophy, begins with the verse atha yoga anushasanam, which means "now the yoga is given or shared." The first word of the verse—atha—reminds us that our yoga practice is about what we are doing and thinking right now. The verse implies that we are to commit to a practice and to bring that practice into our daily lives and relationships, in real time. So even though we live in the 21st century, we can apply this ancient wisdom today. As Patanjali writes, all that matters is that we begin here and now to live and practice with greater self-awareness and presence.
The word sutra, which translates to "strand or thread," refers to a series of teachings that are threaded together like pearls on a necklace. Patanjali's Sutra is a collection of 196 short, pithy verses. While there is academic debate about the exact date Patanjali wrote his Sutra, it is approximately 2,000 years old, but its wisdom is timeless, and it continues to speak to the human mind and heart through the ages. Patanjali's verses offer a time-tested "roadmap" of human consciousness and how to live a happy and meaningful life through the practice of yoga.
Here are five reasons why we believe Patanjali's Yoga Sutra is so relevant and even necessary for today's yoga practitioner and teacher:
1. To remind yourself of the true purpose of your practice
Yoga asana is a great way to increase your strength and flexibility, release stress, and improve your health—but that's not all the practice is about. Patanjali systematically lays out the definition of yoga in the broadest sense—yoga chitta vritti nirodhah, or "yoga is the stilling of the fluctuations of the mind"—and also tells us which mind states are not the state of yoga, as well as why we suffer, and what we can do about it. The Sutra offers a strategy for discovering the state of wholeness that already exists in us, and for how we can begin to understand and let go of our suffering. This, he reminds us, is the true aim of yoga.
2. To understand your barriers to happiness
Patanjali's teachings help us to understand how our thoughts get in the way of our own happiness. They also show that the process of "disidentification" with our thoughts, aided by yoga practices, is the path to ending suffering.
3. To connect with the lineage of yoga
We are all a part of a proud lineage of yoga. Every yoga student receives the teachings from a teacher, and it's important to remember and honor the fact that the practice was given to us. Studying texts like the Sutra can help us to better understand the history and the traditions of yoga so that we can practice and teach from a more authentic place.
4. To build a lifelong practice
In the West, we've come to conflate yoga with a physical asana practice, but the Yoga Sutra offers a broader view, reminding us that yoga practice is so much bigger. When we limit our understanding of yoga to asana, we limit its ability to help people. As we age, we may not be able to perform an intense physical practice. But by incorporating asana, plus other yoga techniques, including meditation, pranayama, and intentional self-study, into our lives, we cultivate a deeper and more inclusive relationship with yoga that can transform all aspects of our lives.
5. To begin to live your yoga
Learning the Sutra isn't just about putting asana into the wider perspective of yoga, though. It's also about looking at what it means to practice yoga within the context of life as a whole. Yoga is not only a practice, but also a state of being. Patanjali provides us with guidelines for living a yogic life, including standards of ethics and self-conduct, so that we can know what it feels like to live and act in harmony and integrity with our highest values, even when we face difficulty. This may be the greatest gift of all.
About Our Experts
Judith Hanson Lasater, PhD, PT, has been teaching yoga since 1971. She trains students and teachers throughout the United States as well as abroad, is one of the founders of Yoga Journal magazine, and is president of the California Yoga Teachers Association. She has written eight books. Learn more at judithhansonlasater.com.
Raised in San Francisco and trained as a designer, Lizzie Lasater, MArch, RYT, teaches yoga internationally and online. She sometimes jokes that she's been practicing yoga since the womb because her mom, Judith Hanson Lasater, has been teaching since before Lizzie's birth. Lizzie lives in the Alps with her Austrian husband. You can find her schedule and classes at lizzielasater.com.