3 Books to Inspire You on Your Contemplative Path
The written word can be a powerful tool for cultivating better mindfulness habits. Here, Kate Green Tripp of 1440 Multiversity shares three books that helped her get quiet, get centered, and accept love in her life when she needed it most.
Heading out the door? Read this article on the new Outside+ app available now on iOS devices for members! Download the app.
I distinctly remember the first time I sat in meditation practice. Surrounded by fellow yoga students in a small Philadelphia studio nearly 15 years ago, I carefully followed the instructor's cues. First off: "Find your way into a comfortable cross-legged position." Yoga had prepared me for this. I sat still comfortably.
But as the teacher continued to guide us—"Notice any thoughts that may occur"—I noticed a stirring discomfort. My mind was anything but quiet. In fact, it had loads to say—about last week's difficult conversations, how my socks felt, my recent choice to quit law school, the electricity bill, long held insecurities… you name it. I hobbled through that first experience with equal parts curiosity and agony. Meditation was hard. My mind's overzealous ability to fill empty space with feedback, memory, worry, and contemplation was well practiced. Thoughts conquered stillness.
I reminded myself why I was there in the first place: to unplug from the rest of life (even for a few minutes at a time) and re-emerge cleaner, lighter, happier. And though I didn't know them beyond their smiles and silhouettes, I trusted that the woman to my left and the man to my right felt that same need. That we were all in this together.
See also How a Daily Meditation Practice Helps You Find Trust
So I stuck with it. What began as scary shifted to awkward, and then slowly began to approach welcoming. I noticed it was far easier to sit in the company of others than to be alone. Perhaps a room full of people triggered my sense of personal accountability. Whatever the reason, it helped.
Over time, I tried sitting on my own. On plenty of days, I would think of medi-tation, feel drawn to it, but ultimately avoid it because I knew it was difficult for me. I regarded the discipline of a solo practice a serene place other people visited, and I judged my own squirmy distractions as evidence that I didn't have the passport required to enter.
Fast forward a decade, through many more attempts, the arrival of three children, yoga teacher training, divorce, and a professional dedication to institutions devoted to mindfulness and personal growth—including my role as managing editor at 1440 Multiversity—and you might think that I'd finally arrived.
See also Try This Durga-Inspired Guided Meditation for Strength
But the truth is that I haven't. I still struggle. The biggest, most important shift in my relationship to meditation has been one of perspective. I have learned that it's OK to cross the border into silence along with my thoughts and worries rather than fight them. Now, instead of feeling anxious that they accompany me, I can hold them where they belong—in my lap—with care. Some days the preoccupations are tiny (Did I remember to take out the trash?) and some days, they are enormous (Do I give in to fear too easily?). The simple act of allowing for them has had a magical way of softening their noise.
Due to the strength I first drew from meditating in the company of others, I often rely on the companionship of authors as my solo practice evolves. The following three books in particular have provided invaluable guidance.
Real Love: The Art of Mindful Connection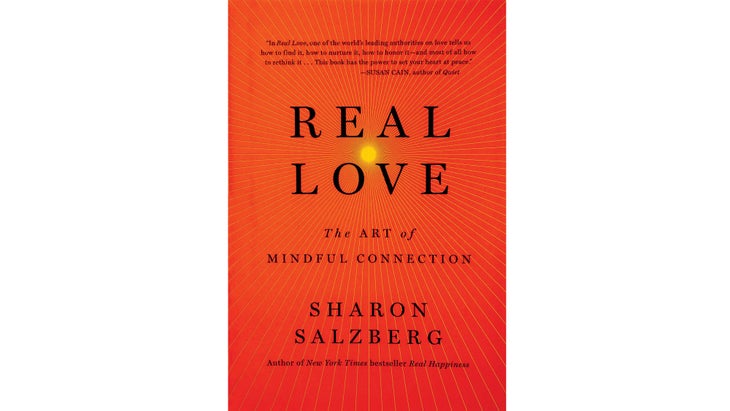 For a time, all of the shadows that followed me to my meditation cushion centered on my failed 18-year relationship. Though the grief felt nearly endless, what loomed even larger was the distress I felt around revisiting love after divorce. Could I balance independence
with staying open to possibility? Could I re-engage intimacy in a healthy way?
Sharon Salzberg's book Real Love: The Art of Mindful Connection reframed my approach to love and relationships. Cofounder of the renowned Insight Meditation Society, Salzberg is one of the world's most beloved meditation teachers and authors.
I found myself drawn to the book's passages as I learned to sit with the sting of lost trust, the melancholy of lost comfort, and the unease of feeling directionless. On my own, those waves could flatten me. Alongside Salzberg, I felt reassured that real love—"that beautiful space of caring where you come into harmony with all of your life," —was absolutely within reach.
Real Love offered me an even more concrete framework for holding heavy discomforts in my lap. The book's stories and practices gave me a way of seeing, unpacking, and allowing for tough fixations, such as the persistent connection I drew between love and the significant people in my life. Sharon taught me to separate the two. There is love. And there are people. But the two need not be inextricably linked in a way that creates unhealthy attachment or painful sensation.
This was not an easy concept for me to digest. I needed time in the rhythmic embrace of meditation to come to understand it. As Salzberg writes (and I discovered to be true), "The breath is the first tool for opening the space between the story you tell yourself about love and your capacity to tap into the deep well of love inside you and all around you."
Undoubtedly, the hardest aspect of divorce was learning to balance my own needs (grieve, renew) with the biggest job I had ever been tasked with—responsibly and compassionately mothering my three children as they learned to make sense of their fractured family. Subscribing to long-held notions about "being strong" for the kids, I often shunted my own feelings to the corners of my psyche to clear enough space for their hurt.
But as time went on, as I sat in stillness, I started to feel what spiritual teachers call the divide between the conditioned self and the authentic self. I could see there was a growing fracture between who I truly was and how I showed up for my kids when uncertainty or fear set in. It was then that I started to meditate alongside a new book.
See also 10 Best Yoga and Meditation Books, According to 10 Top Yoga and Meditation Teachers
The Awakened Family: A Revolution in Parenting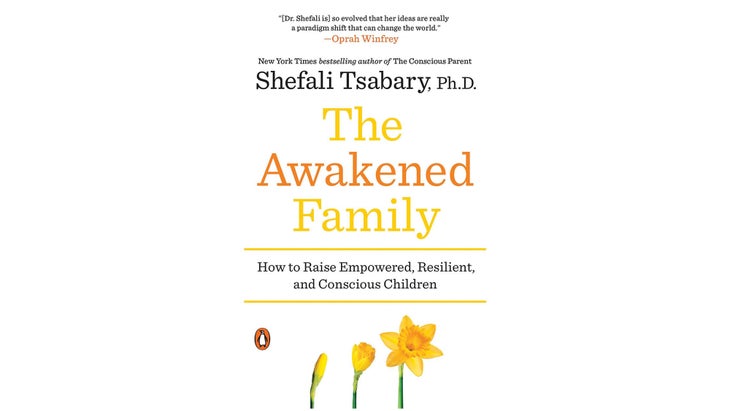 Clinical psychologist Shefali Tsabary, PhD, is known for her revolutionary, mindful approach to parenting (and her glowing endorsement from Oprah).
Now, after discovering her book The Awakened Family: A Revolution in Parenting, I can hardly lay claim to being free from all maternal stress. But I can say that sitting in contemplative stillness with Shefali as I tackled my hardest parenting chapter to date was a profound gift. Rather than continue to feel endlessly plagued by the impossible expectations I'd placed on myself, Shefali helped me learn to mother the part of me that worries so much. Reflecting on her tenants of conscious parenting, I learned to pay close attention to the moments with my kids where the greatest sense of flow prevailed—and to follow the clues that those situations revealed.
In particular, I followed her suggestion to practice replacing instinctive parental chatter with silence. As she writes, "I ask parents to try not saying anything to their children for blocks of time—unless of course their children need them in some way. This doesn't mean the parent ignores the child or leaves them alone. Instead, it's an invitation to enter their children's presence without any desire to mold or change them. I ask the parent to channel the energy they would use for talking to instead observe their children."
I found this transformative. By focusing less on doing and more on being with my kids, I started to notice I was increasingly less stressed and more available. From that place grew a solidity born of joy and spaciousness. The kids felt it, and I felt it.
Shefali writes, "Our childhood conditioning by our families and culture leads us to react to life in robotic ways. I go so far as to say that our children never trigger us. The trigger always lies within us, rooted in our past hurt and childhood struggles. Our children's behavior is the gust that fans the cinders within us into flame."
For me, the robotic behavior had been control-oriented and governed by worry. Time in meditation with Shefali helped me touch and understand what it means to parent from my embodied, aware, calm self. And the more I occupied that fuller self, the more questions I had. It was time for a new book.
See also The Yoga Books Every Yogi Should Own
Falling Into Grace: Insights on the End of Suffering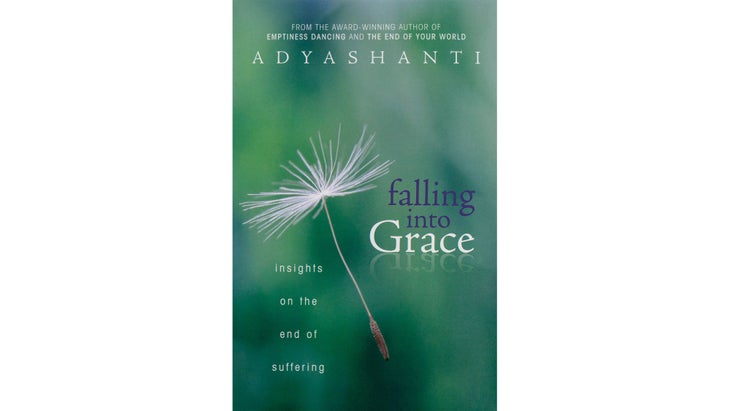 Adyashanti—a spiritual teacher and author known for spontaneous, masterful insight—has rocked my self-understanding to its core. His book, Falling Into Grace: Insights on the End
of Suffering helped me not only continue to see and compassionately allow for my worries and preoccupations, but it also prompted me to explore how to transcend them.
Asserting that when we believe our thoughts we suffer, Adyashanti describes the human dilemma as the belief that "the contents of our minds—beliefs, ideas, opinions—are actually who we are." It is this illusion, or false certainty, he suggests, that gets us into trouble.
The profound and evocative passages of Falling Into Grace helped me identify my fixation on thinking and doing as the path to progress, and my age-old discomfort with the far messier reality of simply being and noticing how it feels to be. Adyashanti's words, slowly absorbed in periods of silent meditation, helped me crack open a deeper sense of my authentic self—the consciousness below the thinking. As he writes, "Grace is something that comes to us when we somehow find ourselves completely available, when we become open-hearted and open-minded, and are willing to entertain the possibility that we may not know what we think we know."
Grace is certainly not with me at every moment, but I do encounter it—now more than ever before.
See also My 38-Year Love Affair With Yoga (and How We Finally Made It Official)
The Next Chapter
No matter what looms largest for you—preoccupations with challenge, love, loss, family, career, habit, or fear—you inevitably bring it with you when you sit on your meditation cushion. Learning to be there with yourself, regardless, is the first step to embracing meditation. And because life is never static and new concerns are always emerging, it is a first step you'll need to keep taking—again and again and again.
See also Sequence for Overcoming Fear with Denelle Numis
Fortunately, you don't have to take it alone. There are magnificent companions out there. These three books are just the beginning.