Good Morning Yoga: A 3-Minute Flow to Jumpstart Your Kids' Day
Try this simple flow in the morning or anytime with your kids to jumpstart their day. It only takes 3 minutes!
Heading out the door? Read this article on the new Outside+ app available now on iOS devices for members! Download the app.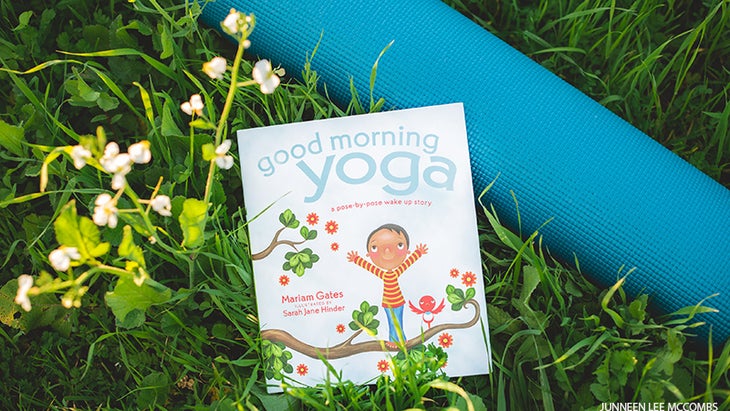 Go from rushed to ready with this fun + simple sequence.
As any parent knows, weekday mornings rarely go according to plan: the lunch containers weren't cleaned out, the breakfast options are meeting rejection, your tween's hair is not "working," and where did that permission slip go? Understandably, in the bustle to get out of the door the last thing you want is to slow down and lose momentum, and adding anything else seems unimaginable. But a small shift can make a big difference.
The first part of the day is full of possibility and for many families the only time everyone is in one place. Yoga offers some simple tools to help our kids feel more confident, more relaxed, and a bit more grounded as they head out into their day. The benefits (for all of us) of adding a mindfulness practice to our mornings are vast. We often wake up holding tension mentally, emotionally and physically. As the adage goes, "move a muscle, change a feeling." These simple exercises help us find a way to pause, to take a breath, and to cultivate an internal sense that things are basically okay. As our children learn to move through a set of yoga poses, they are developing the ability to bring that calm awareness into all situations. And unlike a run or a gym workout, the practices can be completed in mere minutes with lasting results for the whole family
Still, keep in mind, yoga with our kids doesn't have to happen during the busy morning to make the days run more smoothly. These are new skills and habits that can be practiced anytime. Simply encouraging our children to regularly notice where they are, notice their breath in and their breath out, and notice how they are feeling inside creates a feeling of calm that will have long-term effects. And remember, when it comes to yoga and mindfulness, a little goes a long way. Plus, it's fun. So try this simple flow in the morning or anytime—it only takes 3 minutes!
3-Minute Yoga Flow for the Whole Family
Sun Breath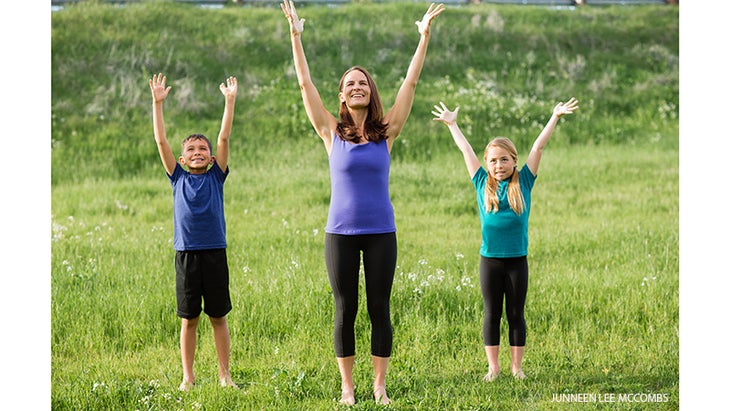 Reach your arms out to the sides, lift them up to the sky, and then relax back down.
See alsoMove with Joy: The Power of a Playful Practice
Tummy Twist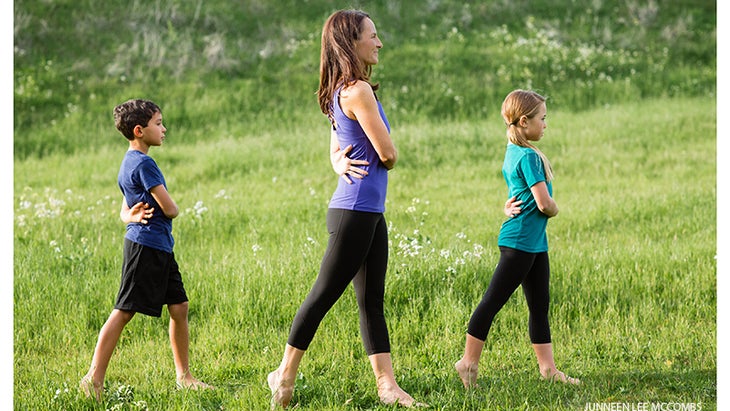 Twist your whole body from side to side and swing your arms back and forth.
See also Yoga for Teens: 3 Yogic Teachings to Combat Bullying
Volcano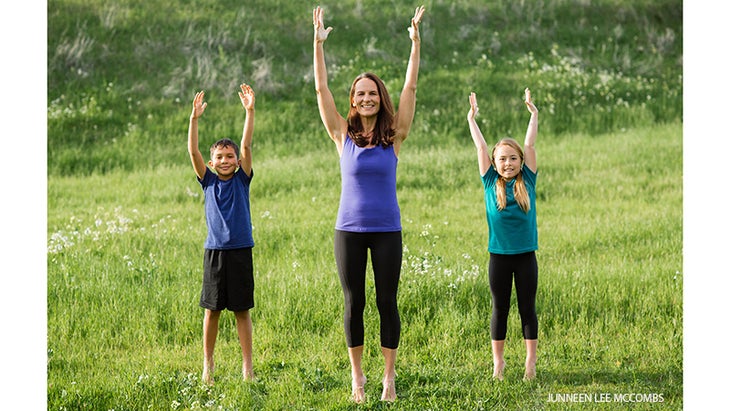 Lift up onto your tiptoes and reach your fingers high.
See also I-mat-gination Practice: 6 Yoga Poses for Kids
Ski Jumper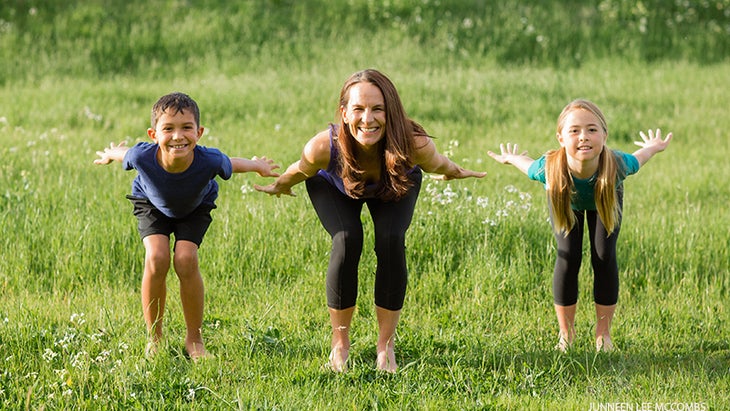 Bend your knees and sweep your arms back.
See alsoThrow the Ultimate Kids' Yoga Party
Lightning Bolt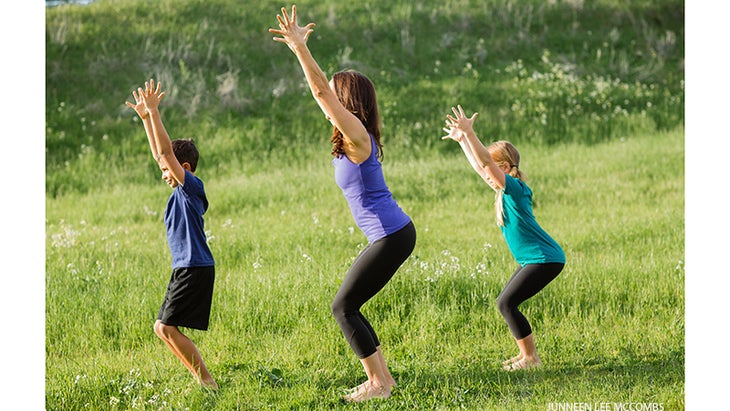 With your knees bent, glide your hands up high.
See alsoTeach Kids Yoga: I AM Yogi Twist Flash Cards
Mountain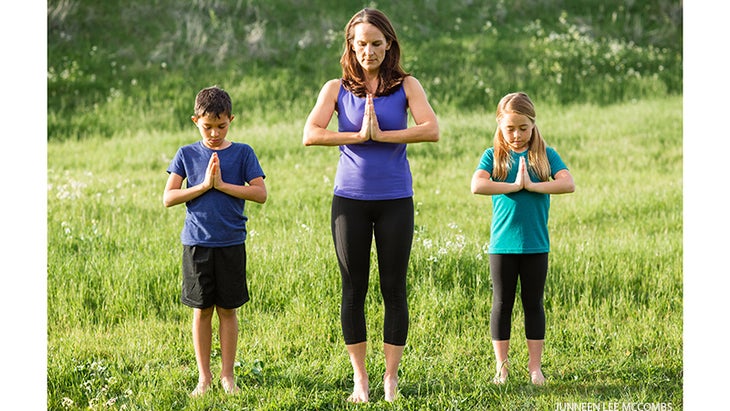 Press down through your feet and stretch your spine so it is long. Roll your shoulders back and press your palms together.
See also7 Ways Kids Can Fend Off Flu with Yoga
Forward Bend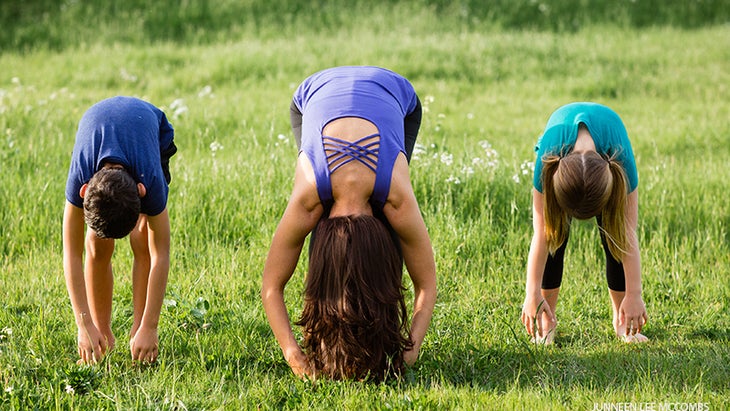 Round your back, bend your knees, and roll down to the ground.
See also10-Minute Meditation on Self-Care for Mothers
Downward Dog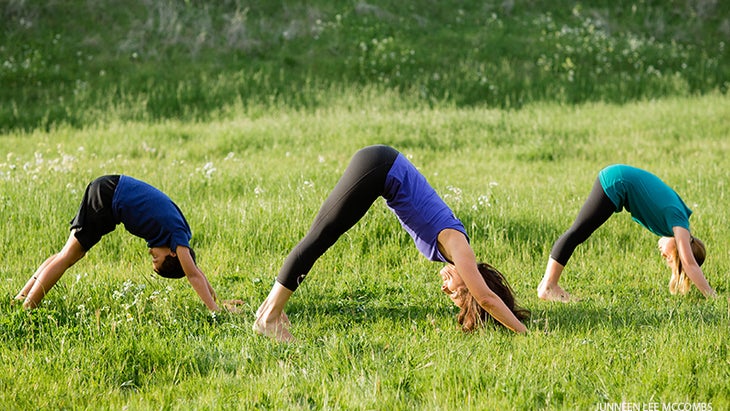 Press your palms and feet into the earth, as you lift your hips toward the sky.
See alsoIn Focus: Photos of Kids Practicing Yoga
Balancing Table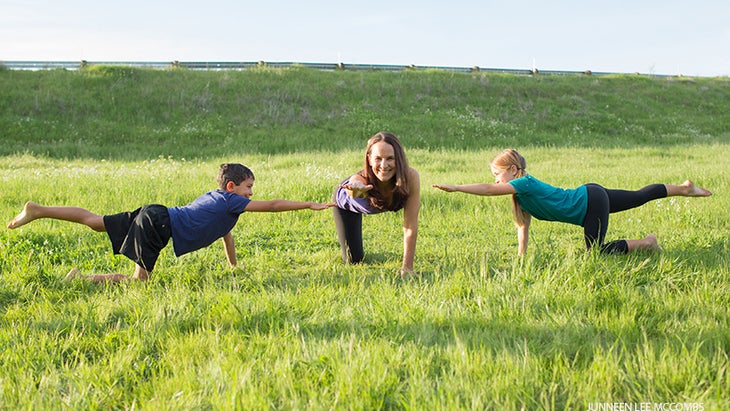 On hands and knees, bring your left hand forward, lift your right leg back, and balance. Then switch sides.
See alsoListen Up: Summer 2015 Yoga Playlist for Teens
Bridge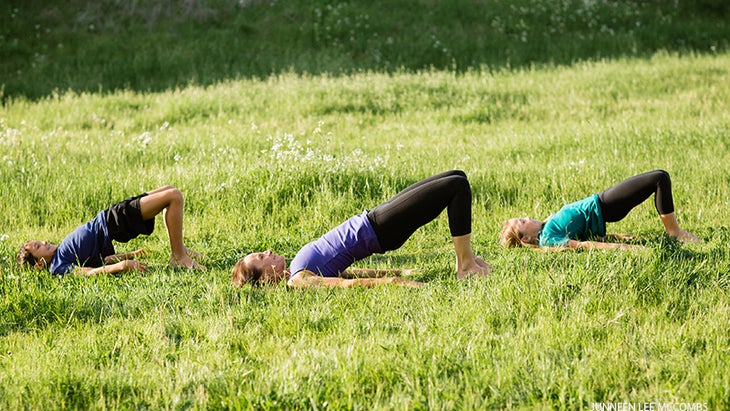 Roll onto your back and press your feet into the earth, using your forearms for support. Lift your hips high.
See alsoDeepak Chopra's Meditation to Inspire Children
Boat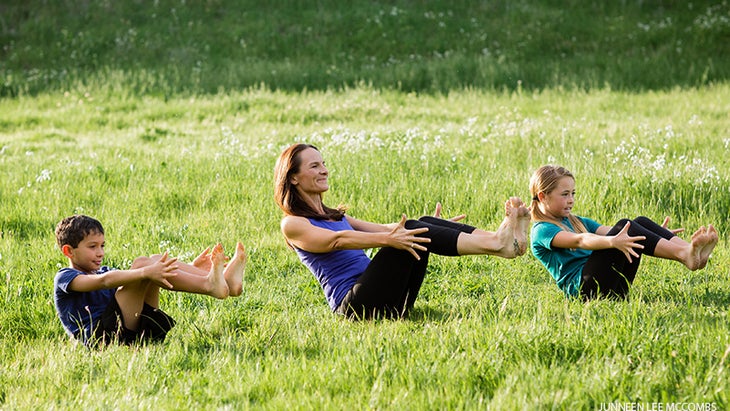 Sit up tall to lift your legs and arms off the ground with your knees straight or bent.
See alsoOut There: 6 Reasons to Send Your Child to Yoga Camp
Awake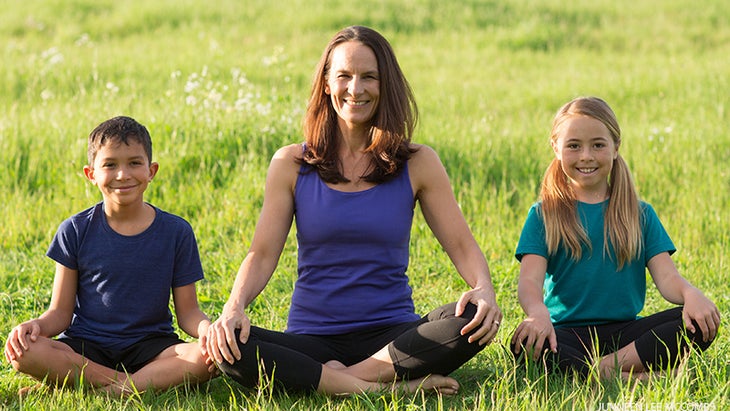 Sit with your legs crossed. Grow your spine taller, roll your shoulders back, and rest your hands on your knees.
See also6 Kid-Friendly Yoga Poses From Alanna Zabel's New Children's Book
Visualization: How I Want to Feel Today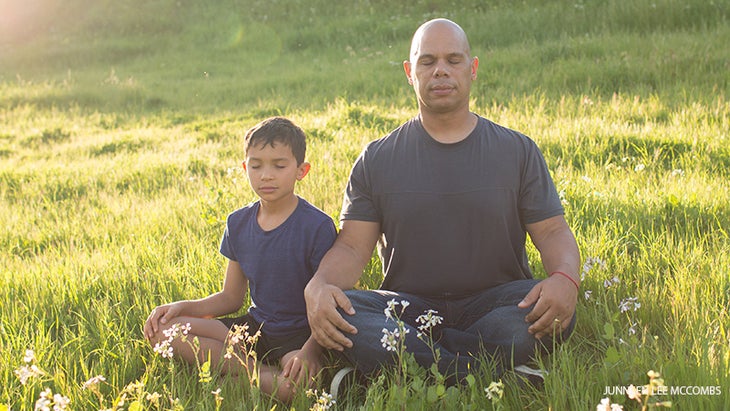 Still sitting comfortably, close your eyes. Take a deep breath in and let a long breath out. Let your whole body relax. Notice the air as you take another deep breath in and out. Does it feel cool? Does it feel warm?
Now, let a word come into your mind that describes how you want to be today. It could be a word like "joyful," "kind," "friendly," or "curious." It could be a word like "happy," "peaceful," "enthusiastic," or "brave." Choose the word that best describes how you want to feel. Hold it in your mind. As you breathe in, fill yourself up with the feeling you want and as you breathe out, send this feeling out into the world. Feel how you want to be today. Take another deep breath in and let a long breath out. Open your eyes. You are ready for this day.
See alsoBedtime Yoga: 12 Poses to Help Kids Sleep Better
About the Author: Mariam Gates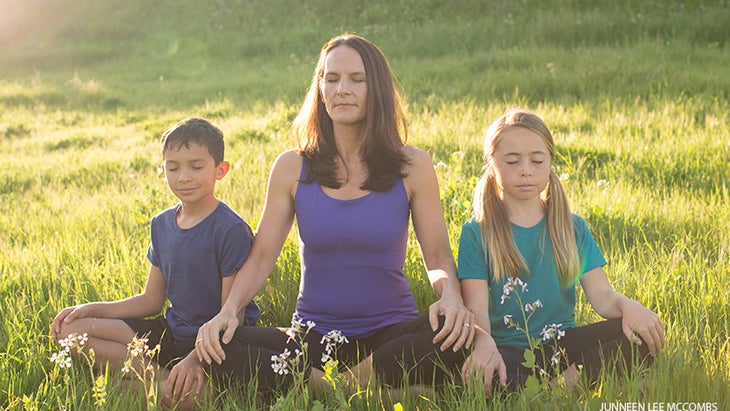 Mariam Gates holds a master's in education from Harvard University and has more than 20 years' experience working with children. Her renowned Kid Power Yoga program combines her love of yoga with teaching to help children access their inner gifts. She is the author of Good Night Yoga: A Pose-by-Pose Bedtime Story (Sounds True, April 2015) and the forthcoming book, Good Morning Yoga: A Pose-by-Pose Wake Up Story (Sounds True, March 2016). Mariam lives in Santa Cruz, CA, with her husband, yoga teacher Rolf Gates, and their two children. Learn more at mariamgates.com.
About the Illustrator
Sarah Jane Hinder, illustrator, teaches art and graphic design at Turton Media Arts College in the UK. For more, visit sarahjanehinder.com