3 Ayurvedic Recipes to Boost Energy and Brain Power
Feeling sluggish? Boost your energy and your brain power with these 3 Ayurvedic recipes.
Heading out the door? Read this article on the new Outside+ app available now on iOS devices for members! Download the app.
Tamas is the energy that likes to sit still and do nothing. It's the dense, heavy qualities of your mind. We all need just the right amount of rest and relaxation to feel calm and vital, but too little activity can lead to sluggishness. If you're feeling lackluster, sad, cloudy, or stuck, turn to these recipes to restart your fire and boost brain power.
Spicy turmeric lemonade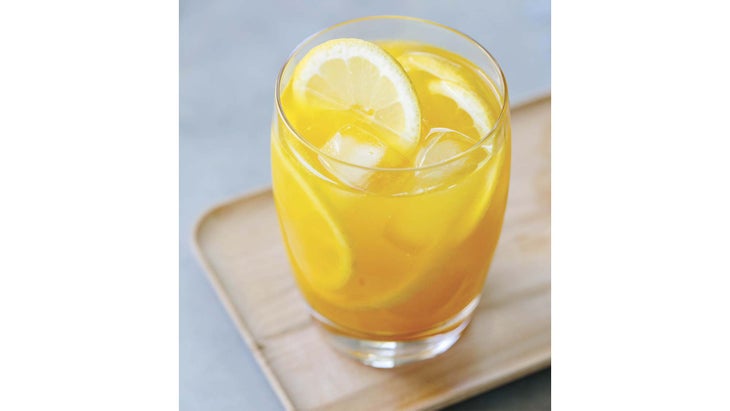 Tastes: sweet, pungent, bitter, sour
Serves 4
The last thing you want to do when you feel lethargic is drink alcohol. Alcohol, except the occasional few ounces of medicinal wine or spirit, dulls the mind by overwhelming the body with simple sugars. On a warm day, sit with a friend, relax, and have a glass of this bright, spicy lemonade. Allow time for cooling the spicy syrup, and go easy on the ice.
Ingredients
1 2-inch piece fresh ginger, crushed
½ tsp ground turmeric
¼ cup raw honey
½ cup fresh lemon juice (about 4 lemons)
Instructions
To make the syrup, boil ginger and turmeric with 1 cup water, covered, in a small saucepan, 10 minutes. (Boil longer if you want it stronger.) Take off the heat, and cool for 3–5 minutes. Stir in honey until dissolved. Refrigerate until cold.
Combine the ginger-turmeric syrup, fresh lemon juice, and 2 cups of water. Divide among four glasses, each with a few cubes of ice.
Nutritional Info 74 calories per serving, 0 g fat (0 g saturated), 20 g carbs,
0 g fiber, 0 g protein, 2 mg sodium
See also How a Sattvic (Pure) Diet Brings You Into Balance + 2 Ayurvedic Recipes
Nourishing carrot and dal soup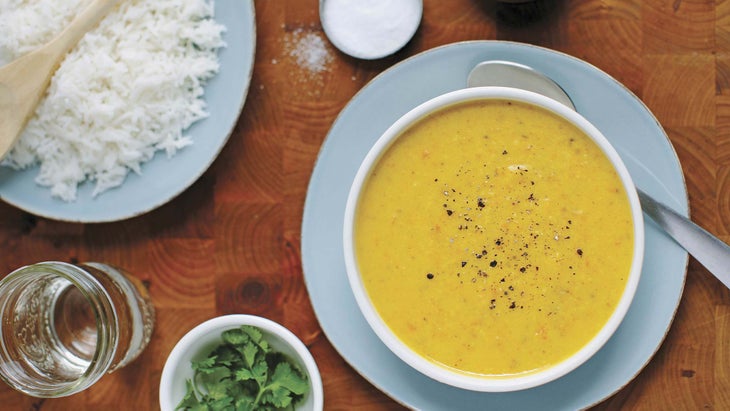 Tastes: sweet, astringent, pungent
Serves 4
Quick-cooking split mung beans add creamy texture plus filling protein, and they're nourishing for all body types (during any season). The pungency of this spice mix can melt away resistance and sluggishness while lighting your digestive fire.
Ingredients
1 tbsp ghee
1 cup chopped carrots
4 peppercorns
1 tbsp vitalizing spice mix (see next recipe)
1 cup split mung beans, soaked overnight (or at least a few hours), drained and rinsed
3 cups water
½ cup almond, hemp, or cow's milk
½ tsp salt, plus more to taste
freshly ground black pepper, for garnish (optional)
fresh cilantro or parsley, for garnish (optional)
Note: Add 1 tbsp grated fresh ginger to the cook pot for extra zing.
Instructions
In a large saucepan, warm ghee over medium heat. Add carrots, peppercorns, and spice mix and sauté, stirring until you can smell the spices, 2–3 minutes. Add beans, and sauté, stirring until evenly combined, 1–2 minutes. Add 3 cups water and simmer, partially covered, for 20 minutes. Add milk and salt, and simmer, 5 minutes more. Remove from heat.
Using a hand blender, purée soup until smooth (you can also do this in a blender carafe, but the mixture must cool a bit first).
Pour into bowls and garnish with freshly cracked pepper and fresh cilantro or parsley, if desired.
Nutritional Info 231 calories per serving, 5 g fat (2 g saturated), 36 g carbs, 10 g fiber, 13 g protein, 636 mg sodium
See also Carrot Olive Salad
Vitalizing Spice Mix
When it comes to motivating tamas—or the dense, heavy qualities of your mind—spice it up!
Makes ¼ cup
Ingredients
1 tsp fenugreek seeds
1 tbsp coriander seeds
1 tbsp cumin seeds
1 tbsp mustard seeds
¼ tsp ground cloves (or 1 whole clove if you're grinding your own)
1 tsp ground cinnamon
1 tsp freshly ground black pepper
¼ tsp hing powder (optional)
Instructions
In a small frying pan, roast fenugreek seeds over medium heat for approximately 3–5 minutes. Cool, and then grind them to a powder using a mortar and pestle or a spice grinder.
In the same pan over medium heat, roast coriander, cumin, and mustard seeds, stirring constantly, until you can smell them, 3–5 minutes. Cool, then grind these spices into a uniform powder with the fenugreek and remaining spices.
See also 5 Healing Spices from Indian Cuisine to Put into Regular Rotation
See also Quiz: What's Your Dosha?