Padangustha Dhanurasana
We know her for arm balances, but here Kathryn Budig shows us how she learned to backbend into Padangustha Dhanurasana, Big Toe Bow Pose.
Heading out the door? Read this article on the new Outside+ app available now on iOS devices for members! Download the app.
I've never been much of a backbender. In fact, I used to be awful at them. I might have the appearance of a small backbendy looking girl, but my strength has always been more in the arm balance department. For this reason I always told myself I'd never be good at backbends and that it would be best to focus on other areas of my practice.
This horrible attitude prevented me from soaring in my chest for years. I told myself I couldn't and therefore completely limited myself. It wasn't until a year of practicing with the super backbendy Noah Maze that I had a complete epiphany. We were practicing Bow (Dhanurasana) and Big Toe Bow (Padangustha Dhanurasana) poses. I had been playing with the strap for years and just realized I could come into full shoulder rotation on one side. I decided to give it a go and try the second arm as well. Then POOF. . . I was in the full pose. It was one of those, "Is anyone actually seeing this happening?!" moments. I was in a huge, beautiful backbend—ME! I came out if the pose crying tears of joy. It was one of the most liberating and empowering moments in my yoga practice. I never said never again. I realized I can do anything I put my mind to as long as I believe in myself, keep doing my best and recognize that everything is going to happen as it should.
I hope this pose cultivates some magic and power in you as well. Don't stop believing and you'll soar.
Step 1: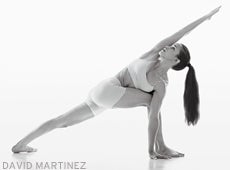 Before we try anything fancy it's important to understand the basic posture (Bow Pose) first. Begin lying flat on your belly. Bend both of your knees and reach back one arm at a time to clasp the outside of your feet. Your thumbs will point down and feet can be pointed or flexed, which ever gives you more power. You want this power because ultimately it's the legs that lift you into the backbend. Without even thinking of lifting your chest, press your shins back strongly away from you. This action will automatically lift your head and chest. Continue pressing back until your arms are straight and the shoulders curl open and back. Press your abs down into the mat to give you additional lift in your chest. Gently lift the feet up, encouraging the thighs away from the ground. Spread your toes and look forward. Take 5 deep breaths then release.
Step 2:
Grab two yoga straps and make lassos big enough for the soles of your feet. Place one lasso over the ball of each foot and lie down on your belly with the strap coming over your shoulders so you can easily access them. Prop yourself up onto you forearms and look back over your dominant side. Bend that knee, bringing the foot close to you. Reach back with the same arm, palm facing up and with a slight bend in the elbow. Grab underneath the strap as close as you comfortably can to your foot. Just keep in mind, the closer you grab to your foot, the deeper the backbend will be. Once you have the strap, inhale. Exhale, keep the elbow bent and rotate it in, out and up so that it's facing the ceiling. Hug the elbow in tight to your face and relax the base of your neck. Repeat on the second side. Once you're even, perhaps walk your hands down the straps closer to your feet. Once you've reached a good sensation, press the shins back evenly, press your core down and lift your heart. Take 5 breaths. To release, slowly loosen the grip on the straps and place your arms onto the ground in front of you.
Step 3: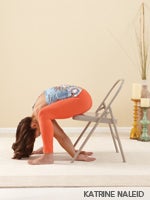 There are two ways of getting into the final pose. One is by doing step 2 and eventually walking your hands all the way down to your feet. The second way is to reach back for the feet without the use of the straps. The full pose takes practice, flexibility, and time, so please don't be in a rush to lose your straps. Keep practicing with the props until your shoulders are ready to go strap-free!
Begin on your belly propped up on your forearms. Look over your dominant shoulder and bend that same knee. Reach back with the same arm, palm up and elbow slightly bent to keep the shoulder in the socket. Grab your baby toe from the toenail side and climb each toe until you can clasp onto the big toe side from the underneath grip. Take a big inhale, and on your exhale, rotate the elbow down, in, and up. Reach back with the second arm to do the same. Hug the elbows in tight around the head and press the legs back strong like you do in Bow Pose. Spread your toes and enjoy the massive amount of space in your chest. Release one arm at a time to brace the exit and take a vinyasa into Child's Pose.
Kathryn Budig is jet-setting yoga teacher who teaches online at Yogaglo. She is the Contributing Yoga Expert for Women's Health Magazine, Yogi-Foodie for MindBodyGreen, creator of Gaiam's Aim True Yoga DVD, co-founder of Poses for Paws and is currently writing Rodale's The Big Book of Yoga. Follow her on Twitter; Facebook; or on her website.