Yoga 101
Erica Rodefer Winters shares basics about yoga for aspiring yogis.
Heading out the door? Read this article on the new Outside+ app available now on iOS devices for members! Download the app.
Over the weekend I was watching a news show when a segment came on about a class for people who know nothing about football—people like me. The class would help those aspiring football fans learn everything they need to know in time for the Super Bowl. It showed a teacher at the front of a classroom hold up a football helmet. "This is a helmet," he said. I chuckled because that's where they'd need to start if someone were planning to teach me about the game.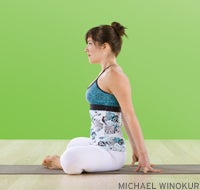 I'd never take this kind of class because I have absolutely no interest in football, but it made me think about all the people who feel clueless about yoga. Like football, yoga is incredibly complicated. There are layers upon layers of information. In fact, yoga is even more complicated because there's so much room for interpretation. It can be overwhelming for people who don't feel like they're a part of the club.
I know there are all kinds of beginner's yoga classes that break down the poses, but it caused me to start to thinking about what the really obvious things someone who knows absolutely nothing about yoga might want to know.
I came up with some ideas:
This is a yoga mat. When you stand on one of these with bare feet, it helps you grip the floor so you won't slip and fall. Disclaimer: Eventually, you will fall anyway.
The Sanskrit word yoga means "union," and is also connected to the term "yoke." The practice is a connection of mind, body, breath, and spirit.
The person calling out poses is the teacher. How important the teacher is varies from school to school, but as a general rule teachers are just guides. They help you with alignment and share wisdom for you to ponder, but the practice is really about looking inward and finding your own wisdom. Note: Everyone has inner wisdom, even those who don't know anything about the practice at all.
Sanskrit is the language that yoga teachers use mostly to describe poses. Don't worry so much about what they say at first—it's just a different way to describe the poses. Follow along and try to make the shape they describe using words you understand. To learn some basic Sanskrit words click here.
Yoga not a religion, so it's OK to take the bits that work for you and leave the rest.
Right and left are really just suggestions. But try to stretch both sides of the body equally so you'll be balanced.
Yoga doesn't just happen on the yoga mat, and it doesn't have to involve poses at all. It can be anywhere that you're paying attention to what's happening in the present moment—the sunshine on your skin, the air circulating around you, etc.
What would you add to the list?