10 Ways Yoga Makes You Faster
Upgrade your running and break your PR with clever, targeted cross-training.
Heading out the door? Read this article on the new Outside+ app available now on iOS devices for members! Download the app.
presented by

Boost Running Performance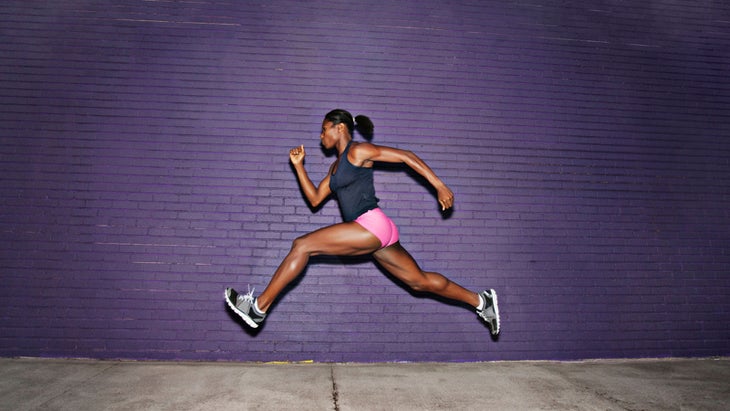 Yoga isn't about mastering advanced asanas, but most yoga students know how satisfying it can be to take the shape of a particularly challenging pose for the very first time. It feels amazing to make noticeable strides in strength, flexibility, balance, mental focus, and more. Likewise, even if you're not a competitive runner, nothing can motivate you to stick with your running routine like watching yourself get faster, stronger, and more efficient over time. Adding yoga to your training schedule will make all of that easier—and you'll get lots of other benefits from your time on the mat, too. Ready, set, go!
BOOST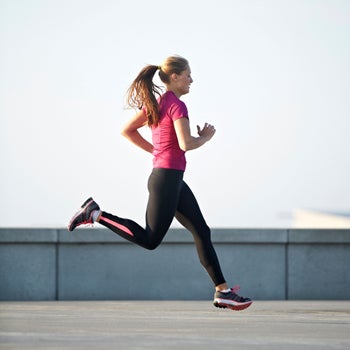 Release tension, find energy. Notice where you hold tension as you run. Your goal: engage only the muscles you need to move forward and relax those you don't. Relax your face, jaw, and hands. Holding unnecessary tension can make you sore later, and it also uses up precious energy reserves you need. Much of running is about managing energy and choosing the smoothest, most efficient way forward. It takes presence of mind to log (and enjoy!) the miles.
BOOST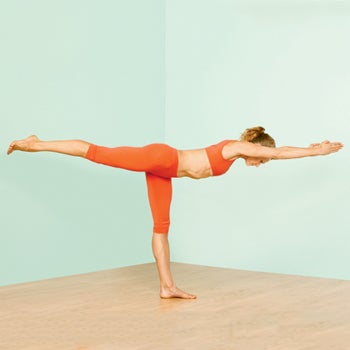 Get stronger and longer. To lengthen and strengthen running muscles, practice Warrior Pose III. This will help strengthen ankles, legs, shoulders, and back muscles, while toning the abdomen and improving balance and posture.
sponsored by Newton Running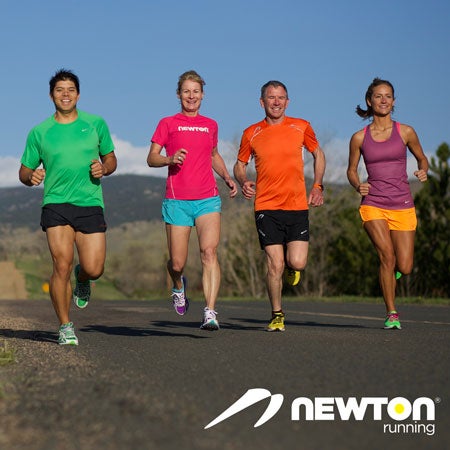 More Miles, More Smiles This may seem obvious, but we love running. And we want you to love it too, which is why we've created 3 stages to our patented technology. It ensures that no matter how you run you are getting the most out of it.
BOOST
Meditate on the move. Repeat a mantra that inspires you as you run to make your run a moving meditation. Synchronize your thoughts with your breath and return to your mantra again and again for motivation when you need it the most.
BOOST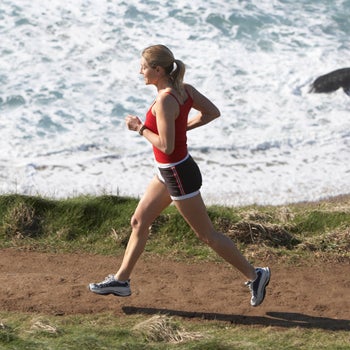 Align body and mind. Mantras with specific directions can remind you how to hold your body in proper alignment even when you're tired and can be a great tool to help you stay loose and efficient. Try reciting these mantras: "mountain pose," "long and strong," and "fast and smooth."
BOOST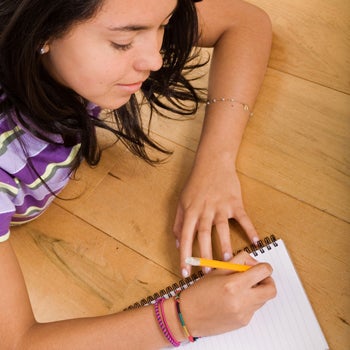 Set an intention. Having both a clear intention and clear goals is critical for your success in running and in yoga practice. Without intention, it's easy to crumble when the going gets rough. Intention serves to inspire and focus you mentally and spiritually. Goals, on the other hand, help you apply the right physical effort to the task at hand. Take a moment to recommit to your intention and goals for yoga and for running. Write them somewhere you won't be able to miss them—everyday—as a sweet reminder. You've got this!
sponsored by Newton Running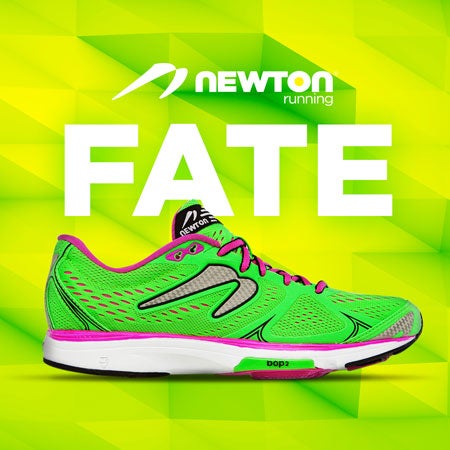 Newton Running Fate This is the shoe for people who delight in the pure joy of running. Elevate your running experience with a versatile and balanced ride. Experience the dynamic Newton pop in a more relaxed package.
BOOST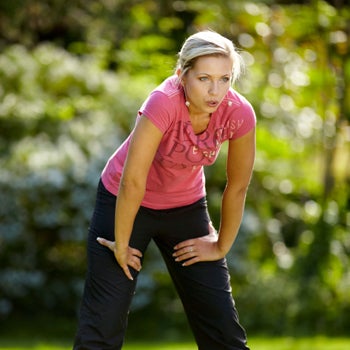 Breathe through it. During moments of discomfort, use a breathing technique, or pranayama, that suits the demands of the moment. A more focused breath like Ujjayi may be in order, or the emergence of discomfort can remind you to use a relaxed, softer breath. Pay attention to how the discomfort shifts as you increase your awareness of your breath.
BOOST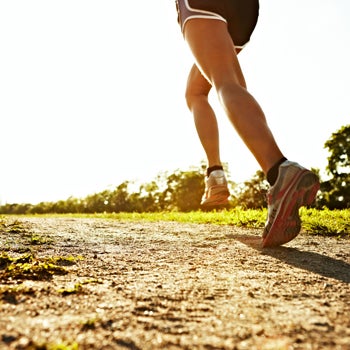 Practice on the run. We all know that cross-training with yoga make us better runners, but incorporating your yoga practice into your running routine can be just as helpful. Here's how former YJ web editorial intern Hillary Gibson makes her yoga practice work for her during her runs: "My shoes are tied, and I'm out the door. I start by scanning my body from the feet up, first becoming aware of the sensation of my shoes against the ground. Then I begin to ask myself the same sort of questions I hear in yoga class: Am I distributing my weight evenly throughout my feet, or am I relying too much on the outside edges? I listen to my breath, taking deep Ujjayi inhales and exhales to create heat and rhythm. I then slowly work up the body, focusing on one aspect at a time until I feel grounded in my posture."
BOOST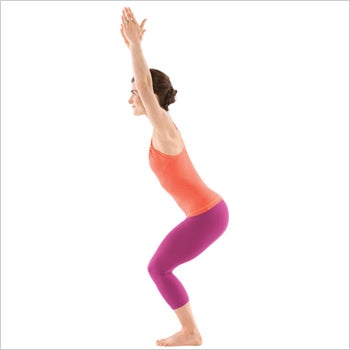 Benefit from a strong yoga butt. Uphill running requires strong glutes, hips, and thighs. Standing poses can help develop this strength, says yoga teacher and running coach Sage Rountree. If you're planning a hilly run, poses like Utkatasana (Chair Pose) and the lift into Virabhadrasana I (Warrior I) in Sun Salutation B, as well as the stabilizing work of the hip muscles in single-leg balance poses like Vrksasana (Tree Pose), can help you build the strength you need.
BOOST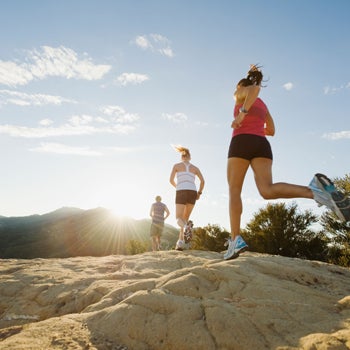 Feel flexible on the go. Yoga keeps trail runners in peak condition. Running on trails requires continuous adjustment of your stride to accommodate rocks, dips, and turns. Your yoga practice helps you navigate uneven terrain with control and agility, and protects you from injury, says Kerri Kelly, a yoga instructor and running coach in San Francisco.
BOOST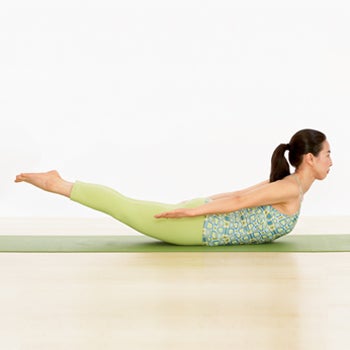 Connect with your core. Wake up your core while running, by feeling the same connection you find in Salabhasana (Locust Pose) when you're on the move. This is key for trail runners because, as yoga teacher and running coach Kerri Kelly says, "The more connected you are to your core when you are dodging rocks and trees, the more effective you are going to be in responding."