Straighten Up with Yoga for Bad Posture
As many chiropractors and back specialists have discovered, yoga can help improve your posture, and even scoliosis.
Heading out the door? Read this article on the new Outside+ app available now on iOS devices for members! Download the app.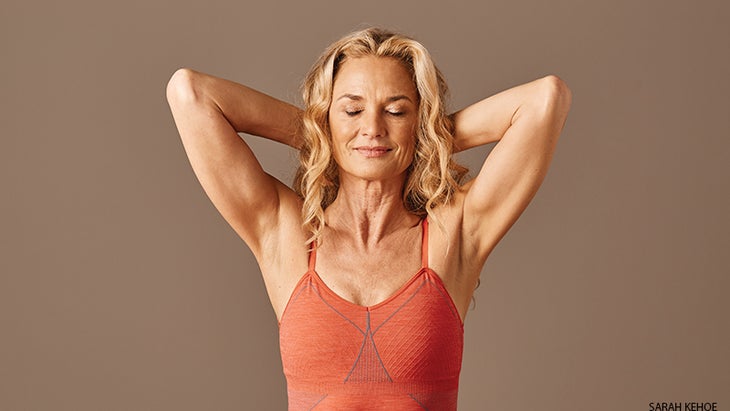 As many chiropractors and back specialists have discovered, yoga can help improve your posture, and even scoliosis.
To correct posture with yoga, the first emphasis should be on poses that help to realign the spine and promote healthy postural habits, according to Elise Browning Miller, coauthor of Life Is a Stretch: Easy Yoga, Anytime, Anywhere. Miller regularly teaches workshops on back care and scoliosis to students, yoga instructors, and the medical community.
"Often with scoliosis you not only lose alignment of the spine from side to side, but also the head can sit forward, one shoulder can be higher, and a hip can be more forward and raised," says Miller. "In addition, you can either develop a less convex curve in the thoracic spine (flat spine) or have too much of a convex curve, which is called kyphosis."
See also: Yoga for Scoliosis with Elise Browning
All these symptoms can be improved by doing poses that lengthen the spine, she says, such as Ardha Uttanasana (Right Angle Wall Stretch) and Adho Mukha Svanasana (Downward-Facing Dog). "Emphasis should be on keeping the head aligned with the rest of the body. Follow with standing poses that also help you become more aware of postural alignment—Tadasana (Mountain Pose), Vrksasana (Tree Pose), and Trikonasana (Triangle Pose). Again, be conscious of the alignment of your head with the upper body and trunk." Strengthening the back muscles, particularly the paraspinal muscle that runs vertically along the spine, is also important to improve postural alignment and to keep a scoliosis from progressing more to one side, says Miller. "A good beginning back strengthener (a modification of Salabhasana, or Locust Pose) is to lie on your stomach and raise the right arm and left leg. Repeat with the opposite arm and leg. Hold for 30 seconds on each side and repeat twice.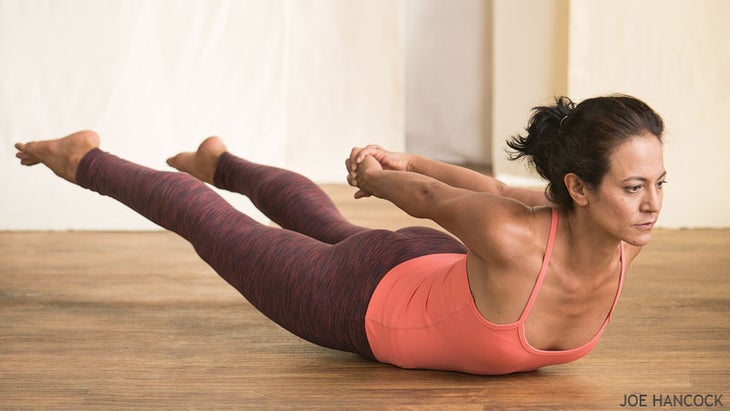 "To bring a more rounded or convex curve to your spine, I highly recommend Balasana (Child's Pose). Sit on your heels and bend forward with your forehead on the floor. Breathe and relax." Garudhasana (Eagle Pose) is another pose that helps to develop more curve in the thoracic spine, according to Miller.In a standing position, bend your arms in front of you, crossing the right elbow over the left with the palms touching and in alignment with the elbows. Raise the arms up so the elbows are at shoulder height and push the forearms away from the body, making the shoulder blades spread. Repeat, only this time with the left arm in front.
See also: A Yoga Sequence to Target Sources of Back PainF
or more information about scoliosis, visit National Scoliosis Foundation's website: scoliosis.org