How To Tell If Your Students Have Fallen In Love With Yoga
Erica Rodefer Winters recognizes the signs among students in the class she teaches at a local gym. Do you remember falling in love with yoga?
Heading out the door? Read this article on the new Outside+ app available now on iOS devices for members! Download the app.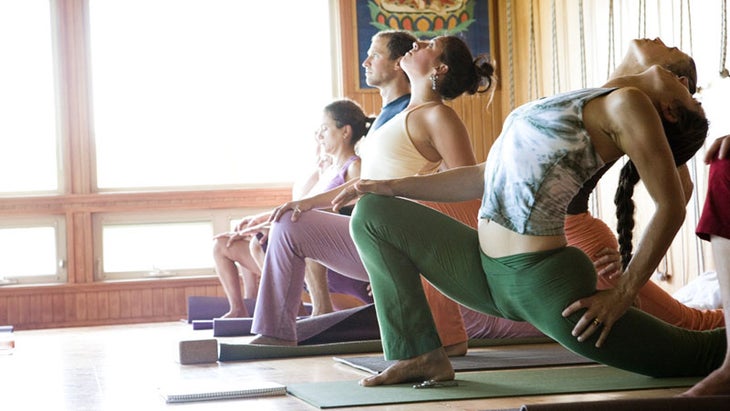 Erica Rodefer Winters recognizes the signs among students in the class she teaches at a local gym. Do you remember falling in love with yoga?
About six months, ago I started teaching a yoga class at a gym. It was the first yoga class ever at this location so most the students had never been to a yoga class. Since I'd never taught at a health club before, the group fitness director gave me advice to make it accessible to fitness-minded students: Don't lead meditations that are longer than a minute or two. Make sure you tell them which part of the body they're stretching or strengthening so they know what the point is. Incorporate crunches. I smiled, knowing that I would just teach yoga and hope for the best.
Teaching yoga at a gym is quite a bit different from teaching at a yoga studio. You never know who will show up. Some students will come for a few weeks, then vanish without a trace. Others come once and never return. Many of the students are in serious need of a strap to help them open their shoulders or their hamstrings, but there are no props. We make do. It's been one of the most gratifying experiences I've ever had because I can tell that some of them are falling in love with yoga right before my eyes.
Each week I'm reminded of when I fell in love with yoga, and just the act of remembering causes me to fall in love all over again. For me, falling in love with yoga was a lot like falling in love with a romantic partner. Everything is exciting and new, and your beloved consumes your waking thoughts and makes cameos in your dreams at night. You walk around with a big, goofy smile on your face, and it's like you can't believe that this is happening to YOU.
I can't be certain that my students are having this experience, but I've seen quite a few of the signs:
They start going to other classes and experiment with practicing at home.
They report they showed the pose we practiced last week to their spouse. "He didn't believe me when I told him I did a backbend, so I got down in the floor and showed him!"
They ask for yoga pose ideas to help their kids fall asleep better at night.
Students who once requested "abs," now make requests for Legs Up the Wall Pose or stress-relieving poses.
They stop looking around the room to make sure they're doing the poses "right" and just start to do what feels right in their bodies. They stop pushing and start softening.
They show giddiness when they realize they CAN get into a pose they had no idea they could. Just last night a student looked at me like I was crazy when I demonstrated a deep hip opener. "I haven't been able to done that since I was 5," she declared. I could tell she had already decided not to even try, so I told her she had just taken the shape of the pose in a different orientation to gravity. "I did? Oh." I watched a light bulb come on. She gave it a whirl, and I could see on her face that she realized she was capable of more than she had thought. That face is why I teach yoga.
How did your practice change when you fell in love with yoga?