Teaching Pregnant Students
Heading out the door? Read this article on the new Outside+ app available now on iOS devices for members! Download the app.
Read Ana Forrest's response: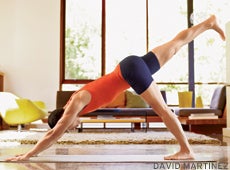 Dear Caroline,
Give your pregnant students alternative poses to do. Every time you are doing poses that don't work for them, modify the poses and give others that do work. You want to help them open and strengthen the parts of the body that they need for birthing and for being mothers. That means opening the hips, strengthening the buttocks muscles, and strengthening the upper body (they'll be carrying those babies around!).
Ongoing students will become more and more educated on poses to do while the rest of the class is doing inappropriate asanas. They will learn a variety of alternative poses from which they can choose. Just make sure that whatever they're doing, there is no pressure on the belly or the baby.
Here are some examples of alternative poses:
1. I don't want pregnant women doing ab work at any point in their practice. Therefore, when I am teaching abdominals, I will instruct these students in doing side bends. This stretches the intercostal muscles, which will increase breath capacity, make the students feel better, and help the babies grow. I also suggest chest openers done on the wall, which opens the upper chest and increases lung capacity. They could also do shoulder shrugs in Horse Stance (step 3-1/2 feet apart, feet pointed out at a 45-degree angle, knees bent so legs are at a right angle, thighs parallel to the floor), which opens the hip area and strengthens the legs and buttocks muscles while releasing tension and building strength in the upper back.
2. For a modified version of Twisting Warrior, Parivrtta Parsvakonasana, the variation is Easy Twisting Warrior. When the left leg is forward in Virabhadrasana I (Warrior I), the right hand is on the floor on the inside, 18 inches away from the left foot. Then twist the chest open to the left, belly away from the thigh (not touching the thigh), left hand skyward.
3. One final thing you can do: During Savasana (Corpse Pose), coach your pregnant student to put one hand on her heart and the other on her baby. Breathe and make the connection between her heart and her baby's heart. Use the whole time in Savasana to strengthen this loving connection. Sometimes women experience fear around carrying a baby, miscarriage, or the birthing process. Encourage her to love that baby no matter what size it is, and not let her fear overcome her experience. I recommend she do this through the whole pregnancy (and for years after.) Who doesn't need that love connection reaffirmed?
Ana Forrest is recognized worldwide as a pioneer in yoga and emotional healing. Born crippled, her own life trauma and experiences compelled her to create Forrest Yoga®. Her focus in Forrest Yoga is to guide the student in the sacred exploration of truth, healing and "the Great Mystery." She is a well-known contributing expert to Yoga Journal and other national wellness publications. She travels internationally teaching at yoga conferences, workshops, and teacher trainings.