What's the Difference Between Cultural Appropriation and Cultural Appreciation?
A first-generation Indian-American yoga and mindfulness researcher and teacher reflects on what feels misrepresented and appropriative to her in modern yoga.
Heading out the door? Read this article on the new Outside+ app available now on iOS devices for members! Download the app.
When I began contributing to yoga research five years ago, I was invited to a meeting to discuss how to bring yoga and mindfulness practices to university campuses as wellness initiatives. Thirteen out of 15 American administrators and researchers at the conference table happened to be white, the only exceptions being me and another Indian-American woman. The person in charge had thoughtfully invited both of us; though newer to research, we were experienced in yoga teachings because of our South Asian culture and decade-long practices. Entering the room was both moving and intimidating. On one hand, I was honored to share my cultural and personal understandings of yoga. On the other hand, I was one of only two nonwhite people in a group gathering to talk about a practice that originated in India.
Conscious of my identity, I used yogic principles to set aside my conditioned fears and preconceptions and opened my mind to discussing yoga—the practice of self-realization that has transformed my life.
See also The First Book of Yoga: The Enduring Influence of the Bhagavad Gita
I soon found myself in respectful conversation with everyone at the table: Yoga and mindfulness-based practices can provide what we call "healing" in Eastern tradition, and what we call psychological and physiological "benefits" in Western research. Although we used different words, we were saying similar things.
Until the middle of the meeting.
One of the administrators said, "We'll need to create a set of guidelines to ensure absolutely no Eastern symbols, bells, or words are used in yoga classes. We can't make anyone uncomfortable or offend them by suggesting spirituality."
I don't believe that Indian words or symbols are required for people to benefit from yoga, but this leader, who was in favor of creating an inclusive yoga experience "for all," wanted to remove any sign of the land where the practice originated. She overlooked the fact that two yoga teachers with Indian heritage sitting right across from her were the ones left to nurse our exclusion and offense.
See also The Debate: Teach With English or Sanskrit Pose Names?
Invisible oppression is something many Indians have been forced to endure in quiet pain for centuries. Like when you learn about a popular yoga movement and book jarringly titled No Om Zone: A No-Chanting, No-Granola, No-Sanskrit Practical Guide to Yoga. The title itself normalizes ethnocentric views of yoga, India, and people who chant. The irony of a movement like this is that it renders fear of foreign words while allowing itself to brand and use the Indian practice of yoga, a Sanskrit word signifying "unity" or "yoke."
Those without access to an in-depth history education might lighten this to a question of political correctness or cries by minorities for cultural recognition. But it goes so much deeper.
Yoga is an ancient spiritual practice of self-realization that originated in India, but, in addition to Indian devotional practices such as sacred dance, it was perceived as threatening, ridiculed, and banned among its own people in its own land under British colonization, beginning in the 1700s and lasting until the mid-1900s. Today, yoga is often marketed by affluent Westerners to affluent Westerners—and Indians, ironically, are marginally represented, if at all. While this multibillion-dollar industry is offering much-needed well-being to Western practitioners, it's re-inflicting the same violation on India and Indians: invisibility and misrepresentation.
See also A Beginner's Guide to the History of Yoga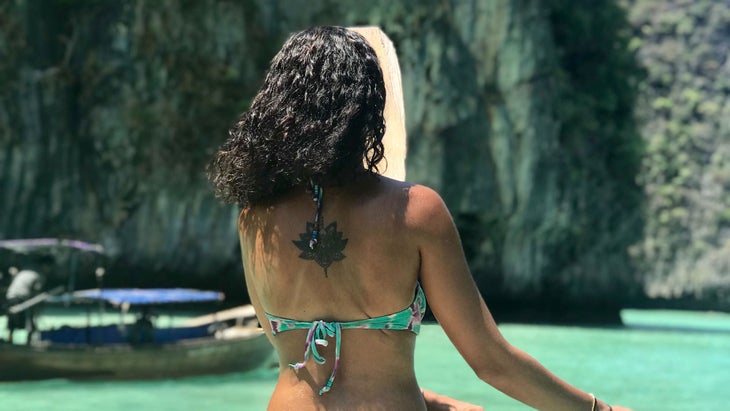 What is Cultural Appropriation?
In recent years, conversation has begun around the "cultural appropriation" of yoga. Cultural appropriation is the taking, marketing, and exotification of cultural practices from historically oppressed populations. The problem is incredibly complex and involves two extremes: The first is the sterilization of yoga by removing evidence of its Eastern roots so that it doesn't "offend" Westerner practitioners. The opposite extreme is the glamorization of yoga and India through commercialism, such as Om tattoos, T-shirts sporting Hindu deities or Sanskrit scriptures that are often conflated with yoga, or the choosing of Indian names.
Yoga teachers and students are starting to ask the questions, "What is the difference between cultural appropriation and cultural appreciation?" and "How can I still practice yoga without being offensive?"
According to Rumya S. Putcha, PhD, a scholar of postcolonial, critical race, and gender studies, we're still asking the wrong questions. "The terminology 'cultural appropriation,' in and of itself, is a way of diluting the fact that we're talking about racism and European colonialism," she says. "It undermines what is happening as only 'culturally inappropriate' so as not to disrupt mass yoga marketing, leading us to ask surface-level questions like 'I don't want to be culturally inappropriate, so how can I show cultural appreciation appropriately?' It's not about appreciation versus appropriation. It's about understanding the role of power and the legacies of imperialism."
Shreena Gandhi, PhD, a religious studies professor at Michigan State University, and Lillie Wolff, an advocate with Crossroads Antiracism, emphasized in their 2017 article "Yoga and the Roots of Cultural Appropriation" that the goal of these conversations should not be for white practitioners to stop practicing yoga, but rather for them "to please take a moment to look outside of yourself and understand how the history of yoga practice in the United States is intimately linked to larger forces"—such as colonization, oppression, and the fact that a devotional practice that was free of cost for thousands of years is now being marketed and sold.
See also The Timeline and History of Yoga in America
As an Indian-American teacher, practitioner, and writer, I often ponder why this means so much to me and why I can't offer simple bullet points for what makes something "appreciative" versus "appropriative" of yoga. I just know when I start to feel sick or hurt—like at a conference table when an administrator suggests that Eastern elements, such as bells used to train the mind to focus on the present (dhyana), will threaten the comfort of white American practitioners. Or when the young CEO of a new yoga organization asks me where she can get her 300-hour yoga certification done the fastest, missing that yoga is a lifelong process of balanced living. Or when I see social media celebrities and yoga advertisements promoting athletic, model-like bodies in sexy apparel, potentially encouraging more attachment to items and creating insecurities rather than relieving people of suffering. Or when I'm walking by a shop with my parents, only to see their confusion over why holy Hindu scriptures—which my father can read, being literate in Sanskrit—were printed on a hoodie and tossed into a sale pile.
"I think they don't realize that these are not just designs. They are words that carry deep meaning for people," my father says.
See also Sanskrit 101: 4 Reasons Why Studying This Ancient Language Is Worth Your Time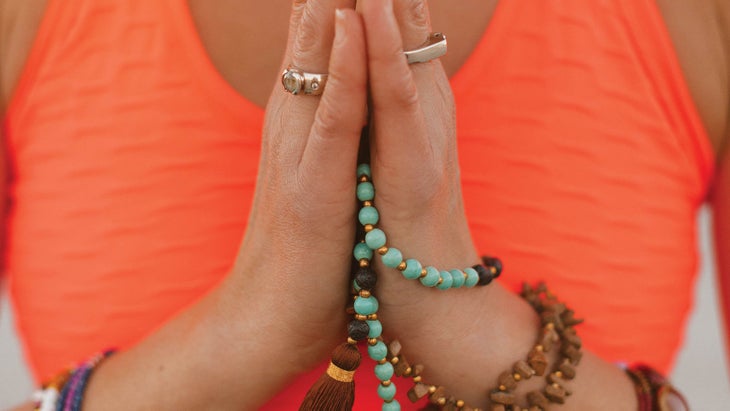 Questions to Ask about Cultural Appropriation
His sentiments make me realize that many Western yoga companies and consumers are unaware of what they are branding and buying. And that's what we need to change together, by asking deeper questions such as:
"Do I really understand the history of the yoga practice I'm so freely allowed to practice today that was once ridiculed and prohibited by colonists in India?"
"As I continue to learn, am I comfortable with the practices and purchases I'm choosing to make, or should I make some changes?"
"Does the practice I live promote peace and integrity for all?"
Educating ourselves, like the practice of yoga, can be seen as an evolutionary process. Start where you are. You may have already developed a lot of awareness that is becoming more finely tuned. And for some—Indian or not Indian, experienced yoga practitioners or not—this article is a first-time exposure to something you never realized.
See also The Wake-Up Call Yogis Need to Bring 'Real Yoga' Back Into Their Practice
---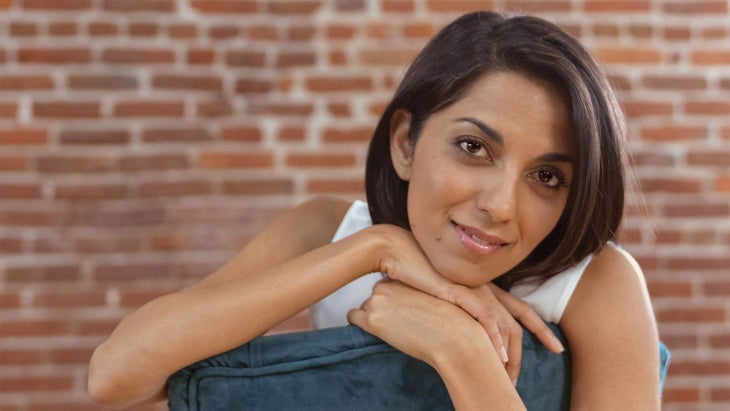 About our author
Rina Deshpande is a teacher, writer, and researcher of yoga and mindfulness practices. Having grown up with Indian yoga philosophy, she rediscovered its profound value as a New York City public school teacher. For the past 15 years, she has practiced and shared the benefits of yoga across the globe. After studying yoga and mindfulness as self-regulation at the Harvard Graduate School of Education, she designs curriculum for science research and K–12 education. She is the author of Jars of Space, a new book of handwritten and illustrated yogic poetry. Learn more at @rinathepoet or rinadeshpande.com.