4 Digital Aids to Raise Your Vibration During Tough Times
Heading out the door? Read this article on the new Outside+ app available now on iOS devices for members! Download the app.
From the deadliest mass shooting in American history to catastrophic hurricanes and wildfires to allegations of rampant sexual misconduct to an increasingly polarized political climate, we've all been under a lot of stress the last couple of months. The seemingly relentlessness pings of the bad news your smartphone brings doesn't help. There's never been a better time for a digital detox—or at least to turn off all those notifications. But also consider the ways your devices can help you unwind and serve as self-care support. Here, four apps that may give you the moment of calm you've been looking for.
Breathe 11:11
Feeling frustrated, anxious, and helpless about current events? Breathe 11:11 is a new, free app that will remind you to take a deep breath, make a wish, and connect with others at 11:11 daily. Many people around the world already make a wish at 11:11 and have positive—even magical—associations with this time, the app's makers say, adding that Breathe 11:11 is intended to "amplify this phenomenon to catalyze more optimism, peace, and synchronicity in the world today."
The iOS version of the app includes a custom sound that you can set to chime at 11:11 in any time zone, allowing you to breathe, wish, and connect simultaneously with friends, family, and others across the globe. It also allows you to set a personalized notification to remind you of your wish or intention at 11:11, and provides a heat map to see where people are using the app around the world. The app also includes a podcast featuring interviews with numerologists, psychologists, artists, physicists, mystics, and everyday people who have "incredible" 11:11 stories to share.
Breathe 11:11 was created by the founders of Ripple Strategies, a social impact PR firm that also founded the Mothership Yoga Lounge in Truth or Consequences, New Mexico. The app is currently available on iOS and Android, but it officially launches on 11/11/17 (naturally). Learn more from the launch video.
See also 6 Best Apps for Yoga and Meditation
YogaGlo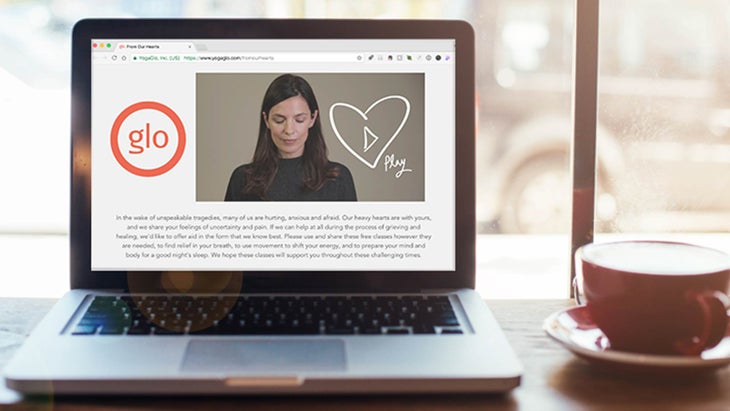 Still reeling from the unthinkable mass shooting in Las Vegas? Wellness site YogaGlo is striving to spread light and lift spirits by offering three free classes that provide a moment of calm, help you find relief in your breath, use movement to shift energy, and prepare your mind and body for a good night's sleep. Class offerings, including a meditation class and two Vinyasa flows ranging from 5 to 30 minutes, will be live through November 6. Learn more on YogaGlo.com.
See also 8 Things You Can Do to Raise Your Vibration in the Wake of the Las Vegas Shooting
Yoga Wake Up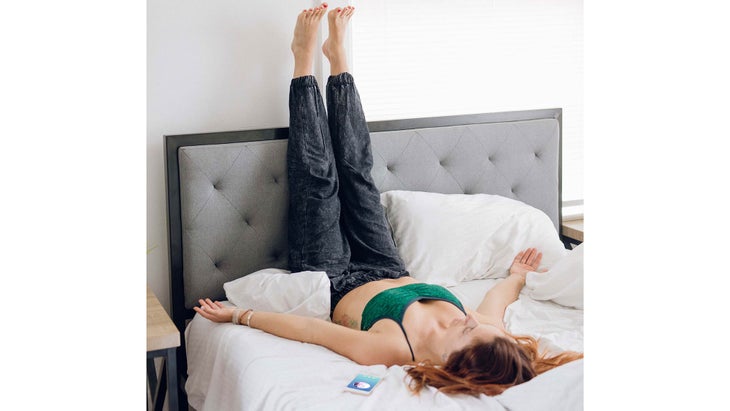 Waking up can be difficult, especially when you're hit with stressful news headlines first thing. The iOS wellness app Yoga Wake Up is an alarm clock alternative that wakes you up peacefully with meditation, yoga, and/or breathing exercises that can be done right from your bed, allowing you to be more mentally and emotionally equipped to take on the day. The app's mission is to help people start the day in a way that encourages kindness, positivity, and vitality, and will ultimately make the world a happier place.
Yoga Wake Up features more than 40 top yoga teachers and has three tiers of pricing: $5.99 for 1 month; $29.99 for 6 months; and $49.99 for 1 year (or you can start with a 7-day free trial). Available on the Yoga Wake Up website and in the Apple App Store.
See also Ease Into the Day With This 13-Step Ayurvedic Wake-Up Routine
Gaia's Short Power Meditations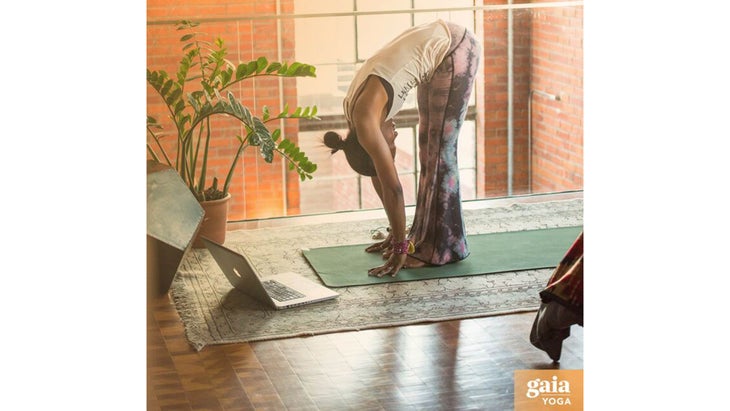 Feeling stressed about the state of the world? Gaia.com's new Short Power Meditations series can help clarify your mind, strengthen your concentration, alleviate anxiety, and rejuvenate your energy. Led by spiritual wisdom teacher Sally Kempton, this eight-episode video series helps reduce stress through guided meditation with practices ranging from 5 to 20 minutes in length (think mindful breathing, mantras, and postures). Sign up for the Short Power Meditations series and learn more about Gaia's pricing options.

See also Sally Kempton's Simple Self-Inquiry Meditation