3 Tips on Realistic Goal-Setting and Actually Keeping Them
Instead of trying to force new habits, try these yogi tips and see if the process becomes a little more fun.
Heading out the door? Read this article on the new Outside+ app available now on iOS devices for members! Download the app.
Remember back in January, when you vowed to kick coffee, give up white flour, or meditate daily? How's it going? When we fall short on fulfilling the promises we make to ourselves, it can often be traced to the messaging. Forcing yourself to follow a strict new protocol, for example, can end up feeling Draconian instead of good for you. And when you feel oppressed, it causes the mind to rebel, which can derail even the most well-intentioned plans, says Strala Yoga owner and author Tara Stiles. This is the biggest problem with diets and cleanses, she says. "They often encourage and reinforce yo-yo behavior."
Whether you aim to practice yoga more often, meditate, eat healthier foods, or something completely different, the key to success might be to stay flexible and keep your routine fun. Yes, fun, Stiles says.
See also Setting Intentions and Goals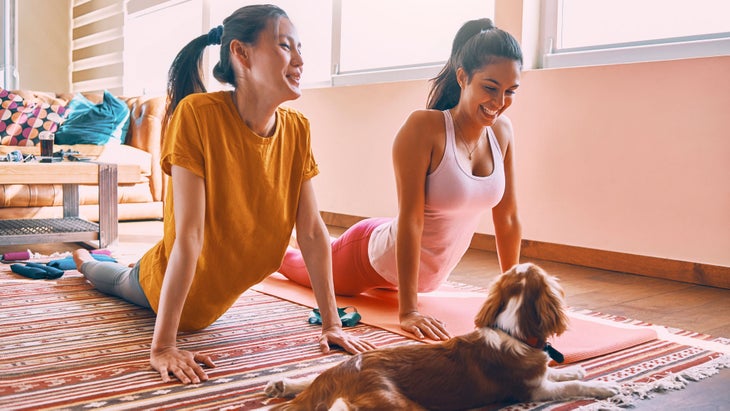 3 Tips to Goal-Setting Realistically
1. Stay present, consistent, and flexible in your goal-setting.
And if it's February (for example) and you've long left your goal by the side of the road, consider why. Was it expecting something too big too fast? Was there too much pressure to follow some self-imposed rules with no joy in the process? If so, try taking a different approach, Stiles says, one that allows you to lighten up a bit and enjoy the ride.
Does your goal have you striving for perfection and, frankly boring yourself and everyone else too? Tampa Bay yoga teacher Erin Motz, aka as the "Bad Yogi," thinks we put too much pressure on ourselves with our goal-setting, especially around the ill-fated notion of yogic perfection. You know the vision: glowing health, perpetual upbeat and unflappable demeanor, actually prefers yerba mate over coffee, and, of course, looks great in any piece of yoga clothing, but naturally, not because of an unhealthy obsession with body image. "People need to get away from wanting the image of being a yogi [and all that entails], and be happy with being themselves, as a person who does yoga," she says.
See also 10 Things Most of Us Don't Do When Trying to Achieve a Goal—But Should
2. Make Realistic Goals You Can Attain
Let go of sky-high expectations and strive for goals that are realistic and inspiring to you, no matter how small or no matter what everyone else is doing.
While setting a goal can be a great tool to motivate and inspire, it's also important to remember that being accepting and loving toward yourself is a deeply important part of the practice of yoga, says Cora Wen, a yoga teacher and yoga therapist in the San Francisco Bay Area. As you aim for self-improvement, try not to get caught up in feelings of inadequacy.
See also 6 Goal-Setting Tips for the Entrepreneurial Yogi
3. Accept Who You Are
Reframe your intention. "It's not about changing," says Wen. "It's about recognizing and accepting what is."