Age Better With Yoga, Part 2
In the second part of this series, Baxter Bell describes how to improve balance and agility through your yoga practice.
Heading out the door? Read this article on the new Outside+ app available now on iOS devices for members! Download the app.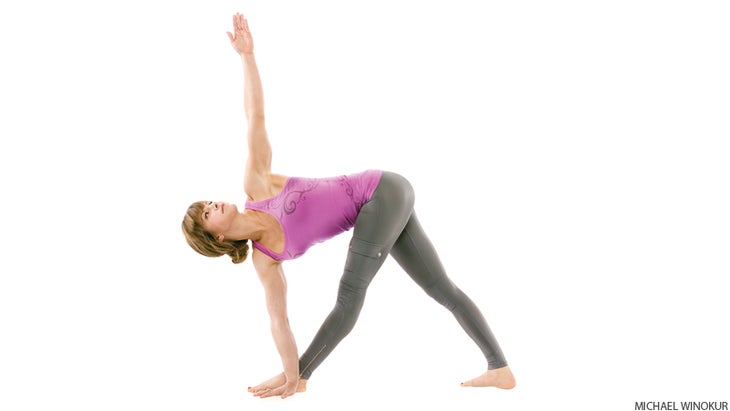 A few weeks ago I introduced two of the four essential skills that yoga cultivates to help us navigate the aging process well: developing strength and flexibility. Today I'd like to complete the quartet of skills by talking about the yoga benefits on balance and agility. As I mentioned last time, your yoga practices can work on creating balance and agility on both the physical and mental-emotional levels of your life. So, no matter where you discover the need for the qualities of balance and agility are lacking, a regular, focused, well-rounded yoga practice to help you fill the gap.
Anyone who has been to a few yoga asana classes quickly discovers the need for better balance. Sometimes, even the standing poses where both feet are on the floor can still challenge our ability to feel steady and secure on our posture. Most of us, in our daily lives, rarely deviate from sitting, standing on two feet, walking, perhaps climbing a few stairs or walking on relatively level ground. And if our work requires us to sit in chairs for most of the day, or even stand at a work station, chances are that we are doing even less moving around in our world and keeping our sense of balance well-tuned.
Good balance is essential in lowering the risk of falling as we age. If we fall, the chances of breaking something go way up, which can result in dramatic reduced regular activity as we allow our broken bones and body to heal. In situation where someone has additional health conditions that could result in more severe injury, the picture worsens dramatically. The most worrisome and common condition in which falls can be truly devastating is osteoporosis (OP), or thinning of the bones. The bones of your middle spine, the thoracic spine, are most likely to break if you have OP, followed by your wrist bones, and finally the upper leg bone, the femur. When this last one breaks, we commonly refer to it as a broken hip. It's estimated that 50 percent of women over 65 have OP and 25 percent of men (heads' up, fellas!). So this is a potentially huge deal for all of us.
And tragically, for older adults who do fall and break a hip with or without OP, the risk of death doubles in the year following a hip fracture for women, and may be even higher for men. So you want to do everything you can to prevent falls. Interestingly, many of my students, young and old, who happen to take an unexpected tumble, report back that they "fell well" and did not suffer much of an injury. They are quick to report that they attribute this good outcome to the skills they gleaned from their yoga practice, not only improved balance, but improved agility. My favorite ways to work on balance include not only two- and one-legged standing poses, like Triangle, Tree and Half Moon, but paying close attention to the transitions into and out of these poses, as that is where I see many of my students struggle to maintain good balance. By focusing on the transitions, it more closely reflects the real life challenges of moving through space and time mindfully, so you can adjust and deal with changing terrain and unexpected obstacles.
"Agility" is a bit more complex, as you can see from the Wikipedia definition I came across recently: "Agility or nimbleness is the ability to change the body's position efficiently, and requires the integration of isolated movement skills using a combination of balance, coordination, speed, reflexes, strength and endurance. " I'd add in that flexibility might also contribute to agility, so our other three "aging skills"—strength, flexibility and balance—are actually all essential ingredients in agility. I find that dynamic yoga sequences, whether moving simply between two poses (like extended Child's Pose to high Cobra and back) or more complex vinyasa practices centered on the basics of Sun or Moon salutes, are great agility practices. One key component to ongoing development of agility is to change things up from your routine. I heard TKV Desikachar once state that if you change one aspect of a "routine," the entire practice changes. An example could be to add in a new pose in the middle of your vinyasa flow that is usually not there. Another way could be to focus on a unique breathing pattern as you move though you Sun Salutations.
As we age, one place where agility is useful is in our ability to change positions efficiently, such as getting out of bed, getting onto off the commode, or in and out of the bathtub (which could be unexpectedly wet or slippery), or squatting down to pick things up around the house. In fact, this ability and agility to "transfer," as it is referred to in medical circles, can have a significant impact on longevity and the risk of mortality or death. A 2012 medical study found that the ability to sit and rise from the floor is an important predictor of all-cause mortality (i.e. your chance of death). The Brazilian researchers discovered that subjects who scored poorly on their rating scale were at the risk of being 6.5 times more likely to die in the next six years. Guess what we do in our yoga classes every time? We get up and down from the floor from a sitting position, not to mention all the other transitions that take place in a well rounded yoga practice.
And the physical benefits of improved balance and agility have counterparts in the mental-emotional realm as well. Via meditation, breath work, memorizing such things as the Yoga Sutra, or learning complex chants like the Hanuman Chalisa, our minds, emotions and spirit reap the same rewards as our bodies. Via the four essential skills, not only will we age well, but also we can continue to grow and blossom.