Fire Log Pose
The Fire Log Pose stretches the outer hips intensely, particularly the piriformis, which is often the main culprit of sciatic pain.
Heading out the door? Read this article on the new Outside+ app available now on iOS devices for members! Download the app.
Agnistambhasana (Fire Log Pose), also known as Ankle-to-Knee Pose and Double Pigeon, is a deep outer hip and glute opener that also stretches your thighs and stimulates your internal organs. 
In Fire Log Pose, you place one shin parallel to the floor and stack the other leg directly on top of it, keeping your knees and ankles aligned. If your hips aren't very flexible, you might feel tension in your knees. Practicing other hip openers like Pigeon Pose can help you develop enough flexibility to avoid pain and injury in Fire Log Pose. Or you can use blocks or blankets to prop up your top leg, says yoga teacher Erin Motz, co-founder of
Before coming into Fire Log Pose, warm up your body and hips with some Sun Salutations.
Fire Log Pose: Step-by-Step Instructions

Sit on one edge of a thickly-folded blanket, knees bent, feet on the floor. Lightly shrug your shoulders up, strongly roll the heads of your upper arm bones back, and press the bottom tips of your shoulder blades into your back.
Slide your left foot under your right leg to the outside of your right hip, and lay the outer leg on the floor. Then, stack your right leg on top of the left. Be sure the right ankle is outside the left knee (so the sole is perpendicular to the floor).
If you have more flexibility in the hips, you can slide your left shin forward directly below the right to increase the challenge; otherwise, keep the left heel beside the right hip. If you're tight in the hips, you may find that bringing the ankle to the outer knee is difficult or uncomfortable. In this case, simply sit with your shins crossed in Sukhasana (Easy Pose).
Press through your heels and spread your toes. Keeping your front torso long, exhale and fold forward from your groins. Be sure not to round forward from your belly: Keep the space between your pubis and navel long. Lay your hands on the floor in front of your shins.
As you inhale, notice how your torso rises slightly; when it does, lengthen from your pubis to your sternum. Then on the next exhalation, fold deeper.
Hold 1 minute or more. Inhale the torso upright and uncross your legs to come out of the pose. Repeat for the same length of time with the left leg on top.
Pose Information
Sanskrit Name
Agnistambhasana
Benefits
Stretches the hip and groins
Contraindications and Cautions
Low back injury
Knee injury
Variations
Fire Log Pose with props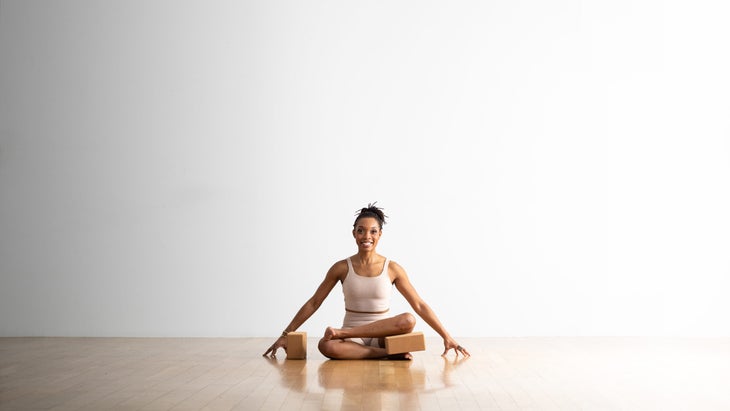 If your hips are tight, you may not be able to open them out enough for knees and feet to touch. Place a block or rolled blanket in the gap between your lower leg and your upper leg.
Fire Log Pose in a Chair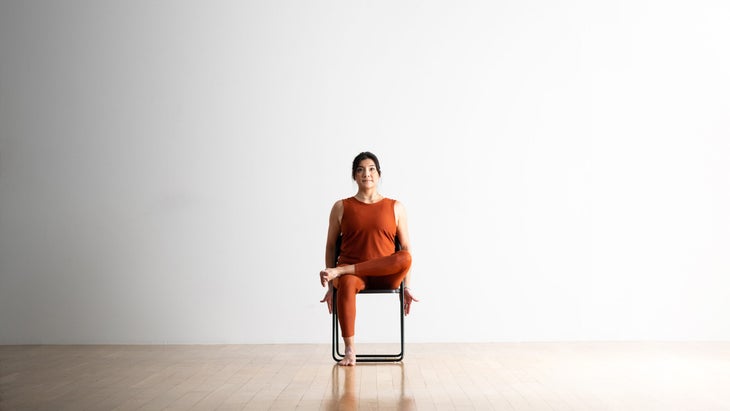 You can practice the pose in a chair. Sit with your feet on the floor, hip-width apart. Bring one leg up and cross your ankle over the opposite thigh. Allow your knee to open out to the side as much as it will.
Preparatory Poses
Follow-up Poses
Beginner's Tip
To help release the hip, grip your thigh at the hip crease and forcefully rotate it outward (or laterally) before you lean forward.