5 Yoga Poses to Help You Stay Sane Around Your Family at the Holidays
You love your family dearly. But they can have a way of making you feel like you're 10 again. Yoga can help.
Heading out the door? Read this article on the new Outside+ app available now on iOS devices for members! Download the app.
The holidays are commonly known as "The Most Wonderful Time of the Year." But they can also be the most challenging time of the year.
Renowned spiritual teacher Ram Dass famously said, "If you think you are enlightened, go spend a week with your family." I personally cannot count the amount of holidays I snuck away to the hallway to wrap my legs behind my head so I could stay sane while my family wrapped gifts in the next room.
When we find ourselves in old situations, our minds tend to be hijacked by old relationship dynamics and familiar scripts. We lose the clarity of the present moment and our connection to our current self and we start responding as if we were 10 years old again.
As children and teens, we might have found it challenging to make sense of our emotions. As adults, we have skills we can draw on when we're feeling frustrated or sad (including addressing the situation and summoning compassion for ourself and others). We just sometimes forget them. Our yoga practice helps us pause and remember them.
There is a place inside each of us that is simply love, patience, and generosity. This is our true nature. We glimpse this place every time we get on the mat, but we can also quickly lose it when we start fighting with our brother over politics or hear our mom's comments on our weight.
This short yoga practice can help you reconnect with yourself. You don't need much space or time to do this. Whether you commandeer a bathroom or sequester yourself in the basement, practicing even a few minutes of yoga can help you stay grounded in connection. It's truly the gift that keeps on giving.
5 yoga poses for family holiday stress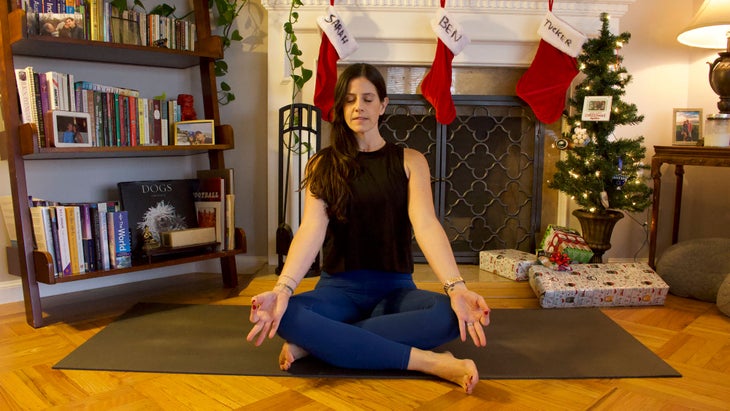 Sukhasana (Easy Pose)
The first step to coming back to the present moment is to get grounded in who we are. And the best way to do that is to literally come to the ground. Sukhasana (Easy Pose) is a traditional meditation pose and hip-opener. It is also a helpful shape for accessing our root chakra, known as muladhara, which is located at the base of the pelvic floor. The root chakra relates to issues of security, survival, and family. Connecting with this energy center helps us feel more secure and confident.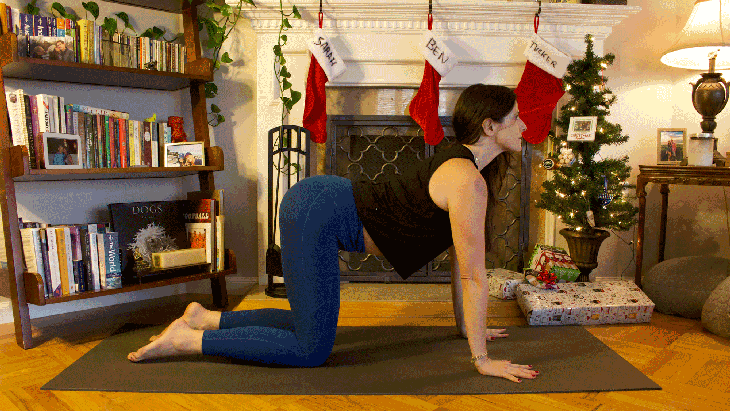 Cat Pose (Marjaryasana) and Cow Pose (Bitilasana)
You know that feeling in your belly like an elevator is dropping? That is our sympathetic nervous system responding as if we are in grave danger. However, this system cannot tell the difference between a lion and your little sister. When we feel threatened, our instinct is to respond in one of three ways: fight, flight, or freeze. Unfortunately, we get stressed and triggered all the time without being able to move that energy through our body so it can dissipate. Because of the dynamic nature of Cat and Cow, taking a few rounds of these can be helpful in moving energy through the body via the breath. Inhale in Cow. Exhale in Cat. Repeat at least several times or for as long as you can.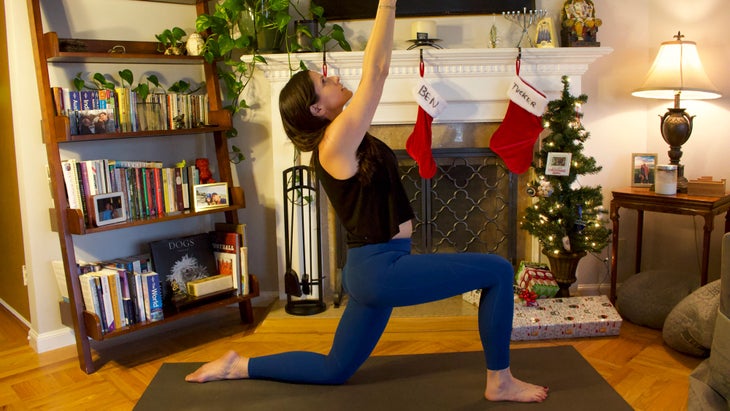 Anjaneyasana (Low Lunge)
One of the primary muscles related to the body's fear response is the psoas, which is one of our hip flexors. A main function of the psoasis to flex the hips, meaning bringing the thigh toward the chest, which is a crucial action to protect vital organs. When we are in fear or under high stress, the psoas can become overactive. A chronically tight psoas has been linked to a host of challenges, such as digestive issues and anxiety. The position of the back leg in Low Lunge helps release the the psoas from its constant tensing. Don't forget to practice it on both sides.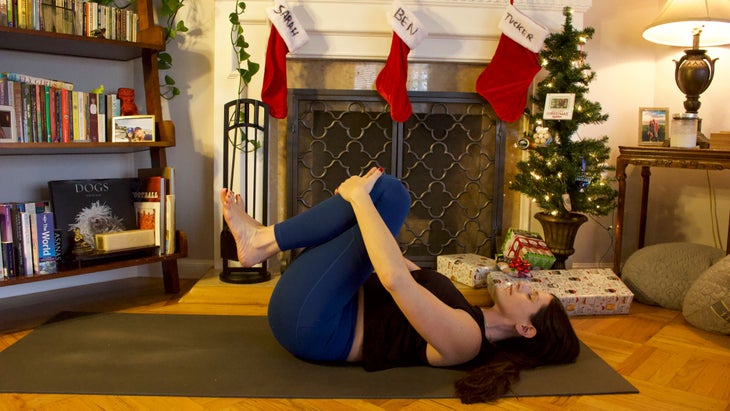 Apanasana (Apanasana)
Now that you feel grounded, the nervous system has settled, and the psoas is released, we can start to shift our energy toward reconnection and self-love. Apanasana is not only a great way to release the lower back, it feels like an energetic hug for your whole being. What makes the holidays healing is that they're an opportunity to re-pattern our normal responses. They can remind us that no matter what is happening around us, we are always connected to ourselves and universal love within.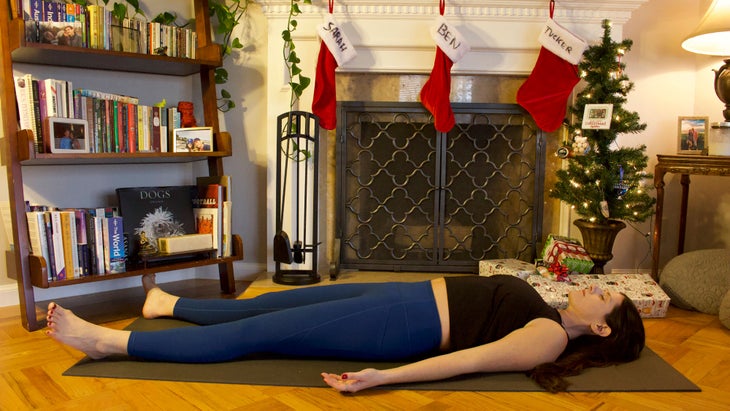 Savasana (Corpse Pose)
Ending this brief sequence with a Savasana may seem frivolous, but one could say that the previous poses were really just preparation for this moment, just as all of your memories and experiences have prepared you for who you are now. The translation of Savasana is Corpse Pose. It is an opportunity to shed the parts of yourself that no longer serve you, and to open yourself for the next iteration of who you are to become. The very shape of Savasana—palms up, front body exposed—is one of receptivity. Before you return to join the family, observe how you feel after your practice and remember that this feeling of peace is not something that we just lose when we roll up our mat. This peace is always there.
This article has been updated. Originally published December 15, 2019.
About our contributor
Sarah Ezrin is an author, world-renowned yoga educator, popular Instagram influencer, and mama based in the San Francisco Bay Area. Her willingness to be unabashedly honest and vulnerable along with her innate wisdom make her writing, yoga classes, and social media great sources of healing and inner peace for many people. Sarah is changing the world, teaching self-love one person at a time. She is also the author of The Yoga of Parenting. You can follow her on Instagram at @sarahezrinyoga and TikTok at @sarahezrin.