5 Tips for Going Upside Down
Inversions frighten some people but it's well worth the effort to befriend these poses. Ana Forrest teaches us how.
Heading out the door? Read this article on the new Outside+ app available now on iOS devices for members! Download the app.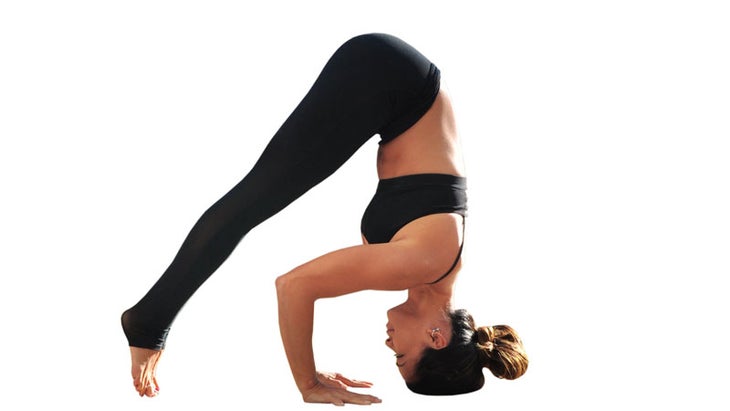 When it comes to inversions, yoga students usually fall into one of two groups: Those who can't wait to get into poses like Handstand and Forearm Balance, or those who hang at the back of the class saying, "I think I'll keep my feet on the ground, thank you very much." Yes, inversions require strength, control, and balance. But they're well worth the effort. Going upside down boosts your energy, will (literally) shift your perspective, and can combat depression and fatigue, among other benefits. And like all things in yoga, they are totally doable if you approach them with curiosity and perseverance.
Still not convinced you want to go upside down? We asked the indomitable Ana Forrest, creator of Forrest Yoga and the Gravity Surfing approach to inversions, for her most tried-and-true tips to getting into these powerful poses.
1. Warm up. Not properly warming up is one of the biggest mistakes people make when approaching inversions, Forrest tells YJ.com. Before you even think about going upside down, spend some deepening your breath and activating all the major muscles you'll use: the abdominals, chest, armpits, upper back, hands, and forearms. Sun Salutations, shoulder shrugs, abdominal exercises, Down Dog, Dolphin, Horse Stance, and Down Dog at the wall are all good ways to prepare the body to invert. To strengthen the wrists and forearms, Forrest recommends students do a series of wrist stretches every single day.
2. Practice daily. "You deserve to be thrilled and exhilarated every day!" says Forrest. Daily practice will also help you build the strength and courage necessary to invert. Forrest recommends starting with just three poses a day. She practices Down Dog at the wall, Handstand with a spotter or at a wall, and, finally, Handstand away from the wall so she can work on balancing.
3. Let fear be a guide, not a dictator. "Being ruled by your fear doesn't work. It erodes your self-respect," says Forrest. So instead of aborting the mission at the first moment of panic, use it as a signal to proceed with intelligence with all your senses alert. Inversions, Forrest says, are a great place to begin to work through and change your relationship with fear.
4. Have a safety net. If you know that the fear of falling is your biggest barrier to getting your feet up over your head, make sure you practice at a wall, or, better yet, ask a teacher you trust to spot you and offer both physical and emotional support.
5. Respect your edge. While there are many benefits to practicing inversions, going too far too fast isn't smart either. If you try and force a pose before you're ready, you increase your risk injury and risk affirming the fear that held you back to begin with. "Work at the place where you can hold the pose with integrity and build strength," says Forrest.
Take your time, do a little bit each day, and set goals of finding connection and integrity in every pose, says Forrest. Before long you'll see that you're capable of more (both physically and mentally) than you ever thought possible.
Listen to Ana Forrest talk about discovering a new relationship with gravity here.