Heading out the door? Read this article on the new Outside+ app available now on iOS devices for members! Download the app.
Read Maty Ezraty's response:

Dear Kris,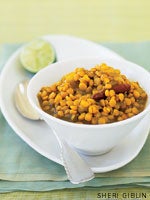 After an operation of this type, it is imperative to go slowly. Both body and emotions have been through a lot of trauma. I would recommend at least three months of slow, restorative yoga. You can also add a gentle, reclining Pranayama practice for her. Breathwork and restorative poses combined are healing and nurturing.
I would also make sure that she is under the guidance of her doctor. Many doctors think yoga is only done very passively! If she is used to a more vigorous practice, it may be difficult to slow her down. But slowing down at this point in her healing is very important.
For at least three months and maybe longer, she should avoid anything strenuous, such as Sun Salutations and arm balances, including Chaturanga Dandasana (Four-Limbed Staff Pose) and Adho Mukha Svanasana (Downward-Facing Dog). She needs to avoid all weight-bearing poses in the chest, shoulders, and arms. Gentle, supported inversions and supported backbends are important poses to include in her practice.
After some time—and just how long depends on the individual—she can resume a standing pose practice. At first, try having her not use her arms, but simply put them on the hips. She could also begin trying some shoulder openers, such as Gomukhasana (Cow Face Pose), reverse Namaste, and Urdhva Hastasana (Upward Hand Pose). You will need to experiment and see what works.
Observe her progress carefully. This is a good time for you to develop your student-teacher relationship. After all, teaching is about more than just teaching postures. This student requires not only physical but also emotional healing. This is a time for you, and for her, to be nurturing, kind, and peaceful.
Maty Ezraty has been teaching and practicing yoga since 1985, and she founded the Yoga Works schools in Santa Monica, California. Since the sale of the school in 2003, she has lived in Hawaii with her husband, Chuck Miller. Both senior Ashtanga teachers, they lead workshops, teacher trainings, and retreats worldwide.