Q&A: Chelsea Jackson on Diversity + Embracing Who You Are
Rising yoga star, scholar, and our June Home Practice teacher Chelsea Jackson talks about her work with teenage girls in Atlanta, and the importance of diversity and embracing who you are.
Heading out the door? Read this article on the new Outside+ app available now on iOS devices for members! Download the app.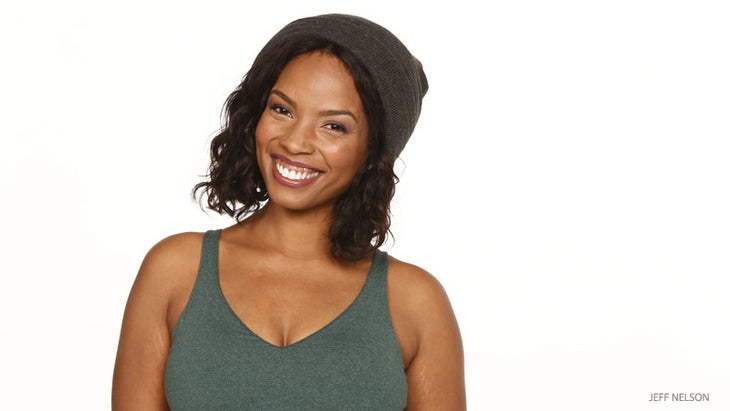 Yoga Journal: How did you get into yoga?
Chelsea Jackson: I came to yoga through hot yoga, in 2001, to manage health concerns, including high cholesterol and joint pain. Then in 2004, I was going through the loss of my best friend, who was murdered, and found Kashi, an urban, classical yoga ashram in Atlanta. Yoga became therapeutic when I started to learn from my teacher Swami Jaya Devi how to go deeper into my practice, beyond the physical. I later did my yoga teacher training at Kashi, in 2007. Now I teach Hatha Yoga and a lot of restorative Vinyasa Flow.
See also Healing Heartbreak: A Yoga Practice to Get Through Grief
YJ: Can you explain how the practice helped you therapeutically?
CJ: I learned different breathing exercises, and different ways to confront trauma. Yoga and meditation helped me approach this awful thing that I wanted to push out of my mind in a way that embraced it and used it as a tool for transforming my perspective on life.
See also Hala Khouri's Trauma-Informed Yoga Teaching Path
YJ: You were teaching elementary school at the time. How did yoga seep into that part of your life?
CJ: I was under a lot of stress in the classroom, so I introduced the breathing exercises there. It was a very restrictive environment in a Title 1 school, but I noticed the entire room began to shift. The children were a lot more compassionate toward each other and themselves. I eventually did another training, specifically for teaching kids, with Yoga Ed in New York. A year later, I decided to pursue a PhD at Emory University to study yoga integration, specifically with youth from marginalized communities.
See alsoHow Yoga in Schools Helps Kids De-Stress
YJ: What was the focus of your dissertation?
CJ: My PhD was about using yoga as a tool for critical literacy development and my experience with a Yoga, Literature & Art Camp that I created at Spelman College, my undergraduate school. I worked with teen girls, all self-identified as black or African-American, but they came from charter schools, private schools, and Title 1 schools, so from a wide range of backgrounds. The goal of camp, which is June 15-25 this year, is to encourage the girls to think critically about the world in which they engage. We read poems from women of color and have volunteer yoga instructors teach to the poetry theme, then the girls have the chance to create their own poems and talk about their own experiences.
See also YJ's Good Karma Awards
YJ: So cool. What did you learn from your first year at Yoga, Literature & Art Camp?
CJ: I learned just as much from the girls as they learned from me and the other instructors. They had the courage to share their experiences and the ways they handle sexism and racism as young black girls in this world. They also shared experiences and unpacked their feelings about marginalization. Adult women often don't have the courage to share experiences like that. But the teen girls empowered me to speak my truth, to not be afraid to be honest about where I am. I also learned that you can't go into a program with the mindset that you're going to help somebody, that it is a one-way street. There was a space of mutual respect and a co-constructed curriculum. The people we are trying to "serve," can serve, enrich, and energize us in all sorts of ways.
See also Pairing Yoga + Art for At-Risk Teens
YJ: You speak of the role of privilege in your work. Can you explain?
CJ: Privilege is something that can make the unfamiliar invisible. Privilege doesn't make you a bad person; however, denying the voices and experiences of those affected by your privilege is damaging. Privilege is relative and can change from setting to setting. In the case of some of the communities with whom I work, I have to check my privilege as well. Although, I may not have privileges in some spaces because of my gender or race, my education and "able" body has afforded me privileges in other spaces. The more I acknowledge my privilege, the more empathy and openness I have to learning from others. And it's important that we remember as yoga teachers that even though yoga may have "worked" for us, it may not always have the same resonance with other people. I see yoga as a tool to dismantle structural oppression. It can help us interrogate systems that are constantly putting us in boxes or marginalizing us.
See also Leadership Lab: Chelsea Jackson on Power, Privilege, and Practice
YJ: Your blog, Chelsea Loves Yoga, is also a platform for conversations about yoga, race, and privilege, right?
CJ: Yes, Chelsea Loves Yoga is dedicated to illuminating voices that have been marginalized. And it is not only for people of color. We all have to keep inviting people to the conversation and expand the number and diversity of people sitting at the table making decisions. If you don't see your reflection in yoga studios and yoga teacher trainings, it's hard to believe that you belong there. When I first started practicing yoga, there was only a handful of people who looked like me that I could actually talk with about this. Whenever we saw a person of color anywhere in a major publication it was like this celebration because it was such an anomaly. When you don't see a diverse array of people practicing self-care, it can send the message of 'people like me don't know how to take care of themselves.' It is getting better and I'm excited to see different images, whether they reflect different color, size, or whatever, in the last couple of years. There are more voices being heard.
See also The Practice of Leadership
YJ: You mention size, how does body image emerge in your work?
CJ: In my own practice, when I approached yoga from a strictly physical perspective and was doing hot yoga every day, sometimes multiple times a day, it felt unbalanced—physically, emotionally, mentally, spiritually. I felt like I had to have a specific body type. But when I started to learn about different yogic paths, it helped me to balance my yoga practice and embrace my body. At camp, we talk about how uncomfortable it is to be objectified by the media. And through my work with the Yoga and Body Image Coalition, I speak around the country on race, privilege, and mindfulness.
See also A New Yoga and Body Image Coalition Campaign Reminds Us Yoga is Beautiful + For Every Body
YJ: What's next?
CJ: My fiancé, Shane, and I started a non-profit called Red Clay Yoga, after the color of Georgia soil. Our team focuses on diversity trainings for educators and yoga teachers who are passionate about working with marginalized communities. There are training modules for culturally responsive ways to teaching yoga and discussion of different strategies for conflict resolution. Our training is based on something called "restorative justice," a meditation tool that is used in a lot of underserved schools, especially in California. We've fused yoga and restorative justice in the same way I did for Yoga, Literature & Art Camp. In both cases, it is important to create unity while still acknowledging uniqueness.
See also Tessa Hicks Peterson: Social Justice, Yoga + Awareness of Inequalities