How Yoga Transformed This Cover Model's Life
Asana and meditation teacher and popular podcast personality Rosie Acosta says yoga and a sunny outlook saved her life. Here's how.
Heading out the door? Read this article on the new Outside+ app available now on iOS devices for members! Download the app.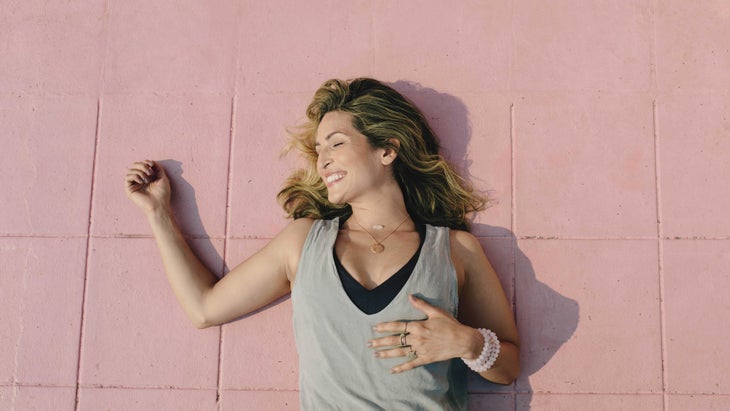 On a sunny afternoon in the Hollywood Hills, Rosie Acosta sits on the sofa in her bright living room, knees to her chest, facing best-selling author and Ayurveda practitioner Sahara Rose Ketabi. The two women are friends, and they've greeted each other warmly with hugs and excited chatter. They dish for a few minutes about Acosta's herbal tea obsession and Ketabi's recent engagement, but the pair have come together on official business—Ketabi is making a guest appearance on Acosta's wellness podcast, Radically Loved, to discuss her new cookbook, Eat Feel Fresh, which features modern spins on traditional Ayurvedic recipes.
Both Ayurveda enthusiasts, Acosta and Ketabi have recently returned from a six-day panchakarma, the most intense detoxification ritual in Ayurvedic medicine. The process consists of five aggressive therapies said to eliminate doshic imbalances in the body. (In Ayurveda, doshas are the three energies believed to govern physiological and mental activity.) To hear them describe it, it's purging, pooping, and bathing in oil until you come out anew on the other side. Oh, and there's a ton of ghee: "They put ghee in your eyes to clarify eyesight. They clean your ears with it," Ketabi marvels. "I mean, there's ghee in every crevice."
Of course there's also meditation and self-reflection and carefully prepared Ayurvedic meals of kitchari (and more ghee), and it was during a panchakarma lunch that Ketabi discovered something rather radical about Acosta: "She's literally a psychic guru," she tells me.
See also How to Use Ayurveda to Get Healthier Every Time You Eat
Acosta and Ketabi swear it happened like this: They were at the panchakarma retreat with two other friends. It was a virechana day—designed to clear toxins from the GI tract. They all took laxatives and were confined to their individual rooms. Around three o'clock in the afternoon, Acosta took a nap. When she woke up at 4:30, she decided to meditate "for like, two hours straight," she says, adding that it was the longest she's ever sat for a meditation at one time. "I started to feel this weird thing happening—like an out-of-body experience," she says. "All of a sudden, I wanted to go visit the girls and see what they were doing."
Without leaving her room, still deep in meditation, Acosta checked in on her friends. She saw one of them curled up on her bed, naked, and lying on her left side. Another was propped up on her stomach, journaling. Acosta didn't see Ketabi in her room at all. Instead, she envisioned the petite brunette at the gym, running on an elliptical, talking on her cell phone in Spanish (she's fluent) to what sounded like a wedding planner. "At the end of the conversation she goes, 'OK. ¡Hasta luego!' And then hangs up," Acosta recalls.
By the time Acosta met Ketabi for lunch the next day, she'd already confirmed with the other two women that her visions of them had, in fact, been accurate. But when she started telling Ketabi what had happened, things got even weirder. Ketabi had indeed been Skyping with her wedding photographer on an elliptical the day before, ending her conversation with the Spanish farewell hasta luego. "And I remember thinking after I hung up, That so did not sound like me. Why did I say that?" Ketabi says. "I sounded like an American trying to learn Spanish." As they hashed out the events of the day before, they discovered that Acosta's vision had actually occurred hours before Ketabi's conversation with her photographer took place. "It's like she put the words in my mouth," Ketabi concludes.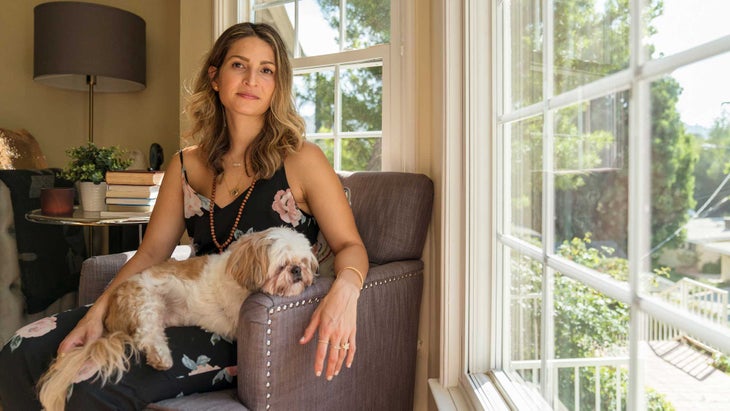 From rags to richness
At 35, Acosta has come to terms with supernatural phenomena such as clairvoyance and manifesting her deepest desires—in fact, she's built her career in the yoga space by leaning into them. She believes that practicing gratitude and intense optimism (and living a life guided by the Yoga Sutra) can lead to dramatic transformation, because she's experienced this herself. Today Acosta lives comfortably in a two-bedroom Craftsman overlooking Laurel Canyon with her fiancé, upscale-accessories designer Torry Pendergrass; her teenage sister, who was born when she was 15; and her two dogs. Acosta admits feeling extraordinarily lucky to be making a living teaching yoga and meditation in Los Angeles. Hosting self-discovery retreats and teacher trainings, plus inspirational speaking, keeps her constantly jet-setting—and her self-help-heavy podcast, in which she's waxed poetic on topics ranging from the importance of forgiveness to the power of intention, has recently reached 120,000 followers. But things weren't always coming up roses for Acosta, and there was a time not too long ago when she likened yoga to a cult.
See also Rosie Acosta on How to Take Down Your Inner Critic
After a tumultuous childhood growing up in South San Gabriel in East Los Angeles, Acosta suffered from depression, anxiety, and a binge-eating disorder throughout her late teens. With two immigrant parents (her mother from Spain and her father from Mexico) trying to make ends meet amid gang violence and the racist drug war that defined Los Angeles in the late '80s and early '90s, Acosta learned early on that there was a price to pay for being Latin American in her part of the world. "There was never any, 'Oh, you have to grow up and go to school and have aspirations to be successful," she recalls. "No. It was, 'Your job is to stay alive.'"
Often referred to as the decade of death, 1988–1998 in Los Angeles County was marked by record homicide rates and violence. Gangs terrorized the neighborhoods surrounding Acosta's home, where she lived with her parents, her older sister, and a revolving cast of extended relatives. One evening in March of '88, Acosta's 16-year-old uncle, charged with babysitting her and her cousin for the night, promised to take the pair of five-year-old girls to the arcade. Instead, he parked his black Camaro outside of Skateland U.S.A., a roller rink by day, music venue by night, that's notable for launching hip-hop supergroup N.W.A. The concrete depot on Central Avenue in Compton was situated deep in Bloods territory, and although a sign reading NO CAPS — NO COLORS adorned the entry door, the crowd was frequently a stormy sea of red. Peering out from the back seat of the Camaro, Acosta could see a gaggle of high schoolers and gangbangers drinking and shouting in the noisy lot. "Wait in the car," her uncle told her. "I'm just gonna go watch this show, and then I'll be right back." An early N.W.A. fan, her uncle had brought her to the controversial rap group's now-legendary first performance, immortalized in the 2015 biopic Straight Outta Compton.
"He left, and we just looked at each other, so freaked out," Acosta recalls. The girls hid under a Saltillo blanket as violence erupted outside—until their uncle emerged, hours later, with a bloody face and a busted left eye. "I still have no idea how that happened, but then nobody asked him," Acosta recalls. "He was like, 'We were at the arcade,' and my parents were like, 'OK.' It was literally like Lord of the Flies, you know?"
Exactly 10 years later, in the spring of 1998, Acosta sat in the driver's seat of a running cop car, surrounded by six or seven officers with their guns drawn, all screaming for her to get out of the car. She was a sophomore at Mark Keppel High School, and she and some friends had decided to ditch sixth period to hang out at Sierra Vista Park in northeast LA. The small grassy park is home to a basketball court and a primary-colored playground, and while the teens were en route, a car chase was going down nearby. A police car had been in pursuit of a red Honda Prelude when both cars screeched to a halt at the edge of the park. The chase continued on foot—the abandoned vehicles left running on the pavement. "I was like Dora the Explorer, looking in both cars, trying to be a badass because all these people were watching," says Acosta. "And someone was like, 'Oh, you should get into the cop car.'" Clad in fingerless panda-print gloves and a chunky black sweater, Acosta hopped into the front seat, unaware that the place was crawling with undercover cops. The incident resulted in her arrest for attempted grand theft auto.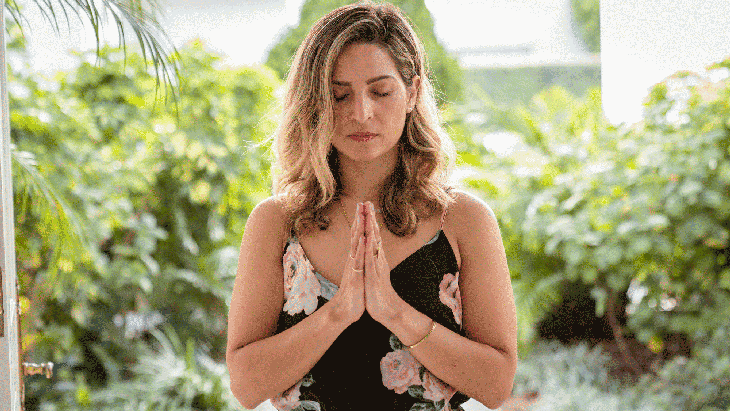 Rosie from the block
Ventura Boulevard is humming with hipsters as Acosta and I sit beneath a bright-blue umbrella, amid teal bistro tables, outside Australian-inspired coffee shop Bluestone Lane. The chain is new to LA, and Acosta is hoping this outpost will be as good as the one she frequents in New York City. We both order avocado toast, and over coffee and matcha discuss her forthcoming memoir and how she came to find yoga. She's animated and easy to talk to, with an attitude and mannerisms that are a little bit JLo. (Case in point, as Ketabi walked out the door at the end of her podcast recording session with Acosta, she turned to me and said, "The way I'm envisioning the [YJ] cover is, she's wearing little pigtails on her head, like buns. And she's doing a handstand on one hand. And wearing those pants that have the straps, but instead of 'Calvin Klein' it says, 'Rosie from the Block'"—a direct reference to the 2002 Jennifer Lopez chart topper "Jenny from the Block.") In short, Acosta is the real deal, and she practices what she preaches because she believes it saved her life.
Acosta tells me that if she hadn't been booked that day in 1998, things may not have turned around quite like they have. Traumatic episodes such as the one that unfolded at the N.W.A. concert colored her childhood, and it was only after her arrest that she was truly able to reflect on how her upbringing was wreaking havoc on her adolescence. Living through a never-ending reel of teen deaths, hold-ups at grocery stores, and other violent scenarios eventually led to debilitating panic attacks, depression, and other symptoms of post-traumatic stress disorder. And after her arrest, court-ordered probation meant she could no longer cut school to blow off steam with her friends, most of whom were on a similar path of self-destruction. Discovering meditation and self-inquiry, plus a dramatic shift in attitude, is what revealed to her that she didn't have to buy into what other people expected of her, which by her account, wasn't much. "Nobody around us was trying to cultivate growth of any kind," she says. "For me, the unpopular decision was to succeed. It's fucked up, but the unpopular vote was to move out of my environment and become something else."
During her senior year of high school, her mom, who supervised the cleaning staff at a local hospital, returned one night from work with some literature for the Self-Realization Fellowship temple in Hollywood—a white-stucco sanctuary with gold architectural embellishments and arched stained-glass windows—founded by Paramahansa Yogananda, an Indian yogi often credited with helping bring meditation and Kriya Yoga to the West.
"My mom said, 'Hey, one of the ladies at work says she was stressed out and meditation worked for her—you should try it,'" recalls Acosta. "I took the little pamphlets, and I started to read about affirmations, and meditation, and manifestation, and the Law of Attraction, and all these things, and I really liked it. I was like, Oh, it's like magic."
But when she showed up at the temple a few weeks later, it wasn't exactly love at first sight: "I was like, 'This is a fucking cult. Get me out of here,'" she says. Even so, something about the lecture she heard that day resonated with her deep down, and she decided to stick with it. "The sermon was about how we were responsible for our own happiness," Acosta says. "That really caught my attention, because I was like, Whoa, whoa, what does that mean? I was having this spiritual awakening of sorts, and it really spoke to me—this idea that I needed to be responsible for creating the life I wanted. I needed to be the person who rectified my bad behavior," she says. "Somebody else couldn't do that for me."
Gradually, the path toward yoga revealed itself. When Acosta was 22, she grew interested in the physical aspects of the yogic lifestyle she was beginning to adopt, and she decided to attend a teacher training that, she would later come to realize, was unconventional, to say the least. "I found this little Kundalini Yoga studio in Pasadena that offered a weekend-long immersive training led by this sweet couple," she says. As it turned out, they were followers of Osho, the controversial leader of the Rajneesh movement, recently popularized by the Netflix documentary series Wild Wild Country. "They had Osho posters everywhere," Acosta recalls. "I took away a ton of information, but I remember thinking, There's no way I can teach yoga. But after that, yoga started becoming more of a daily practice."
She began regularly frequenting the Center for Yoga (now YogaWorks) and attending workshops and 200-hour teacher trainings with the intention of both deepening her practice and eventually becoming a yoga teacher. Yoga was where everything made sense, she says.
Rod Stryker, the founder of ParaYoga who became Acosta's teacher in 2011, was surprised to learn of the adversity Acosta overcame to become the warm and wise yogi she is today. He says of their early days together: "I didn't hear anything about hardship. I experienced this amazingly present, vibrant, mature, full soul." But Acosta says that when she started studying with Stryker (her favorite teacher was a student of his, and encouraged Acosta to try his class), she had really only just begun her journey into yoga. "Things were resonating, but I couldn't put the pieces together. It was like having a compass, and seeing signs—just trying to figure out how to bring all the clues together," she says.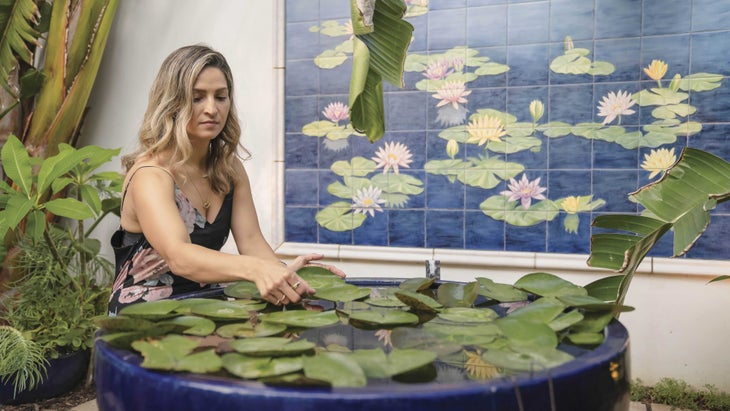 Reflections from the other side
Today, after seven years of Stryker's tutelage, Acosta certainly appears to have found her way. She teaches her own students at Wanderlust Hollywood and the newly opened Den Meditation studio, and recently, she and Pendergrass have been talking about starting a family of their own. The lessons she imparts on her students she's learned from Stryker and from her own transformation. First and foremost, "practice for a long period of time without interruption and with an attitude of service"—wisdom from Patanjali (author of the Yoga Sutra) that's so important today, she says, when most of us can't even read an email on the computer without reaching for our phone. "I always say, this is a marathon, not a sprint. There are no freeways to enlightenment," she says. The other mainstay of her teaching is something she's gleaned from her own life: Commit to your own ability and your own potential, and quit comparing yourself to others. "Devote yourself to your own gifts and you'll achieve success," she says. "And remember that it's going to look different from everyone else's, because it's supposed to."
From the Mulholland Drive Scenic Overlook, where Acosta takes me one blistering-hot LA afternoon, we can see the entire metropolis sprawled out in front of us. She points out where she grew up, all the way on the right, the East side of the horizon. She recalls how she used to skip school and take the bus to downtown, then hike all the way up here and imagine what life would look like on the other side of the city—the life she's living today, as if deep down, she knew what it would be like all along. "One of my girlfriends, she wanted to be an actress," she recalls. "So she'd say things like, 'I'm going to buy that house over there and be famous.' But for me, any time I had to think of what my life might look like if it were something else, I would stay quiet. I didn't have a vision of a career, per se, but I had a vision of what I wanted to see. And it was this."
See also Doshas Decoded: Learn About Your Unique Mind & Body Type