Elena Brower's Secrets for Success
Celebrated yoga teacher, life coach, author and natural beauty expert shares her tips for creating a life you love.
Heading out the door? Read this article on the new Outside+ app available now on iOS devices for members! Download the app.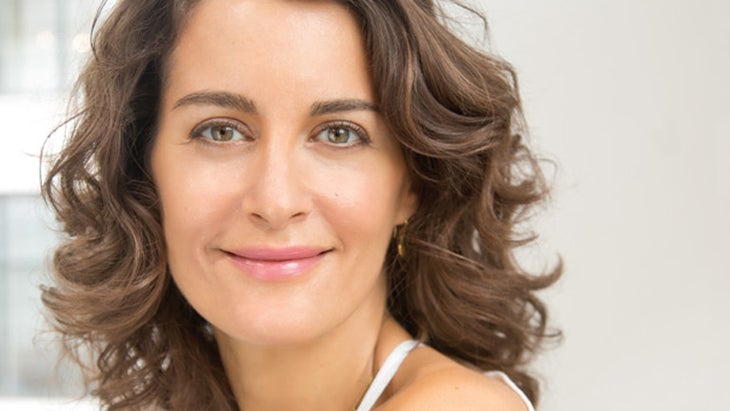 She's the face of Pangea Organics; runs a popular New York yoga studio; is an author, film producer, and life coach; makes national who's-who lists of health and fitness influencers; and may just be the coolest person you'll ever meet. Elena Brower: Superwoman? No, just a yogini who serves as a shining example that if you have a clear vision of what you want, it's possible to create a life of great abundance and fulfillment.
We caught up with Brower just in time for her YJ Live! New York workshop to find out how this busy mama, teacher, and entrepreuner gets it all done—and maintains such grace in the process.
Yoga Journal: When did you know you wanted to be a yoga teacher?
Elena Brower: Sometime within the first 5 minutes of my first class. It was at the first Yoga Zone on 56th Street in New York City with a teacher named Michelle. I saw my own capacity for elegance, and it gave me that feeling of all-is-possible that I hadn't felt in that way prior. I knew I wanted to be able to give that to others.
YJ: What do you do first thing when you wake up in the morning?
EB: Snuggle with my son (Jonah). Then, I meditate for 20 minutes.
YJ: How do you juggle parenthood with everything else you do?
EB: I only travel once a month, so Jonah and I spend great time together. Jonah is seven years old now, and his Dad and I are dear dear friends. We've worked hard to make our life as co-parents super loving and grateful, and that ease can be felt–most of the time!–in Jonah's demeanor and understanding of the world.
YJ: You are a big proponent of meditation. What is your meditation practice like?
EB: I practice Vedic meditation from Thom Knoles, a masterful teacher who has taught me how to use a mantra to transcend where I am when things are hard and practice effortlessness. Thom teaches neuroscience as well, which has helped me understand the practice from a physiological perspective, and granted me easier access to that fundamental, foundational state of contentment revealed through meditation.
YJ: You're also a life coach. Can you tell us how life coaching and yoga intersect in your life?
EB: Life coaching is what helped me close the gap between who I could be as a teacher and who I was being at home. The two personas were not woven together and it was creating a real divide and conflict at home. Coaching has taught me how to have a vision for everything from my behavior to my relationship to time, from my relationship with my family to my relationship to money, and this has yielded a real comfort and ease within myself. Which has made me a better mama, a better daughter, and a better teacher.
YJ: What's your secret to being so productive?
EB: I love my work! My "dream," or my vision, for my career is something I take very seriously. We all need to learn to dream up our highest possibilities. The first part of my mission is this: "I am inspiring millions of people to be remarkable in their families, to tell the truth, to have the hardest conversations, by gathering people to practice, meditate, and be together, both virtually and in person."
YJ: The news recently came out that Virayoga, the studio you founded in New York City, will be closing. Why did you decide to close it after more than 12 years? What's next?
EB: The rent was going up. My business partner, Lynn Hazan, and I had the same thought at the same time: To celebrate for the entire spring, and then let go of the studio at the end of June. We're open to whatever is coming next, but there are no plans to open another space anytime soon. It's bittersweet, but I'm already seeing the potential of other ways to work and play in the city. Starting in the fall, I plan to teach a class at Katonah Yoga, where I have dear teachers who have strongly inspired my practice.
YJ: What's your favorite way to spend your time when you're not on your mat or teaching?
EB: I love reading, studying and taking notes; I'm such a dork about my work and spend a lot of time combing through books and finding inspiration. I love traveling, especially with my son. I love spending lazy afternoons at my parents' house. Within moments of my arrival I'm usually in a deep nap. I love spending time with my girlfriends—they are my heart.
Try this meditation from Elena Brower: Believe in Yourself